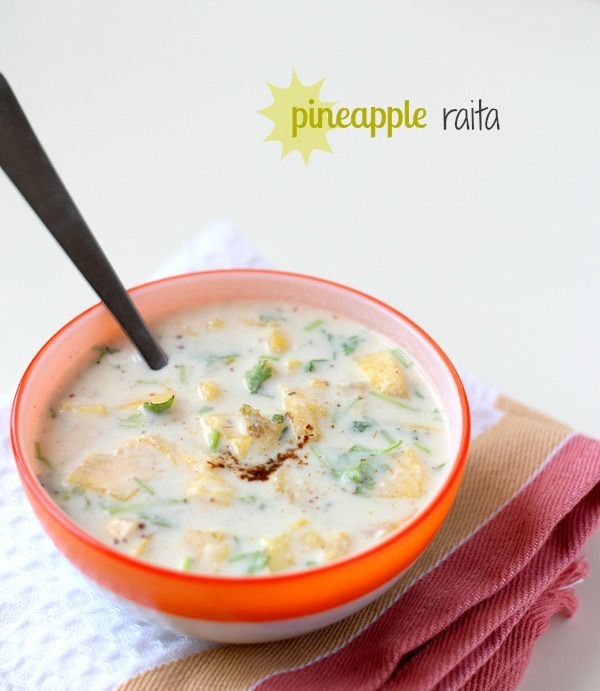 Pineapple Raita Recipe – A delicious dahi raita recipe of fresh pineapple chunks in yogurt with some Indian spices.
Here is an easy & simplest recipe of pineapple raita. Dahi raita is a popular Indian side dish that is often served along with parathas, theplas or even with pulav & biriyani. This yogurt based dish is good to stomach and helps in reducing heat from other Indian main course dishes. Raita served during summer season is amazingly good for health as it cools down body and protect from heat stroke or other heat related issues. Hence it is advisable to consume atleast one yogurt / dahi based dish, whether it is raita or even chaas (butter milk).

The word "raita" seems to be derived from old sanskrit word rajika meaning black mustard. This side dish is very popular across Indian sub-continent including Pakistan and Bangladesh. Even in different states in India raita is prepared with whatever local vegetables/fruits available in that area. In southern states of Kerala and Tamil nadu, raita is known as pachadi.
Getting back to the recipe, I have shared so many different varieties of dahi raita dishes on this blog. A few of all time favorite are boondi raita, kakdi raita & strawberry raita. All these raitas are quite common in restaurant menu too. Pineapple raita too is a restaurant menu dish. I have seen this raita being served in many restaurants.
You can make dahi raita using almost any vegetable or fruit. Sometimes people temper the raita using mustard or curry leaves to give it good flavor.
Let us check few tips & tricks to make perfect dahi raita everytime.
Tips & Variations in Pineapple Raita
You can use fresh or canned/tinned pineapple for dahi raita.
Adjust the sugar level according to sweetness/sourness of pineapple.
Replace sugar with honey to make a healthier version of pineapple raita.
Always whisk the yogurt before making raita.
If you want spice in your raita then finely chop green chili and add it for extra spice.
Try to use plain yogurt/dahi which is not very sour to make raita. Sour yogurt might not taste that great in this raita.
Recipe of Pineapple Raita (Ananas Dahi Raita) with step by step pictures
A very simple and mouth watering pineapple raita can be made with few ingredients like yogurt, pineapple chunks, black salt (kala namak), sugar, roasted cumin powder (bhuna jeera) and fresh coriander leaves. I have used homemade yogurt for this raita. You can use ready made yogurt too.
For the quick recap of the recipe look at the recipe box at the end of the post.
Whisk the yogurt nicely so that there are no lumps. Then add the sugar. You can also use powdered or granulated sugar in raita.
Then add black salt (kala namak) in yogurt.
I have added fresh roasted cumin powder as it gives nice flavor to ratia.
Now add fresh chopped coriander (hara dhaniya) to yogurt.
Mix well all the ingredients well. If you like dahi raita to be little liquidy then add a little water and whisk again.
Then add the pineapple chunks to the yogurt. I have used fresh pineapple however you can also use canned or tin pineapple too. Just chop the pineapple to small pieces of your choice and add in dahi.
Pineapple ratia is ready. Serve this pineapple raita with ajwain paratha, veg paratha, tawa pulao or capsicum pulao.
Pineapple Raita Recipe Box
Pineapple Raita Recipe
Pineapple Raita - A delicious pineapple & yogurt based side dish seasoned with Indian spices.
Ingredients
Pineapple : 1/2 cup
Yogurt (dahi) : 1 1/2 cup
Sugar : 1 tbsp
Roasted cumin powder (jeera) : 1 tbsp
Black salt (kala namak) : 1 tsp
Fresh coriander (hara dhaniya) : 2 tbsp
Instructions
Peel the pineapple and cut into small chunks. Remove the center hard part if you want.
In a mixing bowl take yogurt or homemade curd and whisk till smooth.
Now add sugar and incorporate it well in yogurt. You can use powdered sugar instead of plain one.
Also add black salt, roasted cumin powder, fresh coriander leaves and mix well.
Add the pineapple chunks to the yogurt mixture. Mix everything together.
Pineapple raita is ready.