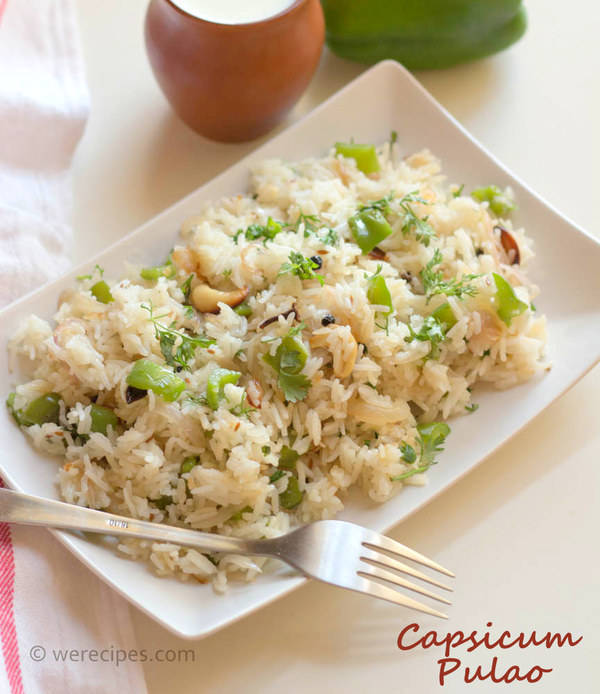 Capsicum pulao recipe or pulav recipe – So what are the two most popular rice dishes that you often serve in an Indian wedding or occasion? Ofcourse its Pulao or pulav and Biryani. Both these rice based dishes are loved among Indians. Pulao are famous in northern states of India while biryanis from Hyderabad are world renowned. Non-veg Biryanis are popular, but their vegetarian counterparts are also served during occasions. While the recipe of biriyani is considered lengthy compared to pulao both taste quite well. To make pulao, rice is first boiled along with indian spices to give it nice aromatic fragrance that is a signature of good pulao. There are different ways of making pulav. Some people boil the vegetables along with rice while others temper the spices first and later add vegetable in boiled rice. Whatever way you adopt, the final result will be absolutely delightful.
Today we will make a simple pulao from capsicum and onion. That's it. No other vegetable just these two. Although there are many different versions of this easy recipe. You can add paneer and make paneer capsicum pulao recipe. Or add some mushrooms to make mushroom capsicum pulao recipe. Whatever vegetable available in your refrigerator will go well with this delicious pulao recipe.
While making pulao you can experiment with different spices. You can even add Pav bhaji masala and make Tawa pulao which is a popular Mumbai street food. In this recipe of capsicum pulao we will boil the basmati rice along with cumin, cloves, star anies and pepper corn. This will add unique flavor to pulao giving it authentic fragrance.
When you make any Pulao recipe make sure you use long grain basmati rice. While the normal rice is ok but Basmati rice will give it the perfect taste and texture like restaurant styled jeera rice.
Recipe of Capsicum Pulao – Step by step
To make delicious aromatic capsicum pulao or pulav we need following ingredients: 1/2 cup long grain basmati rice, 1/2 cup capsicum diced, 1/2 cup onion sliced, star anies, pepper corns, cashew nuts, cloves, oil and salt.
The recipe of capsicum pulao is divided into two steps. First we will boil the basmati rice along with different spices such as cloves, star anies, cumin etc. And in second step we will stir fry the capsicum / onion and mix it with boiled rice. So lets proceed with the recipe of capsicum pulao with step by step photos.
1. Boiling Rice for Capsicum Pulao
First we need to boil the rice for capsicum pulao. For this I have used long grain basmati rice. Rinse the basmati rice thoroughly in water till it runs out of starch and soak for about 15-20 mins. In a non-stick pan / kadhai heat oil and temper black pepper corn (kali mirch), cumin seeds (jeera), star anies (chakra phool) and cloves (laung).
Once the spices are tempered add rinsed basmati rice.
Add water to rice for boiling. For 1 part of basmati rice I have added 2.5 part water for boiling. We don't want rice to get over cooked and mushy. That's why we are adding little less water. While it is boiling we can always add more water if needed.
Let the rice cooked along with spices. The aroma of all these spices will blend into rice there by lifting its flavor.
Once the rice is boiled turn off the gas and keep it aside till we prepare rest of tempering for capsicum pulao.
Basmati rice is boiled along with indian spices. Now let us stir fried vegetables and mix it with rice to make capsicum pulao.
2. Tempering Spiced Rice with Capsicum & Onion
Let us quickly stir fry remaining ingrediets and mix it with boiled basmati rice and spices and make capsicum pulao. Heat a tablespoon of oil in a non-stick bottom pan and once it is hot add cashew nuts. Shallow fry the cashew nuts for a minute and take them out. We will use these cashew nuts for garnishing the pulao. And we don't want them to be over cooked.
Now in the same pan add sliced onions. Saute the onions for 1 minute. Do not over cook the onions as we do not want them to be brown.
Also throw in the chopped green chilies. If you are making this pulao for kids then you can avoid adding green chilies or add as per your taste.
Add capsicum or bell pepper cubes now. Give a quick stir and let the capsicum gets cooked not more then 1 minute. We need them to be a little crunchy so let them be a bit under cooked.
Add salt as per your taste. As we did not added salt while boiling the rice make sure you add salt for rice also.
Give all the ingredients a quick stir.
Now add spice flavored Basmati rice in these stir fried vegetables and mix well.
Mix everything well using two spoons carefully without crushing rice. Using a fork you can separate each grain of rice to give it authentic pulao look.
Garnish the capsicum pulao with shallow fried cashew nuts and freshly chopped coriander. Delicious aromatic capsicum pulao is ready. Serve this pulao with yogurt or any dahi raita.
Capsicum Pulao Recipe Box
Capsicum Pulao Recipe, Recipe of Bell pepper pulav
Capsicum Pulao Recipe - Recipe of quick & aromatic capsicum pulao or bell pepper pilaf made with basmati rice tempered in indian spices.
Ingredients
Basmati Rice: 1/2 cup, raw
Capsicum : 1/2 cup , dices
Green chili: 1 tsp, chopped
Onion: 1/2 cup, sliced
Star anies : 1 piece
Oil: 2 tbsp
Coriander leaves: 1 tbsp, chopped
Pepper corns: 4 piece
Cashew nuts: 6 piece
Cloves: 3 piece
Salt:1 tsp or to taste
Instructions
To Boil the Basmati Rice for Pulao
Rinse the basmati rice in water till it runs out of starch and let it get soaked in water for 15-20 minutes.
In a deep pot heat a tbsp of oil and temper cumin seeds, cloves, star anies and black pepper corn.
Once the cumin seeds changes color add the soaked rice and stir it.
Add water to the rice and mix well. For 1 part of rice you can add 2.5 parts of water.
Cover the lid and cook the rice for 10 to 15 minutes until it is properly cooked. In between check if extra water is required.
Remove the lid and check if rice is boiled properly. We don't need to overcook them. Let the rice have al dante texture (as in pasta).
To make capsicum pulao
While rice is boiling you can chop the vegetables required for capsicum pulao. Slice the onions, chop the capsicum into 1/2 inch cubes and chop the coriander leaves.
Now to stir fry veggies heat 1 tbsp of oil in a non-stick pan and add cashew nuts.
Once the cashew nut is shallow fried take it out and keep aside.
In the same pan add sliced onion and cook until they become soft.
Add green chilies and capsicum and give a quick stir.
Add salt as per your taste and mix well.
Mix well all the ingredient and cook for 2 min or till the capsicum slightly remains under cooked..
Add the boiled rice to it and mix well all the ingredients and cook for about another 2 min.
Garnish it with fresh coriander and cashew nut.
Capsicum pulao is ready. Serve the capsicum pulao hot with dahi raita or veg salad.
Recipes Similar to Capsicum Pulao