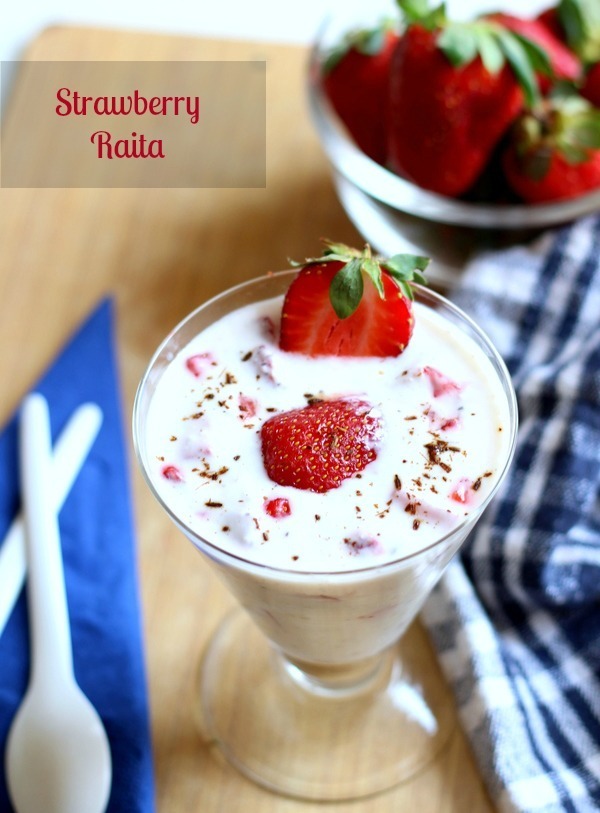 Strawberry raita recipe – step by step: Dahi raita can be considered as one of the most simple Indian dish. Although it hardly take any time to manage one compared to other main course dishes yet nothing can beat a good raita. Yogurt raita balances a complete Indian meal by reducing the overall spiciness of curries and biriyanis.
When talking about dahi raita the most common name that spontaneously come in mind is boondi raita, cucumber raita and so on. However today I am sharing a different recipe of strawberry flavored raita. You might have had strawberry flavored yogurt available in market. But trust me this strawberry raita taste even better than that.
Related: carrot raita | onion tomato raita
While roaming in the fruit aile of my local grocery store I found fresh batch of strawberries and couldn't resist myself from picking a whole lot than what we eat regularly. Hence I am trying new recipes from this delicious fruit.

This is a simple and easy recipe of strawberry raita. It hardly takes minutes to prepare and serve this raita. Strawberry raita goes really well with Indian main course dishes like pulav, biriyani, paratha & sabzi etc.
To make good raita there are few things to be taken care. Yogurt or curd should be whisked properly. Also it should not be too sour and last but not the least do not add water to the yogurt or else the raita will become too watery. These are few things to keep in mind while making any raita dish.
Let us now check the easy recipe to prepare strawberry flavored raita dish at home.
Recipe of Strawberry Raita with step by step pictures
To make this delicious strawberry dahi raita we will need these ingredients: dahi or yogurt, strawberry, black salt/kala namak, sugar, black pepper and roasted cumin powder. I have used homemade curd to make this strawberry raita. However you can use readymade store bought yogurt also. Just take the yogurt in a bowl and whisk it well before making raita. Also take fresh strawberries, wash them in water and hull them. Then cut into small pieces or as you like them in raita.
To know the quantities of each of these ingredients just scroll down and check the recipe box at the end of this post.
Take yogurt in a bowl and give it a whisk. Add sugar and black salt.
Whisk using a spoon or whisker and mix well sugar in yogurt. Instead of sugar you can also add honey if you like.
Now add roasted cumin powder. To prepare this roast the cumin seeds on pan until it starts giving nice aroma. Then let it cool down and then grind it into coarse powdered form. This aromatic cumin powder lifts up the flavor of dahi raita.
Also add pepper powder.
Give a gentle whisk and mix well all the spices with yogurt. Check the taste and if required add sugar or black salt.
Add chopped strawberries in spiced yogurt.
Mix well and tadaa.. Strawberry raita is ready. Serve this raita as side dish along with any of main courses.
Let us check the recap recipe of strawberry dahi raita.
Strawberry Raita Recipe Box
Strawberry Raita Recipe
Strawberry Raita - A delicious strawberry flavored yogurt side dish spiced up with Indian spices.
Ingredients
Strawberry : 1/2 cup diced
Yogurt / curd : 1 cup gently whisked
Sugar : 1 tsp
Black salt/kala namak : 1 tsp
Black pepper powder : 1/2 tsp
Roasted cumin powder : 1 tsp
Instructions
Preparations
Wash the strawberries and hull them one by one.
Cut strawberry into small pieces.
Roast cumin seeds on a pan until aromatic and let it cools down.
Coarsely grind the roasted cumin seeds using mixture grinder.
Making Strawberry Yogurt Raita
Take curd/yogurt into a bowl and gently whisk using spoon until it becomes smooth.
Add sugar and black salt. Mix it well into yogurt.
Now add roasted cumin powder in yogurt and mix well.
Also add some black pepper powder in yogurt.
Give a gentle whisk and mix all spices in yogurt.
Add strawberry pieces and incorporate it well in spiced curd.
Taste and check if raita needs any seasoning. If required adjust seasoning accordingly.
Strawberry raita is ready. Serve this raita as side dish for main course.
Also check these
strawberry recipes