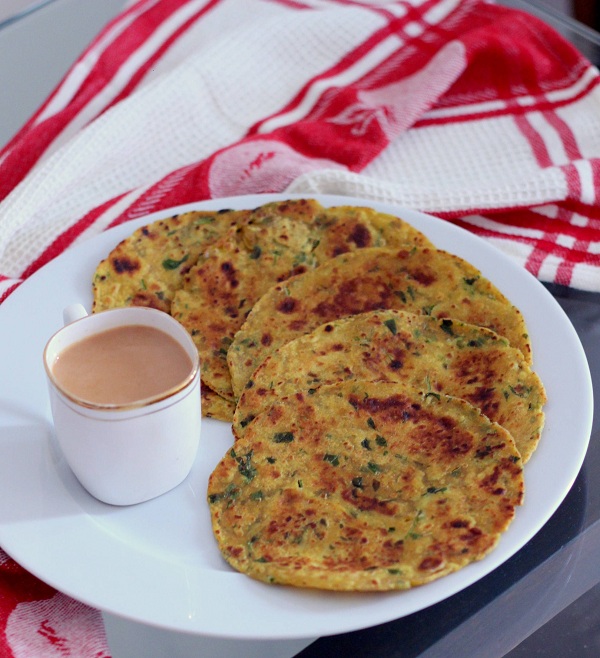 Methi thepla recipe – This Methi thepla is one of the most common dish made in all Gujarati home almost every alternate day. As Punjabi have paratha  in breakfast the same way Gujjus have theplas for breakfast. They even make plain thepla and have it with a cup of tea in morning.
In this methi thepla recipe I have used  different types of flour: Wheat flour, Bajra flour and Jowar flour which make methi thepla more healthy. You can also make methi thepla by using only wheat flour. I have also added coriander leaves along with methi because I love the taste of coriander leaves in my thepla. Again adding the coriander leaves in thepla is completely optional.
Related: gujarati thepla | gujarati bhakri
When I was small my mom used to apply sweet mango pickle (gol keri athanu) on top of thepla and roll the thepla and give it to me. I used to love it a lot and still when I make methi thepla I eat the same way 🙂

Gujarati people are well known for their travel habits. They carry lot of home made food along with them during train journey or even in flights 🙂  Methi thepla or plain thepla is one of the thing they don't miss in their food basket. This theplas will not get spoil for about 2-3 days. And you can eat them in breakfast or in lunch along with some traditional Gujarati curries like dry potato curry (batata ni sukki bhaji).
You can serve this methi thepla with the tea, curd, masala dahi, pickle, mango chunda or even with the potato bhaji.
Some Useful Tips to make perfect Methi Thepla
The water consistency in methi thepla dough should be right in order to get perfect methi thepla. Knead the dough using lukewarm water or curd and once kneaded keep aside for resting for 10 minutes.
Along with methi you can also add fresh coriander leaves. It gives great flavor to methi thepla.
Lot of people add Ajwain in the methi thepla. It helps in digestion.
You can use less quantity of oil if you want to eat methi thepla right away. However when you are preparing theplas for travelling / train journey etc a little more oil is advisable. Oil acts as natural preservative and let methi thepla stays fresh for long time.
Let us know check the recipe of Gujarati methi thepla.
Step by step Recipe of Gujarati Methi Thepla
In a bowl take whole wheat flour, bajra flour and jowar flour. (Note: You can also use only whole wheat flour)
Thoroughly wash the methi leaves (fenugreek leaves) in water and let the water gets drained. Pluck the leaves carefully and throw any spoiled leaves. Let the excess water gets dried out from methi leaves.
Add the fresh methi leaves (fenugreek leaves), coriander leaves and all Indian spices like red chili powder, turmeric powder, coriander powder, oil and salt to taste. Now add little water and mix well all the ingredients and knead dough.
Once the dough is ready let the dough rest for about 10 min.
After the dough is rested for about 10 min divide it into small roti size balls.
This is how you have to make the small ball from the dough.
Heat a tawa or skillet and at the same time start rolling methi theplas from dough.
Dust the rolling board with wheat flour and start rolling the methi thepla with the help of the rolling pin. Roll into circular disc with diameter of 5 to 6 inch.
Once the thepla is rolled with the rolling pin put the methi thepla on hot tawa or flat non stick pan. Cook on both the side by adding the oil till the methi thepla is golden brown in color.  As shown in the picture below.
Gujarati Methi thepla is ready. I have made this methi thepla fro breakfast so I have served it with tea you can serve it with pickle, curd of with potato bhaji too.
Also check other traditional Gujarati recipes:
Recipes Similar to Methi Thepla (Gujarati Recipe)
Gujarati Methi Thepla Recipe Details:
Gujarati Methi Thepla Recipe, How to make Methi Thepla
Gujarati Methi Thepla Recipe - A traditional Gujarati flat-bread recipe made from wheat flour and other optional flours. Methi thepla is ideal for long distance journey as they stay fresh longer.
Ingredients
Wheat flour: 1 cup
Bajra flour: 1/2 cup, optional
Jowar flour: 1/4 cup, optional
Fenugreek leaves: 1/2 cup
Coriander leaves (cilantro): 1/3 cup
Oil: 2 tbsp
Garlic: 1 tbsp
Red chili powder: 1 tsp
Turmerlic powder: 1/2 tsp
Coriander powder: 1 tsp
Salt: 2 tsp, to taste
Water: 1 cup
Instructions
In a mixing bowl take wheat flour, bajra flour and jowar flour.
Add the methi (fenugreek leaves), coriander leaves, oil, garlic, red chili powder, coriander powder, turmeric powder and salt to taste. Mix all the ingredients well.
Now while adding little water at time kneed the dough for thepla. The dough should neither be too soft or too hard. Let the thepla dough rest for about 5 minutes.
Methi thepla dough is ready. Let us make soft Gujarati methi thepla now.
Divide the methi thepla dough into small balls and flatten it by pressing them in hand.
Start heating tawa or skillet while we roll methi thepla.
While the tawa is getting heated, dust the rolling board with some wheat flour and place the methi thepla ball made from the dough on the rolling board and roll the thepla into flat disc of 5 to 6 inch diameter.
Once the flat non stick pan or tawa is hot, place the rolled methi thepla on tawa.
Let the thepla gets cooked until you see small bubbles appear on top side. Then turn it to other side.
Add a little oil on top and turn the thepla and press it from all side with the help of the spatula so that it turns nice golden brown in color.
Then again turn the thepla and press with the spatula till golden brown.
Repeat the above steps for all the methi thepla.
Now the methi thepla is ready . You can serve with the hot tea, pickle, curd.