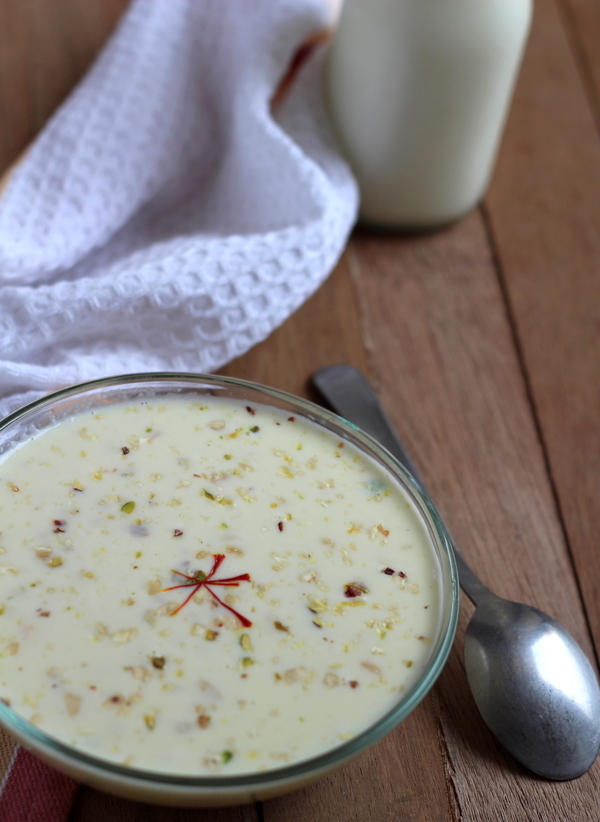 Sabudana kheer recipe with step by step pictures – A delicious Indian sweet made during festivals and vrat/fasting. The key ingredient in this vrat ki kheer and many other fasting recipes is sabudana or tapioca. The name tapioca comes from tipi'óka which starts with Tupi. Tupi means the process by which starch is made. Tapioca' in Britain often refers to a milk pudding thickened with arrowroot.

Sabudana is made from tapioca root also known as cassava. It is also known as sago in many languages. In Tamil it is called as Javvarisi, in Telugu sagubiyyam, in Kannada sabakki and in Hindi, Gujarati and Marathi known as sabudana. Sabudana is used in making kheer, prorridge, khichdi and vada.
Coming back  to the recipe, this simple sabudana kheer recipe needs very few ingredients. It can be made in no time and served during festive season.
Some tips to make perfect Sabudana Kheer:
Sabudana comes in different varities. The smaller one take lesser time for soaking so soak the smaller sabudana just for 15-20 minutes. The larger sago needs around 4 hours to get tender.
If you like the kheer to be rich and creamy, use full-fat milk. If a little health consicious then use regular milk or even skimmed milk.
Soak sabudana in enough water so that it absorbes and becomes soft.
Sabudana Kheer or Tapioca Pearls Pudding becomes thick as the sago pearls absorb all water and milk as it cools down. So if you prefer your Kheer to be little runny, add little more milk and gently heat it for a while.
Jaggery also can be used in place of sugar.
Recipe of Sabudana Kheer with step by step explanation and pictures:
Making sabudana kheer is very easy. We just need two main ingredients: milk and sabudana (sago / tapioca). Other taste maker ingredients are sugar, dry fruit, cardamom and saffron (kesar).
To make sabudana kheer soak the sabudana in enough water.
After 4-5 hrs sabudana will absorbe water and become soft. If there is excess water then strain the water.
Add milk to the soaked sabudana.
Add enough milk so that sabudana gets submerge in milk. Put the pot on gas and start heating the milk.
Once the milk starts boiling add sugar in the milk.
Cook the sabudana kheer for about 4-5 min and stir continuously.
Then add cardamom powder (elachi) if you like the taste of it.
Add 4-5 strands of saffron (keser) in the kheer.
Press the sabudana between your fingures and check if they are properly cooked.
Add dry fruits of your choice. I have added coarsely grounded almonds and cashew nuts.
Mix everything well and cook for about 1 min.
Sabudana kheer is ready to serve. You can serve kheer hot or cold.
Sabudana Kheer Recipe for Fasting
Sabudana Kheer
Sabudana kheer - Delicious Indian sweet recipe served during festivals and fasting.
Ingredients
Sago/Sabudana: 1/3 cup
Milk: 1 1/2 cup
Sugar: 1 tbsp
Dry fruits: 1 tbsp
Saffron (kesar) :4 strands (optional)
Cardamom powder: 1/4 tsp (optional)
Instructions
Soak the sabudana in water for about 4-5 hrs.
After soaking for 4 hrs strain the extra water from sabudana.
Now add milk to the soaked sago/tapioca/sabudana and cook till it starts boiling.
Then add sugar and cook for about 4 min. Stir the mixture continuously.
Once you feel sabudana is cooked and milk is reduced, add cardamom powder.
Add few strands of saffron and slivered dry fruits and cook for a min.
Sadubana kheer for fasting is ready to serve.
You can serve it hot or chilled.
Other Indian sweet recipes similar to Sabudana Kheer