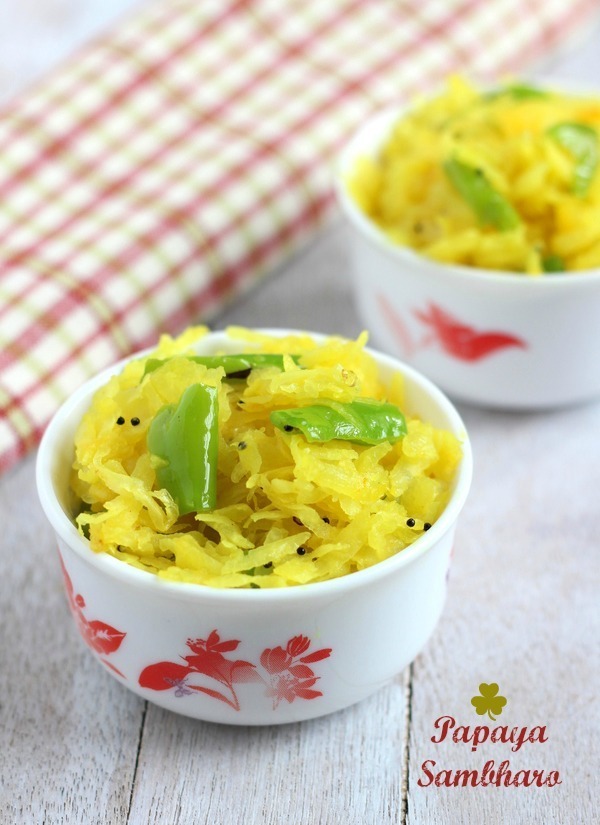 Papaya sambharo recipe or kacha papaya no sambharo – A traditional Gujarat warm salad made from raw papaya served as side dish along with gujarati main course.
How did I missed this sambharo recipe? I have been meticulously documenting my way through gujarati cuisine and sharing each of the recipes with you all. I have already shared so many varieties of gujarati side dish aka sambharo recipes. Cabbage sambharo, carrot sambharo, green chilies sambharo and many more to come. Among all these, cabbage sambharo is my favorite one and the most cooked side dish in my home. My mum-in-law however prefer raw papaya sambharo. Since she introduced me to this delicious side dish, I have been making this sambharo at home. Raw papaya are easy to get hands on however very few people are actually buying them and trying new recipes. This sambharo recipe is one of most basic recipes of raw papaya.
Related: cabbage sambharo | carrot sambharo
Raw papaya sambharo or papaya chutney as it is called sometimes is quite popular in Gujarat and it is mostly served along with fafda and jalebi. Fafda is a kind of crispy gram flour based snack which is convenient and quick snacking option that can be had at anytime of the day or mixed with other dry snacks like puffed rice. Raw papaya sambharo is served along with fafda in local farsan stores.

A sambharo is typically made by quickly stir frying the main ingredient in a little oil along with some spices. We generally don't add red chili powder instead we spice up the sambharo with green chilies. This way the sambharo retains its yellow color.
Raw papay is not that popular because it is not puply as the riped once and also it does not taste great at all. In-fact its tasteless. That's why we add a few spices and salt to give raw papaya sambharo some taste. Raw papaya has many health benefits and it must be included in once diet. It is rich in vitamins, enzymes and phytonutrients. Raw green papayas contains essential nutrients and minerals like potassium, magnesium and vitamin A, C, B and E. Also it is good to treat UTI (Urinary tract infection) common among ladies.
I will try to share other recipes made from raw papaya. Till then enjoy this delicious gujarati kacha papaya sambharo.
Let us now check the step by step recipe of gujarati raw papaya sambharo with pictures.
Gujarati Papaya Sambharo Recipe with step by step photo
Wash and peal the papaya and then with the help of grater just grate the papaya as shown in below image. Also we would need the green chilies so just cut the green chili into big piece.
Heat oil in a pan and once the oil is hot add mustard seeds (rai) and let it crackles.
As soon as the mustard seeds (rai) starts crackling, add asafoetida (hing).
Then add the grated raw papaya to the oil.
Also add the green chili cut into big piece which will give little spice to the sambharo.
Add a pinch of turmeric powder (haldi) which would give the nice yellow color to your sambharo.
Now lets season the sambharo by adding salt as per your taste. Also adding salt will help in reducing the cook time and raw papaya will cook little faster.
Now mix everything and cook for about 5-8 min or till papaya is been cooked properly.
As you can see that papaya became tender and soft that means the papaya sambharo is ready.
Papaya sambharo is ready to serve. Serve this delicious sambharo warm along with roti, gujarati dal, sabji and chawal.
Recipe of Gujarati Raw Papaya Sambharo
Papaya Sambharo Recipe
Gujarati Kacha Papaya Sambharo Recipe - A delicious Gujarati warm salad made by stir frying raw papaya with few Indian spices.
Ingredients
Raw papaya : 1 cup grated
Green chili : 2 chilies
Oil : 1 tsp or as required
Mustard seeds (rai) : 1 tsp
Asafoetida (hing): 1/8 tsp
Turmeric powder (haldi) : 1/2 tsp
Salt : 1 tsp
Instructions
Peel off the raw papaya.
Grate the papaya and cut the green chilies into 1 inch pieces.
Heat the oil in a pan/kadhai, once the oil is hot add mustard seeds (rai).
Once the mustered seeds crackles add hing.
Now add grated kacha papaya and green chilies.
Also add turmeric powder and salt and mix all the ingredients well.
Cover the lid of pan and let it cook on low/medium flame for 5-8 minutes. Stir in between a couple of times.
Cook until the papaya becomes tender.
Delicious raw papaya sambharo is ready to serve. Serve it warm as side dish along with any Gujarati main course dishes.
Other Gujarati Side dishes: