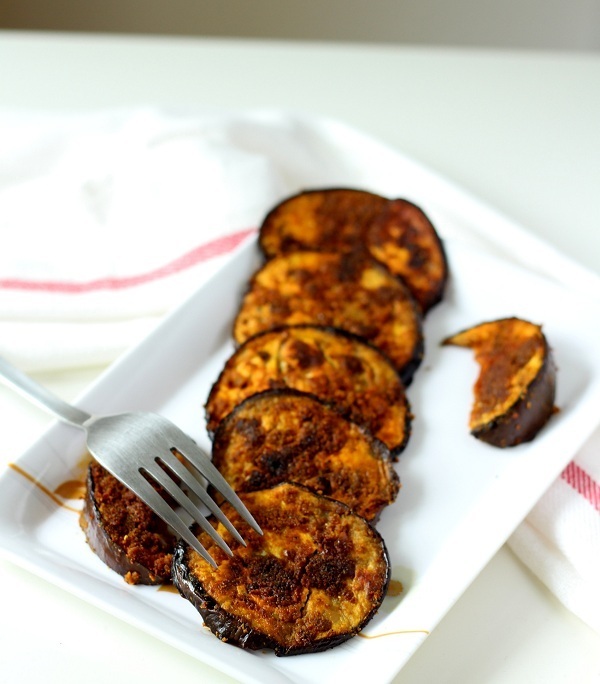 Baingan Palita / Ringan Palita Recipe – Baingan palita also known as Baingan Katri is a simple dish made from aubergine/egg plant. Before I dig deeper into this recipe, I have a confession to make. This is NOT my recipe. This is my lovely mum-in-laws recipe. She is a great lady and a great cook. A full-time home maker who raised a family with three children, she knows her recipes. Being Gujju she cooks great Gujarati food.
I never had eaten this Baingan Palita called Ringan palita (રીંગણ ના પલીતા) in Gujarati. Baingan palita recipe is a quick and easy recipe. With minimum preparations and cook time, you can make these delicious spicy aubergine slices in no time.
The baingan palita can be served as side dish or main. My mum-in-law was telling me that her neighbor used to serve just ringan palita with chappati. But I think I will make this delicious recipes and serve as side along with some nice Gujarati curry (like rasawala batata) and chappati.
Let us check the quick and easy step by step recipe of baingan ke palita / ringan na palita (baingan katri).
Recipe of Baingan Palita / Ringan Palita (Baingan Katri)
1. To prepare spice mixture we need few Indian spices: turmeric powder (haldi), coriander powder (dhaniya), garam masala, red chili powder, ginger/garlic/red chili paste and salt to taste. Take all the spices in a bowl, add a tablespoon of oil and mix it well. This spicy paste will be used to cook aubergine spices.
2. Wash the aubergine/egg-plant and cut half to quater inch thick slices. Using a fork, prick the egg-plant slices on both sides so that spiced mixture can blend in properly.
3. One by one apply the spice masala paste on each side of baingan slices. My mum-in-law is applying the spice mix here on baingan slices.
4. Heat a pan and put all baingan palita in it. Pour some oil on sides and cook well the baingan palitas on both the sides until the baingan become soft but not too collapsed within. Make sure the pan is hot enough or else the aubergine will boil instead of roast. If you have a griddle pan, use that to grill the aubergine slices. Grilled aubergine tastes great.
Delicious Baingan Palita / Ringan Palita (Baingan Katri) is ready. Serve it with roti or chappati.
Baingan Palita Recipe
Baingan Palita, Ringan Palita (Baingan Katri): Spicy slices of aubergine (eggplant) cooked with Indian spice mixture.
Ingredients
Brinjal (Aubergine): 1 piece, sliced
Oil: 3 tbsp
Red chili powder: 1 tbsp
Coriander powder (dhaniya): 2 tbsp
Garlic, ginger, red chili paste: 1 tbsp
Salt: to taste
Instructions
For spiced mixture
In a bowl add all the masalas: red chili powder, coriander powder, ginger / garlic / red chili paste, oil and salt to taste and mix well. Keep the masala mix aside.
For making baingan palita
Prick the brinjal with fork and apply the masala on both the sides. Repeat this process for all the slices of the brinjal/eggplant.
Heat a pan and place the brinjal slices. Pour the oil in the pan and cook the brinjal on both the side till the brinjal becomes soft and masala is nicely blend inside the baingan.
Now the baingan palita / ringan palita is ready to serve with roti.
Notes
By pricking the brinjal the masala will nicely blend in the brinjal.