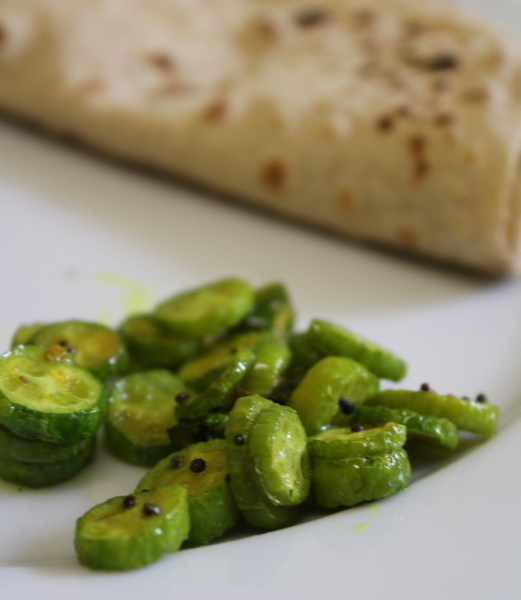 Tindora Sambharo Recipe – A traditional Gujarati meal usual consist of sabzi, chappati, dal, rice and sambharo. A sambharo is dry sabzi made with seasonal vegetables and is usually served as side dish with main course. Sambharo can be prepared in many different ways using many different vegetables. The famous ones which are often included in a Gujarati meal are kobi no sambharo (gobi / cabbage sambharo), gajar no sambharo (carrot sambharo), etc.
Tindora also known as Giloda / Ivy Gourd is a common vegetable ( actually its a fruit 🙂 ) in South Asia. This vegetable is used in traditional curries. Tindora sambharo is one of the common house hold name which you will hear if you are in Gujarat. This sambharo / side dish is very easy to make. It hardly takes any time and effort. Tindora can also be used to make Bharva Tindora sabzi which tindora / giloda stuffed with gram flour and other spices.
In South India, a dry version of sabzi is eaten along with rice. This is called Poriyal (e.g. Potato poriyal recipe, Bhindi poriyal). So this recipe can also be made along with other rice preparations such as sambar rice, rasam rice, etc.
In North India, Tindora is also known as Tindli.
Tindora Sambharo Recipe – Tindli Recipe
1. Cut the Tindora / Giloda / Ivy Gourd into roundels or slices.  Also slice one green chili.
2. Heat oil in the pan and add mustard seeds, asafoetida ( hing ). Once the mustard seeds crackles, add Tindora (Ivy gourd), green chilies, turmeric powder and let it cook for few minutes. Add salt to the taste. Once the tindora softens the tindora sambharo is ready to serve with  chappatis. In South India this recipe can also be prepared and served as Poriyal which can be best accompanied with rice. (Related recipe: Read about Potato Poriyal recipe)
Tindora Sambharo Recipe
Tinora Sambharo - A traditional Gujarati side dish made from Ivy gourd (Tindora) and served with chappatis
Ingredients
Tindora: 1 cup (150 grams), diced or sliced
Green chili: 1 tsp, sliced
Mustard seeds (rai): 1/2 tsp
Asafoetida (hing): 1/4 tsp
Oil: 1 tsp
Turmeric powder: 1/2 tsp
Salt: to taste
Instructions
Heat the oil in pan and put mustard seeds and let it crackle
Add asafoetida (hing) once the mustards starts crackling.
Then add tindora/giloda and green chili to it and add turmeric powder. Stir it.
Let it cook for a min and add salt to taste.