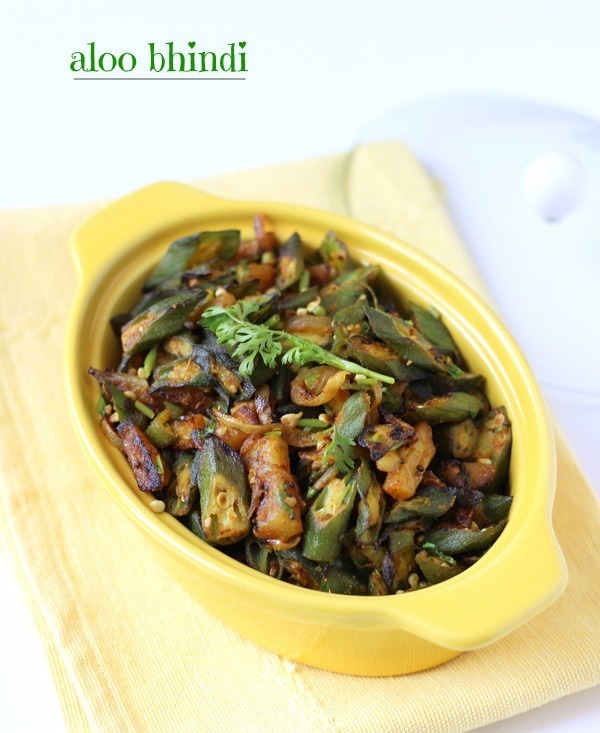 Dry Aloo Bhindi Recipe or aloo bhindi fry – A tasty Indian sabji of potato and okra cooked in dry indian spices.
A quick indian dry sabji made from bhindi and potato. All time favorite and the most comforting sabji recipe that goes so well with phulkas/chappati. Bhindi is really all time favorite in my home. Its on weekly menu. Cooked in different style & recipes like aloo bhindi, bhindi fry, bhindi masala or bhindi poriyal. Whatever way you cook this vegetable the hero of dish is always bhindi or okra. Bhindi can be cooked by stuffing a mixture made from gram flour also. This preparation is called bharwa bhindi.
Bhindi or okra also known as ladies finger has many health benefits. It is hence advisable to add this vegetable in your routine diet. Not only okra is good for loosing weight but it also prevents diabetes. Bhindi contains dietary fibers and hence it is great for digestion. Those who suffer from irregular bowel movements due to improper digestion can try consuming lady's finger regularly. Read this article to know other health benefits of bhindi.

If you have a little less quantity of bhindi at home then simply add one or two potatoes and you are in the game 🙂 Also this recipe gets cooked in no time. A very quick version and tasty too. This aloo bhindi is normally cooked for lunch in my home. Bhindi is my hubby's favorite so I tend to cook it for his tiffin/lunch box.
In this dry aloo bhindi sabji recipe, I have added a little dried mango powder (amchur powder). The tangy taste gives nice twist to bhindi sabji. Normally you will see amchur being used in so many other bhindi preparations. It just complements the taste of this vegetable.
Related: bhindi peanut fry | aloo matar sabzi
Some kids love bhindi but some not at all. I guess the primary reason why many people not like bhindi is because it might get slimy or sticky while cooking. But a perfectly cooked bhindi is neither slimy nor sticky. There are a few things that you can keep in mind while cooking bhindi. I am sharing these tips that will surely make your bhindi not at all sticky.
Before we dig into the recipe, let me share few tips to avoid stickiness while making bhindi sabji.
How to avoid stickiness in bhindi
Wash the bhindi in running water, wipe it with kitchen towel or spread them on a plate or towel till all the moisture goes off.
Always try to buy the tender and small bhindi as they tend to cook faster then the larger once.
Add some lemon juice or vinegar to reduce the stickiness from  the bhindi.
Always add salt after the bhindi is half cook or else the water that oozes out will make bhindi sticky.
You can also use microwave to cook bhindi for just 1 minute after cutting it. This way bhindi will not get sticky while cooking.
While chopping bhindi, the knife always tends to get sticky. Use a news paper / paper napkin to wipe the knife.
Do not cover the lid of a pan while making bhindi sabji.
Recipe of Dry Aloo Bhindi Recipe with step by step pictures
To make this delicious aloo bhindi sabji recipe we will need following ingredients: bhindi (okra) cut into pieces, potato, onion and raw mango powder. Other then these ingredients we will need usual Indian dry spices like turmeric, red chili powder etc and oil.
Let us start by first heating oil in a non-stick pan. Once the oil is hot enough add mustard seeds (rai) and let it flutters. Once the mustard starts fluttering add cumin seeds (jeera).
Once the cumins seed turn golden brown add potatoes.
Saute the potato in oil for 2 minutes until they become a little soft.
Now add bhindi (okra) in the pan.
Also add sliced onions. We are adding bhindi and onion together as we don't want to over cook the onions.
Mix well all the ingredients.
Add a teaspoon of sugar. Adding sugar will retain the green color of bhindi. Cook the bhindi and potato for 3-4 minutes.
Let the bhindi and potato gets cooked for 5 minutes.
Once the bhindi is almost cooked, add dry spices like turmeric powder (haldi), red chili powder (lal mirch), coriander powder (dhaniya), amchur powder (dried mango powder) and salt as per your taste.
Sprinkle some water so that the sabji does not dries out. Cook for 2-3 minutes till bhindi & aloo is perfectly cooked.
Aloo bhindi sabji is ready to serve. Garnish the aloo bhindi fry with freshly chopped coriander (hara dhaniya) and serve it hot with roti, phulka or paratha.
Aloo Bhindi Fry Recipe Box
Aloo Bhindi Recipe
Aloo Bhindi Recipe - A perfect combination of okra cooked with potato & onion cooked with indian spices.
Ingredients
Okra (bhindi) : 1 cup
Potato (aloo) : 1/2 cup
Onion (pyaz) : 1/2 cup
Oil : 2 tbsp
Mustard seeds (rai) : 1/2 tsp
Cumin seeds (jeera) : 1/2 tsp
Sugar: 1 tsp
Dry mango powder (amchur) : 1/2 tsp
Coriander powder (dhaniya): 1 tsp
Red chili powder (lal mirch): 1/2 tsp
Turmeric powder (haldi): 1/2 tsp
Salt: 2 tsp or to taste
Fresh coriander (hara dhaniya): 2 tbsp
Instructions
Wash the bhindi and wipe it one by one using kitchen napkin. Cut and discard top & bottom end of okra.
Slice the onions, cut the bhindi (okra) diagonally and potato lengthwise.
In a non-stick pan heat oil and add mustered seeds. Once it flutters add cumin seeds.
Then add sliced potato and cook for about 2 min.
Add bhindi and onion and give a quick stir. Also add pinch of sugar so that the the bhindi retains its green color.
Once the bhimdi and potato are soft and cook to about 75% then add all dry indian spices like red chili powder, coriander powder, turmeric powder, amchur powder and salt to taste.
Mix well all the ingredients and sprinkle water in the sabji so that all the masala will incorporate with the sabji and cook for about 5 min.
Delicious dry aloo bhindi sabji is ready.
Garnish aloo bhindi with freshly chopped coriander leaves and serve hot with roti. chappati or paratha.
Other sabji recipes similar to aloo bhindi