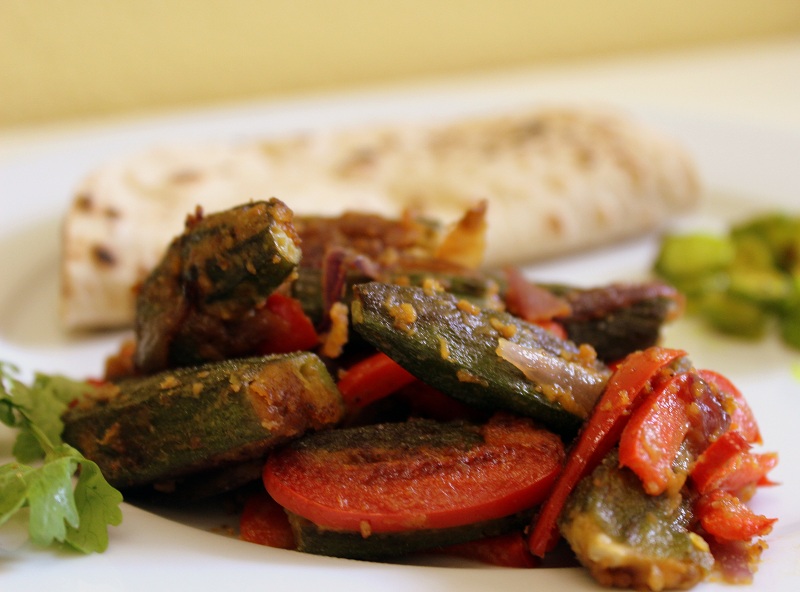 Bharwan Bhindi Sabzi or Stuffed Okra is one of our favourite sabzi that we often make in our home. Bharwan Bhindi also known as Bhareli Bhindi in Gujarati is made from fresh okra (bhindi) and stuffed with a masala made from besan (bengal chickpeas) flour. In this bharwa bhindi recipe, I have added sliced capsicum and onion. Usually this sabzi is prepared just from the okra but you can always experiment and add capsicum to the sabzi and make it interesting for your family.
The stuffing is the important bit of this recipe. Besan flour (bengal chickpeas flour) is the key ingredient for our stuffing. In order to enhance the taste of besan, we need to roast it on medium flame for very short time. Roasting brings out the aroma of besan and improves its taste. Make sure that you don't overdo the roasting. Constantly stir the besan on pan while roasting and don't let it burn. You don't want your besan stuffing to be bitter.
One of the key ingredients in stuffing is Dry mango powder (Amchur/Amchoor powder). Amchur powder has very sour and tangy taste and it is made from green mangoes that are dried and powdered. In bharwan bhindi for stuffing we add Amchur and add the tangy taste. Amchur powder is readily available in market. You can also make amchur powder at home.
The stuffing for bharwan bhindi is sort of all-rounder stuffing. With the same stuffing you can make different stuffed veg curries like bharwan baingan (stuffed eggplant), bharwan karela (stuffed bitter gourd/bitter squash).
Here we have nicely sliced bhindi and prepared it for stuffing. Make sure you don't add water to the stuffing as we want this curry to be dried. Bhindi is a slimy vegetable and we don't want our sabzi to be slimier.
Update: Also check my Dry Bhindi poriyal recipe
Let's start with bharwan bhindi recipe with besan stuffing.
Bharwan Bhindi with Besan Recipe – Veg Okra Curry with Capsicum and Onion
1. In a pan, take some besan (bengal gram flour) and roast it till its color changes slightly. Make sure you don't overcook / roast it, otherwise it gets burn easily and become bitter in taste. In a bowl, mix all the masalas (roasted besan, red chilli powder, turmeric powder, coriander powder, sambar masala and dry mango powder/amchur powder), salt, sugar and oil.
Note: Do not add water to this mixture. Add only oil to mix this masala well.
2. Once you are done with above step, your besan mixture should look like below picture. Slit the okra / bhindi and one by one fill it with our besan mixture.
3. Heat oil in the pan, put bhindi / okra and fry it in slow flame for about 15 minutes. Once the bhindi is cooked, add sliced onion and capsicum. Cook all the veggies for another 5 minutes.  Add salt according to your taste. You can also add red chili powder (optionally).
4. The bhawan bhindi sabzi is ready. You can serve it with hot chapatis or roti, This recipe can be extended and used with many other veggies like eggplant (baingan), tindli (tindora), karela etc.
Bharwan bhindi/okra ki sabzi Recipe -how to make bharwan bhindi /okra curry
Bharwan Bhindi - Stuffed Okra veggie made from Besan stuffing. Bharwan bhindi recipe with besan based stuffing.
Ingredients
For stuffing
Roasted chickpea flour (besan): 4 tbsp
Coriander powder (dhaniya): 1 tbsp
Red chili powder: 1 tsp
Dry mango powder (amchur): 1 tsp
Sambar masala (optional): 1 tsp
Oil: 1 tbsp
Sugar: 1/2 tsp
Salt: to taste
For sabzi
Bhindi (okra): 2 cups (200 grams)
Oil: 2 tbsp
Onion: 1/2 cup, diced
Red bell pepper(capsicum): 1/2 cup, sliced (optional)
Instructions
Rinse the bhindi thoroughly in water.
Dry them on their own or wipe with kitchen towel.
Remove the base and stalk and then give a cut vertically without breaking into two separate half. Keep this bhindi (okra) aside.
Mix well all this ingredients (coriander powder, red chilli powder, dry mango powder, sambar powder, sugar,salt, roasted basen and oil) NOTE: Do not use water in the mixture, instead use oil.
Take the bhindi (okra) and stuff all the besan stuffing in it.
Heat the oil in pan and put the stuffed bhindi (okra) in it and cook for about 10 min in low flame.
Cook till the bhindi becomes light brown in color.
Add onion and red bellpeper/capsicum and cook till the onion and capsicum are cooked.
Now the bharwan bhindi (okra) is ready to serve with roti or chapatti