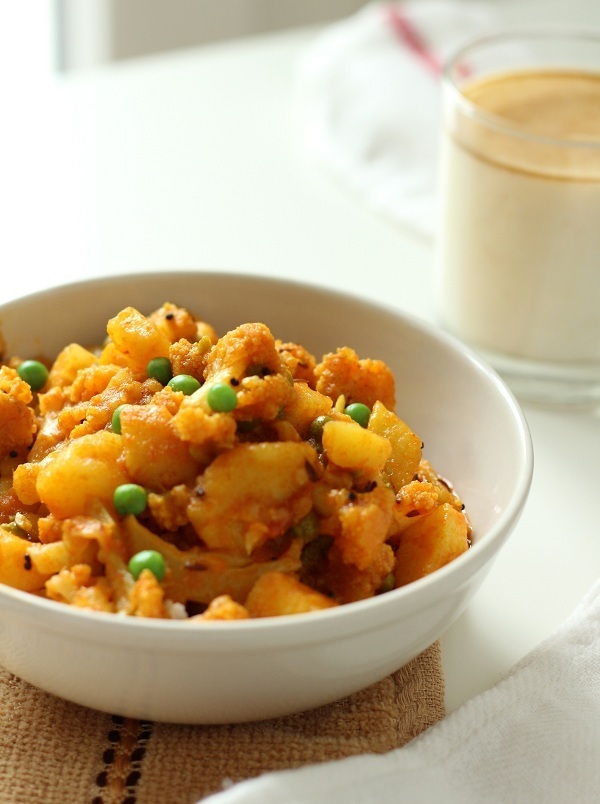 Aloo Gobi Matar Recipe – Indian cooking is so versatile yet so simple. Contrary to the western belief, Indian cooking is not at all complicated if you learn few tricks and if you are accustomed to the basics of Indian food. Everyday almost every Indian family cooks a balanced diet which is rich in all the necessary & essential nutrition. The sabzi or curry, a kind of bread (roti / chappati / phulka), rice and a lentil. This balance diet is base of Indian cooking especially for vegetarians. The sabzi preparation is almost similar everyday, just the vegetable used in sabzi differs. There are many curry recipes that are cooked daily in an Indian house hold.
The usual curries that I cook are lauki chana dal, corn curry, aloo palak, aloo beans, etc. One such curry that I often cook is Aloo Gobi Matar. As its name suggest, this curry is made from cauliflower, potato and green peas. All the ingredients are available in almost all the grocery stores. Also as this is a regular sabzi we use minimum spices to cook. Only 3 main spices; turmeric powder, coriander powder and red chili powder. Quite often I add 4th spice: garam masala, but not always. I avoid garam masala as much as I can. However some day you just cant cook without this king of Indian spice 🙂
Related: gujarati aloo matar recipe
Aloo gobi mutter sabzi can be cooked in so many ways. I am not even sure what should I call to the technique that I have adopted. I will call it a typical Indian Aloo Gobi Matar curry. The steps for this aloo gobi Matar recipes are similar to almost all the sabzi. Only one small variation is that we are cooking the cauliflower separately in boiling water. Lot of people cook this sabzi in pressure cooker but I don't cos the cauliflower becomes mussy in cooker.
So let us check the easy step by step recipe of aloo gobi Matar.
Step by Step Aloo Gobi Matar Recipe
1. Wash the vegetables thoroughly and cut cauliflower into bite size florets. Also dice the potatoes in similar size. We also need green peas for this aloo gobi Matar sabzi. I have used frozen peas, you can use fresh peas also.
2. Next blanch the cauliflower in steaming water. Heating the cauliflower in boiling water serves two purpose. First it semi cook the vegetable which reduces the final cooking time and second it will kill/remove any worms that might be in cauliflower.
3. Now heat some oil in a pan and temper mustard seeds (rai), cummin seeds (jeera) and also add a pinch of asafoetida (hing) and grated ginger. Toss in the potato and cook for around 5 minutes. Potatoes usually takes some time to cook so we will cook them first in oil. Next add green peas and mix it well.
4. Add all the spices now; coriander powder (dhaniya), turmeric powder (haldi) and red chili powder. I have not added garam masala in this sabzi. But feel free to spice up your aloo gobi matar with some garam masala.
5. Let the spices get simmer in the sabzi for a minute of two. Then add blanched cauliflower florets. Mix it well so that cauliflower is all covered up in masala. Next add some water and cook the sabzi for another
 Serve the aloo gobi matar sabzi with phulka, chapatis or parathas.
Aloo Gobi Matar Recipe, How to make Aloo Gobi Matar Sabzi
Aloo Gobi Matar Sabzi - A spicy delicious Indian curry made from potato, cauliflower & green peas.
Ingredients
Cauliflower: 1 cup, florets removed/washed
Potato: 1/2 cup, chopped or cubed
Green peas: 1/2 cup
Tomato: 1/4 cup, chopped
Garlic: 1 tbsp, chopped
Mustard seeds (rai): 1 tsp
Cumin seeds (jeera):1 tsp
Turmeric powder (haldi): 1 tsp
Coriander powder (dhaniya): 1 tbsp
Red chili powder: 1 tsp
Asafoetida (hing): 1/4 tsp
Salt: to taste
Instructions
Cut the cauliflower into bite size florets. Also chop the potato and tomato into medium dices.
Blanch the cauliflower in water for 5 minutes and semi cook them.
In the meantime, heat oil in a pan and add cumin seeds, mustard seeds and pinch of asafoetida. Once the seeds crackle add chopped garlic and let it cook for some time.
Now add diced potatoes and let them cook for around 5 minutes.
Once potatoes are semi cooked throw in the green peas.
Its time to add spices; add coriander powder, turmeric powder, red chili powder and salt to taste.
Let the spices get cooked for around 1 minute then add blanched cauliflowers into the curry. Pour some water and cook the curry for 5 more minutes
Aloo gobi matar curry is ready to serve.