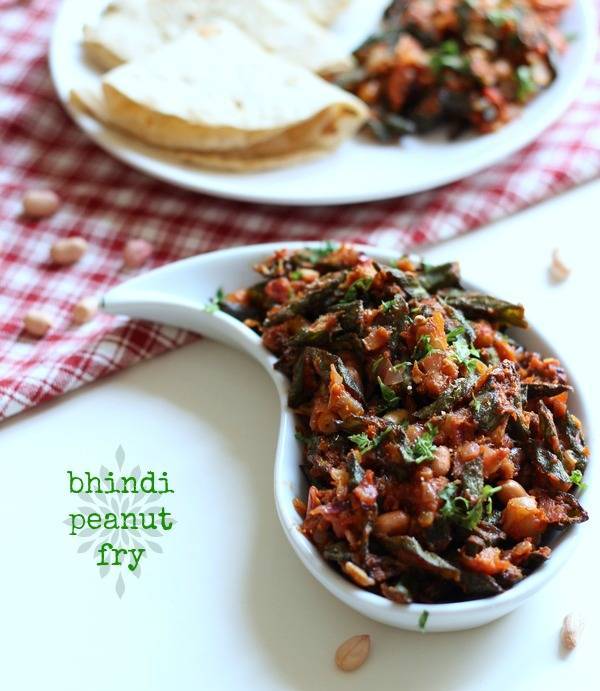 Bhindi Peanut Fry Recipe – Today let me share a wonderful recipe with you. It's my favorite bhindi sabji or okra sabji. There are so many ways we cook bhindi in our daily diet. The most common recipes of bhindi are bhindi masala, aloo bhindi, dahi bhindi, bhindi fry etc. Today I am sharing yet another variation of bhindi with peanuts. In this recipe, bhindi and peanuts are first deep fried in oil and then used in curry. That gives the crunchy taste which is simply superb. I know deep frying is not for weight watchers or people on diet. So this sabji is not for those who are health conscious. Believe me once a while you can take exception and try this crunchy delightful bhindi peanut fry. Also you can make this bhindi peanut fry sometimes when guests are coming for lunch or dinner.
Related: bhindi poriyal | bharwa bhindi
By deep frying the bhindi/okra it becomes crispier. Also as we have added fried peanuts that too gives a crunchy bite to the sabji. The onion in this bhindi fry gives a mild sweetness while the tomatoes give sourness / tanginess. Combining all these flavors give great taste to this bhindi peanut fry. Also a small twist in this recipe is tomato chili sauce / ketchup. That too add a different flavor.

This recipe was inspired from Neeta Mehta. I am a big fan of hers and try almost all her variations. In this recipe I have added one extra ingredient which is amchur powder/dry mango powder to give that tangy twist. Other than that the recipe is same. Neeta Mehta rocks m/ 🙂
Let us check the step by step recipe of Bhindi peanut fry with step by step pictures.
Recipe of Bhindi Peanut Fry (Okra Peanut) with step by step photos
To make this crunchy delicious okra peanut fry/bhindi peanut we will need following ingredients. 1 cup diagonally cut okra or bhindi, finely chopped tomato and onions, tomato puree, garlic and peanuts/shingdana. Other then these ingredients we will also need few common indian spices like garam masala powder, coriander powder, dry mango powder/amchur powder.
To know the exact quantities of each of the ingredients check out the recipe box at the end of this post.
First we need to deep fry the bhindi/okra and peanuts. You can also shallow fry bhindi if you want however deep frying it make this sabji crunchy and too delicious.
Heat around 2-3 cups of oil and once the oil is hot carefully start frying the bhindi. Once done remove the okra in an absorbent paper/kitchen towel.
Similarly also fry the peanuts and keep it aside.
Lets make the bhindi peanut curry. Heat 1-2 tbsp of oil in a non-stick thick pan and saute finely chopped garlic in it.
Add finely chopped onions and let them sweat out.
Saute the onions in oil until they becomes golden in color.
Add chopped tomatoes and give a quick stir. Cook until tomato gets soften.
Add tomato puree and mix well. Cook the puree until it starts oozing out oil.
Now its time to add dry spices. Add red chili powder, coriander powder, garam masala powder and salt as per your taste. Give a stir and mix all spices well. Cook the spices for 1-2 minutes.
Add tomato and chili sauce. Tomato chili sauce will give that tangy taste to our sabzi.
Now the gravy is ready. Mix the fried bhindi or okra.
Also add the fried peanuts or mungfali. Give a good stir and mix well the ingredients.
On top add a pinch of dried mango powder or amchur powder.
Delicous lip smacking bhindi peanut fry is ready to serve. Serve this sabzi hot along with roti, phulka or paratha, dal and jeera rice.
Let us check the recap recipe of bhindi peanut fry or bhindi shingdana.
Bhindi Peanut Fry Recipe Box
Bhindi Peanut Masala Recipe
Bhindi Peanut Masala - Deliciously crispy and tangy stir fried okra and peanut in Indian spices.
Ingredients
Bhindi/Okra : 1 cup chopped diagonally
Peanut : 1/4 cup
Oil : 2 cups for frying
Oil : 2 tbsp for curry
Garlic : 2 tbsp finely chopped
Onion : 1/2 cup finely chopped
Tomato : 1/2 cup chopped
Tomato puree : 1/2 cup
Garam masala powder: 1/2 tsp
Red chili powder: 1 tsp
Coriander powder: 1 tsp
Tomato chili sauce: 2 tbsp
Amchur / dry mango powder : 1/2 tsp
Salt : 2 tsp or to taste
Instructions
Pre prepration
Cut the bhindi/okra diagonally and deep fry the bhindi for about 2 min or till it changes its color. Let the excess oil get soaked in kitchen towel.
In the sane oil, fry the peanuts till they are crisp or changes color.
Finely chop the onions and tomatoes.
Make the puree of one tomato.
To make Bhindi Peanut Masala
In a pan heat some oil and add finely chopped garlic and saute till it changes its color.
Then add finely chopped onion and cook until they are translucent .
Once onions are cooked throw in the tomatoes and cook until the tomatoes are soft.
Add the tomato puree and cook till it oozes out oil.
Now time to add dry indian spices like coriander powder, red chili powder, garam masala and salt to taste and stir well all the ingredients.
Add tomato chili sauce and cook for about a min.
Once all the ingredients blends well add the fried bhindi/okra and fried peanut and mix well.
Once the sabji is ready sprinkle some Amchur powder on top and mix it .
Bhindi Peanut Masala is ready to serve hot with roti, chapati or parathas.
Recipes similar to Bhindi Peanut Masala