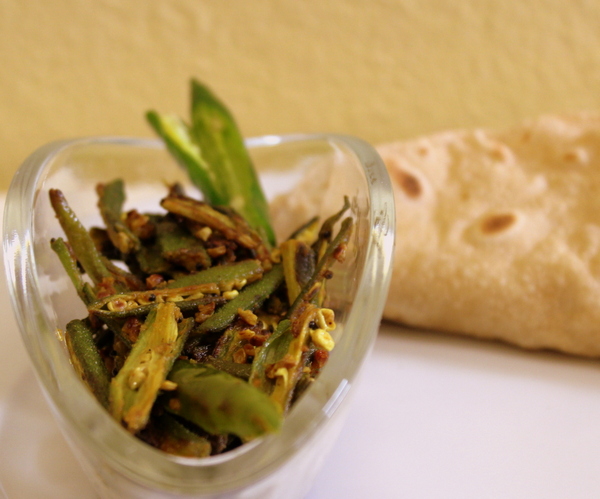 Okra/Bhindi Poriyal – Here is a quick and easy recipe of bhindi poriyal. It goes really well as side dish to many South Indian main courses. This poriyal is an all-rouder side dish that really taste great with rice or roti. In North India this poriyal is generally served along with chappatis and curries. In Gujarat this dish is also known as Bhindi Sambharo.
This is an easy dish of bhindi poriyal recipe. Cooked in almost no time but looks really great on dinning table. If you have invited guests for some South Indian feast at your place, do remember and add this simple bhindi poriyal recipe to your menu. If you like this poriyal, don't forget to check Tindli poriyal, Potato poriyal and Beans Coconut poriyal recipe.
Without further ado, here is the quick and easy recipe of Okra/Bhindi Poriyal.
Okra Bhindi Poriyal Recipe
1. Wash the bhindi (okra) and make it completely dry and then slice it.
2.  Heat some oil in pan, add pinch of asafoetida (hing) and mustard seeds and temper it. Add sliced chili and okra / bhindi. Put some turmeric powder and add salt to taste. Stir it well and let bhindi cook for some time.
Okra Bhindi Poriyal Recipe - Okra / Bhindi Stir Fry
Okra Bhindi Poriyal Recipe - South Indian style Bhindi Poriyal. Bhindi stir fry south indian.
Ingredients
Okra (bhindi): 2 cups (150 grams), sliced
Green chili: 1 tbsp, sliced
Oil: 1 tbsp
Turmeric powder (haldi): 1 tsp
Mustard seeds (rai): 1 tsp
Asafoetida (hing): 1/4 tsp
Salt: to taste
Instructions
Heat oil in the pan and add the mustered seeds (rai) and let it temper then add asafoetida and sliced chili.
Add the bhindi (okra), turmeric powder and salt to taste. Cook in low flame till the bhindi is crispy and brown in color.
Bhindi poriyal is ready to serve.