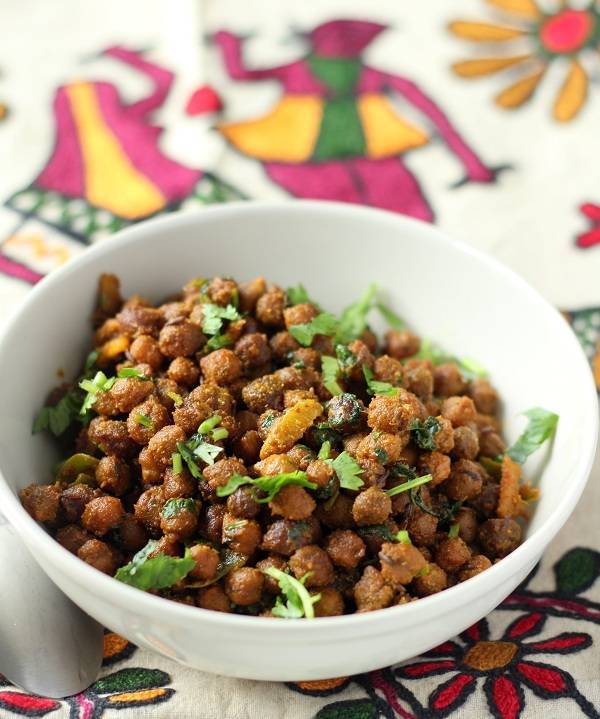 Dry kala chana masala sabji (sukhe kale chane) is a great Indian side dish made from brown chickpeas. It is generally served as snacks but also can be eaten with roti. This tangy tasty dry black chana curry is quite easy to make. The only preparation required is to soak and boil kala chana. Once you have boiled kala chana, it takes minutes to stir fry with some Indian spices.
Kala chana or brown chickpeas can be used to make many dishes. I have already published recipe of kala chana masala which is an Indian curry of kala chana with gravy. Kala chana is used in different Indian street food dishes. Lot of people make kala chana masala for pani puri stuffing. Also it is used to make chana jor garam, a popular Indian street food dish.
Did you noticed the table cloth below dry kala chana in the first image? Yes you guessed it right. This is dry kala chana recipe for navratri. I cook this dish during navaratri festival. I remember as kid I used to ask my mom every now and then to cook this wonderful mouth watering dish. I used to grab a spoon and just start eating without waiting for chappati. Kids love this dish. Trust me.. Just make this dry kala chana sabji once, drizzle some lemon juice and give them. Kala chana being a lentil is really great source of protein. So it is great for kids.
Being a dry sabji this dish can also be served for lunch box/tiffin box. Just use butter instead of oil while stir frying kala chana in spices. That way the butter will get soaked by kala chana and won't ooze out.
Let us check the recipe of dry kala chana with step by step pictures.
Step by step recipe of dry kala chana masala (stir fried black chana)
Rise the kala chana thoroughly and soak them in water for 7 to 8 hours / overnight. Kala chana take some time while cooking is it is good idea to pre-soak them the night before making sabji.
Next day pour the kala chana in a pressure cooker along with the water it was soaked in. Also add a little water to kala chana and boil it in pressure cooker for about 10 minutes (4 to 5 whistles in the pressure cooker with whistle).
Once the kala chana is soaked and boiled it will roughly double in size. You can now store the kala chana in refrigerator like this for 5 to 7 days.
Now to make dry kala chana sabji heat a tablespoon of oil in a non-stick pan and add cumin seeds (jeera). Let the cumin get tempered in hot oil.
Add grated ginger and garlic (you can use ginger garlic paste also) in hot oil and saute for a minute until the raw flavor of ginger is gone.
Throw in the boiled kala chana at this point. Mix well and cover kala chana with ginger and garlic.
Let us now add dry spices. Add red chili powder, turmeric powder, coriander powder (dhaniya), garam masala powder and salt. Add little less salt as while boiling kala chana we already added some.
Stir well and let the spices gets coated to kala chana nicely. Add a little water (just around 1/3 cup). This is a dry kala chana sabji so we don't want too much of gravy.
Add chopped green chilies. This gives dry kala chana slight heat which tastes really well. If you are cooking dry kala chana for kids you can avoid adding green chilies.
Now last by not least. Coriander… lots of chopped coriander (cilantro). Add chopped coriander to the dry kala chana sabji and see how it lifts the overall taste.
Mix everything well and let the dry kala chana sabji get cooked on low flame for 5 minutes.
Delicious dry kala chana sabji is ready to serve. Squeeze half a lemon on dry kala chana sabji and enjoy it with roti / chappati or just like that 🙂
Dry Kala Chana Recipe, Punjabi Dry Kala Chana Sabzi
Dry Kala Chana sabji (Sukhe kale chane): A tasty dry kala chana recipe tossed in Indian spices.
Ingredients
Kala Chana: 1 1/2 cup, boiled
Oil:1 tbsp
Cumin seeds:1 tsp
Ginger:1/2 inch, cut into julienne
Garlic: 1 tsp, grated
Red chili powder:1 tsp
Coriander powder:1 tbsp
Turmeric powder:1/2 tsp
Garam masala:1tsp
Green chili:1 chili , chopped
Coriander leaves:1/2 cup, chopped
Lemon juice:1 tbsp
Tomato: 1/2 cup, chopped (optional)
Salt: to taste
Instructions
Wash and soak the kala chana over night or for 7 to 8 hrs.
Once the kala chana are soaked, boil them in the presser cooker by adding a little salt and water for about 4 whistle or for 10 minute.
In a non-stick pan heat a tablespoon of oil and temper cumin seeds (jeera).
Add ginger garlic and cook till the rawness of ginger and garlic is gone.
Now add the boiled kala chana and stir it and let it cook for 2 minutes.
Add in all the spices: red chili powder, coriander powder, turmeric powder, garam masala and salt to taste. Be careful while adding the salt because we have already added the salt in the chana while boiling.
Mix all the masala well and cook for about 4 minute. If required add little water.
Throw in the green chili and cook for a minute.
Now add the chopped coriander leaves and few drops of lemon juice mix well all the ingredients.
Dry kala chana sabji is ready. Add chopped tomato and serve hot with chappati of just like that.