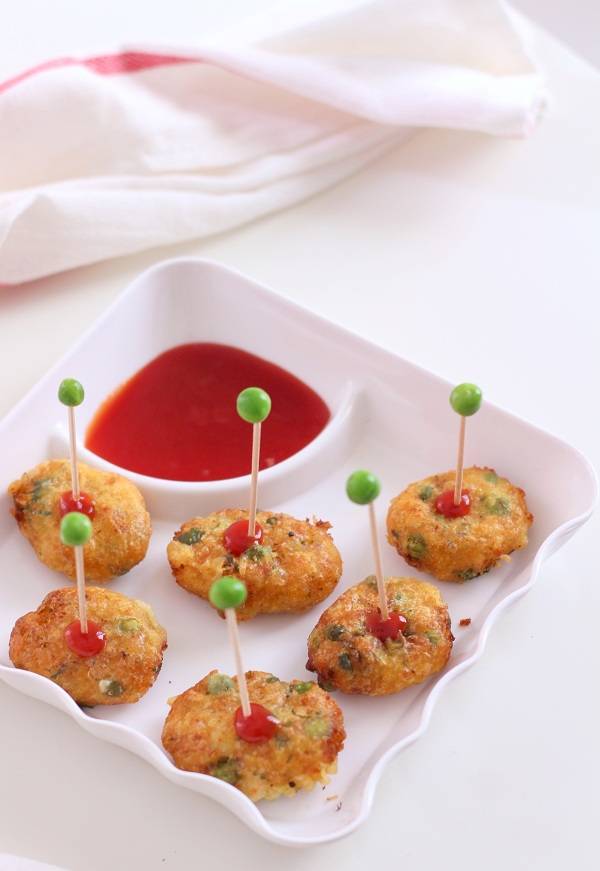 Poha Patties Recipe – Poha patties or poha pakoda is a quick and easy fried snack dish which can be served in morning breakfast as well as in the evening snacks. Hungry school returning kids love these delicious snack. Also it can be served as sides in a lunch menu or tiffin.
Poha is called by different names in different languages and parts of India. For example they call it Aval (அவல்) in Tamil and Malayalam, poha or pauwa in Hindi, pauaa/paunva (પૌંઆ) in Gujarati, pohe in Marathi. The flattened rice or poha is very common in northern India especially in state of Maharastra and Gujarat where the breakfast dish of Aloo poha (potato poha) or Kanda poha (Onion poha) is prepared. Both these versions have unique taste and goes really well with a cup of tea. I have used the same ingredient and tried to give it a twist. This is a good way to break the routine and enjoy Poha in a different form.

A while ago I had made a dish similar to poha patties called Rice & Sweet corn bites. The idea is same just the ingredients differ and so does the taste. Both dishes are extremely tasty and a must try if you not have already.
To make this poha patties or poha cutlet I have first washed the poha thoroughly in water. This way the poha will become soft and can roll into patties easily. Also I have fried these delicious pattice in oil. You can ofcourse just shallow fry them. I have rolled these poha patties into oblong or oval shape balls. But you can also roll the patties in different shapes. Kids love when you serve them different shapes patties in the lunch box.
Let us check the recipe of Poha patties with step by step photos.
Recipe of Poha Patties or Poha pakoda
To make these delicious poha pattice we will need poha (flattened rice), potato, green peas, yogurt, ginger garlic and some common spices. First we need to par boil the green peas. In a deep bottom pan take green peas and add water till they submerge. Heat and boil the green peas for 2 to 3 minutes.
Next we need to prepare ginger and green chili paste. For this peel off the ginger and cut into pieces. Also slit the green chilies and grind both ingredients in a mixer grinder. Make a smooth ginger garlic paste.
We will need boiled and mashed potato. Boil the potatoes and peel off its skin. Now once they cools down mash them with hand. Take boiled potato, boiled green peas, poha and ginger green chili paste in a mixing bowl.
Add curd or yogurt to the mixing bowl.
Now add common Indian spices like turmeric powder, red chili powder, garam masala powder and coriander powder. Also add salt as per your taste.
Combine all the ingredients well and make a mixture of poha, potato and spices.
Add freshly chopped coriander (cilantro) and mix well.
Now divide the poha potato mixture and make small round balls as shown here.
For deep frying prepare a frying pan. Heat oil in a pan. Once oil is hot enough deep fry poha potato ball. Turn the poha patties once they get nice golden brown color on one side. Cook on either side till it gets golden brown color.
Keep the fried poha patties on paper napkin. The delicious Poha patties or poha pakoda are ready. Serve them hot with tomato ketchup, coriander chutney or even tamarind chutney.
Poha patties or poha pakoda recipe box
Poha Patties Recipe, Recipe of Poha Pakoda
Poha Patties Recipe - Deep fried delicious fritters made from flatten rice (poha), mashed potato, green peas and other Indian spices.
Ingredients
Poha: 1 cup
Potato: 1/2 cup meshed
Green peas: 1/2 cup boiled
Yogurt: 2 tbsp
Pepper powder: 1/2 tsp
Green chilies: 1/2 sliced
Ginger: 1 tbsp
Red chili powder: 1/2 tsp
Turmeric powder: 1/4 tsp
Garam masala: 1/2 tsp
Coriander powder: 1 tsp
Coriander leaves: 2 tbsp chopped
Salt: 1 tsp or to taste
Oil: 2 cups for frying
Instructions
Pre-preparation
Take poha in a colander and rinse in water till it run out of starch.
Boil the potato and once it cools down peel off its skin and mash them using hand.
Also boil some green peas.
To make ginger green chili paste peel the ginger and take it into grinder jar. Also add a sliced green chili and grind it into smooth paste.
To make Poha patties mixture
In a mixing bowl take boiled & mashed potato, ginger garlic paste, washed flattened rice or poha and green peas.
Add curd / yogurt and common Indian spices like turmeric powder, coriander powder, red chili powder and garam masala powder. Also season the mixture with salt as per taste.
Combine all ingredients well into Poha patties mixture.
Add freshly chopped coriander leaves and mix well.
Divide the poha patties mixture into round balls or patties.
To fry Poha patties
Heat 2 cups of Oil in a frying pan.
Once oil is hot add poha patties balls in a batch.
Deep fry the pattice other either side till it turns golden brown.
Remove the fried poha pattice on a absorbent paper.
Serve Poha patties with green chutney, mint chutney or tomato ketchup.
If you are looking for other snack dishes then do check
pani puri
,
ragda patties
,
sabudana vada
,
tawa sandwich
,
sooji toast
and
Indian Italian Bruschetta
.