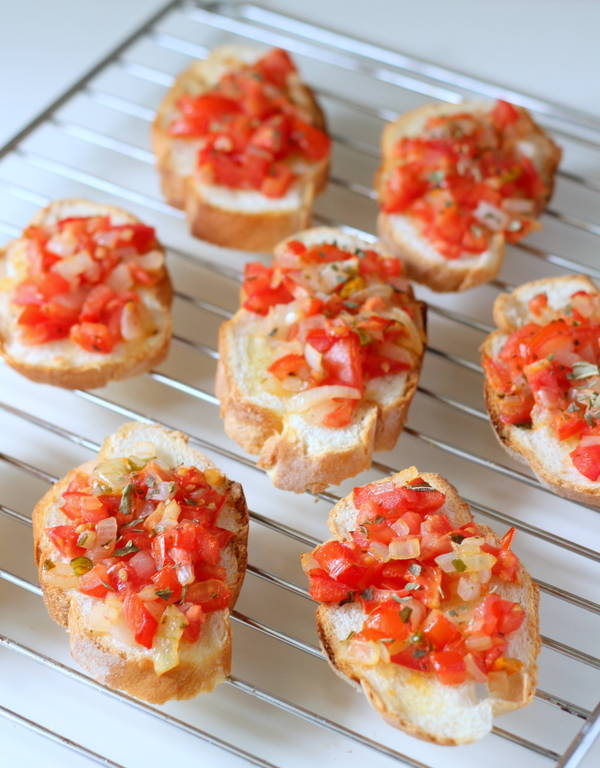 Easy Bruschetta recipe – Bruschetta (pronounced: brusketta, hindi: ब्रुस्केटा) is a traditional Italian appetizer consist of grilled/toast bread rubbed with olive oil and topped with garlic, tomato, basils and onions. Bruschetta is a great snacks dish perfect for evening snack or starter. Kids love this dish.
This Bruschetta recipe has an Indian twist. I have added chopped green chilies which give nice flavour to this dish. These chilies are mild so they don't add heat to the dish but just the taste. In traditional bruschetta, fresh Basil leaves are added to give nice aroma. If you don't have green basil leaves, you can add some oregano mixture or dried basil. In this bruschetta recipe I have added dried basil.
This is an easy Bruschetta recipe which hardly take time for preparation. It goes really well with Italian food like Pasta, spaghetti etc. If you are planning an Italian feast at your home, Bruschetta is an ideal starter dish for that.
Traditionally Bruschetta is prepared with slices of italian / french bread. In India it is difficult to find such bread hence you can use normal slices of wheat bread instead.
Let's check the quick Bruschetta recipe with tomato, garlic and onion.
Recipe of Italian Bruschetta with Onion & Tomato (Indian version) – Step by step
Cut the bread into slices. The bread slice should not be too thin or too thick. Here I have used french baguette bread. You can use normal wheat bread slices instead. Just cut the wheat bread slices into semi circles to give bruschetta its traditional shape.
To make onion tomato topping for "Indianized" version of Italian bruschetta we will need following ingredients. Finely chopped tomato, finely chopped onion, garlic and green chilies. We will also need olive oil and some Italian dry herbs like oregano or pizza mix.
Lets prepare the topping now. In a non-stick pan heat olive oil and saute garlic for only 20-30 secs.
Now add finely chopped green chilies and mix it well.
Next add finely chopped onions. Saute only for 1 min till onions become translucent.
Add dried basil leaves (or even fresh if you have).
Give a stir and mix well dry herbs with onion.
Add finely chopped tomatoes and salt as per your taste and again stir fry quickly just for a minute.
The onion tomato topping for bruschetta is ready.  Apply olive oil on bread slices and top it up with the onion tomato topping.
Pre-heat the oven on 210 degree C. Place the bread slices in oven and cook for around 15 minutes. Yummy bruschetta is ready to serve.
Italian Bruschetta Recipe Box
Bruschetta with Tomato and Onion Recipe
Indian-Italian Bruschetta Recipe with step by step photos - Italian Bruschetta with Tomato, onion and garlic.
Ingredients
Slices of french bread (Baguette): 6 slices
Tomato: 1/2 cup chopped
Onion: 1/2 cup chopped
Garlic: 1 tbsp finely chopped
Green chili: 1 tsp finely chopped
Olive oil: 1 tbsp
Dry basil: 1 tbsp
Salt: 1 tsp
Instructions
Heat olive oil in a pan and add chopped garlic and onion. Saute for a minute.
Add tomato, green chilies, dry basil, salt and cook for few seconds. Don't let tomato get over cooked.
Apply some olive oil on the slices of baguette bread, add the above mixture on bread as topping.
Cook the bread in preheated oven on 210 degree centigrade for about 15 minutes.
The Italian bruschetta with an Indian twist is ready.