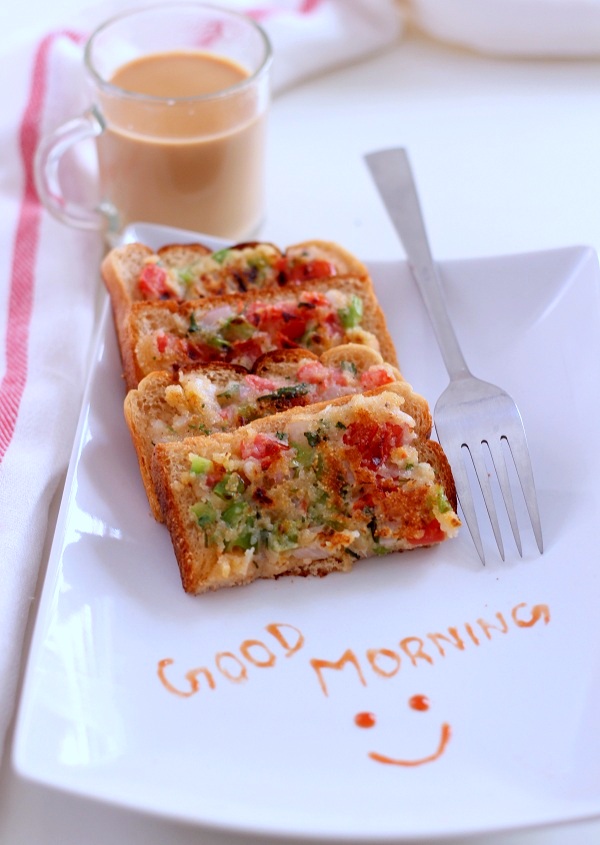 Veg rava toast recipe or sooji toast with step by step photos – Who don't love cheese toast! well you might but I love them. Often I order cheese toast whenever I visit my favorite coffee shop. Although I feel a little guilty when I eat cheese toast but who cares 🙂 The cheese busting in these delicious toast is just awesome. You know you can have pleasure of eating toast without feeling guilty at all. Well here is a recipe of exactly that. My favorite rava Toast or sooji toast!
Rava also known as Samolina in english is a healthy purified wheat middling of durum wheat. Rava is used to make so many different dishes in India. For example rava sheera, rava dosa, rava idli, etc. Today I made a simple dish of Rava toast in breakfast.
Breakfast is an important meal of the day. They say Breakfast like a king, Lunch like a soldier, Dinner like a beggar. So why to miss the most important meal of the day! It gives you a good start in morning and having many health benefits.Morning breakfast gives a kick to the body.
Coming back to the Rava toast recipe, you can make this veg rava toast in no time with the common ingredients available at home. This is also a bachelor's recipe. Being bored by eating bread butter daily in breakfast, it is a slight change with healthy veggies. These toast goes well with tea but even it is suitable with any fresh fruit juice. You can use any bread of choice like multigrain bread, whole wheat bread, white bread etc to make these rava toast. Also as we are going to roast the toast you can use a day or two old bread to make this recipe. Hence this is one of the recipe you can make with left over bread.
Let us check the step by step recipe of sooji toast or rava toast.
Step by step recipe of Rava toast / Sooji toast with photos
To make these delicious rava toast, first roast the rava / suji / sooji in a pan till it turns slightly pink in color.
Also chop the vegetables required for this rawa bread toast. Finely chop the onion. Dice the green capsicum and tomatoes. Also we will need some fresh green coriander leaves, green chilies, black pepper and salt for this rava toast.
Now in a mixing bowl take all chopped veggies like onion, tomatoes, capsicum and green coriander leaves and add the roasted rava / samolina.
Add cream to this vegetable mixture. Cream would help in binding the mixture together also giving it rich texture. Alternatively you can also use yogurt / curd instead of cream.
Now add black pepper, salt to taste.
With the help of a spoon mix well all the ingredients.
The vegetable mixture is ready for rava toast. Now take 4 pieces of whole wheat bread (you can even take normal white bread) and apply a gentle amount of vegetable mixture using spoon. Repeat this for all remaining pieces of bread slices.
Now heat a tawa / pan and pour few drops of oil. Once the pan is hot place individual bread slices with bread side down as shown here.
Roast the bread for 2 minutes and turn it to other side with the help of a spatula.
Cook the rawa toast on both sides till it gets nice golden brown color. Sooji toast is ready to serve.
Remove it from the pan and place in serving plate. Cut the rava toast into halves and serve hot with tomato ketchup or coriander chutney.
Rava toast recipe / Sooji toast recipe box
Rava Toast Recipe, Sooji Toast / Simolina toast
Rava Toast Recipe, Sooji Toast / Simolina toast - A healthy breakfast dish made from samolina, vegetables and bread slices.
Ingredients
Bread/Whole wheat bread: 4 slices
Rava / Sooji: 3 tbsp
Cream: 2 tbsp
Onion: 1/2 cup, chopped
Tomato: 1/2 cup, diced
Capsicum: 1/2 cup, diced
Coriander leaves: 2 tbsp
Black pepper: 1/2 tsp
Salt: 1 tsp or to taste
Oil: 2 tbsp
Green chilli: 1/2 tsp (optional)
Instructions
Roast rava / sooji in a pan for a while just so it becomes slightly pink.
Prepare vegetables now. Finely chop onions, tomatoes and capsicum.
Take the roasted rawa in a bowl and add onion, tomato, capsicum and coriander leaves in it.
Add cream , salt, black pepper in it and mix well to make a thick paste.
Take bread slices and using a spoon spread vegetable mixture on each of them.
Heat a tava and spread some oil. Once the tava is hot place the bread slices with vegetable mixture on tava with bread side down.
Let the bread gets roasted for 2 minutes on medium flame.
Flip the bread slices and cook the vegetable mixture side on tawa. Cook until the rava toast turns golden brown in color.
Once the rava toast is ready take them off the tava and place on serving plate. Cut into halves and serve warm with tomato ketchup or coriander chutney.
Notes
i have roasted the rava so that it doesn't raw as well giving healthy result.
If you are health conscious or dont like the taste of cream, you can even add curd or yogurt to this toast.
You can have many different dishes in breakfast like
bhakhri
,
tava sandwich
,
methi thepla
,
bajra vada
and of course this is one too .:)