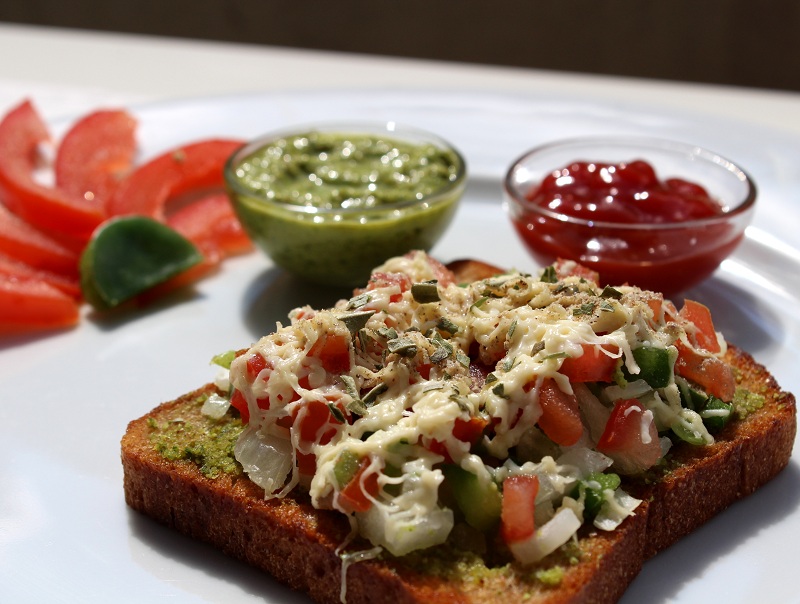 Open Cheese Veg Tawa Sandwich is one of my favorite snack dish. I just love the flavor of cheese on tawa sandwich. A tawa sandwich is an Indian version of grill sandwich which is prepared on a tawa/pan instead of grilled. This version of tawa sandwich is open instead of close i.e. we haven't put second bread as we usually do in other sandwiches.
This is an easy tawa sandwich recipe. Once the ingredients are prepared it hardly take any time to assemble the open cheese veg tawa sandwich. Generally we use mint chutney as a spread on sandwich but here I have used coriander chutney. I like the taste of coriander chutney and it adds really good flavor to tawa sandwich.
Tawa sandwich is a good snack dish. Kids love this sandwich. The melted cheese on top of this open sandwich taste so well that you would hardly stop after having a bite. The bread is usually toasted on tawa for a while so that it becomes crispy.
The open veg cheese tawa sandwich is quite similar to the italian bruschetta recipe. Go try the bruschetta if you haven't already 🙂 Also check this Indian version of chili cheese toast recipe.
Step by step Open Cheese Veg Tawa Sandwich recipe
1. Finely chop the vegetables for open veg cheese tawa sandwich. I have used the all time favorite veggies like capsicum, tomato and onion. You can also add boiled sweet corns or mushrooms or any other veggie. Also we need some grated processed cheese (cheese cubes), dry basil, black pepper and salt to taste.
2. Apply butter on both the sides of bread and toast it on Tawa (pan) on low flame. Apply coriander chutney on one side once the bread is toasted properly.

3. Add toppings on top. Start with finely chopped onions, capcicum and add tomatoes at the end. Do not over cook the veggies.

4. Sprinkle some black pepper, salt to taste and grated cheese on top. I have sprinkled some dry basil on sandwich. This is however optional. Cover the tawa with a lid and let sandwich cook till the cheese is melted.

The open cheese veg tawa sandwich is ready. Serve with tomato ketchup / coriander chutney / mint chutney.

Open Cheese Veg Tawa Sandwich recipe
Cheese veg tawa sandwich - Quick Indian sandwich recipe prepared on tawa.
Ingredients
Bread: 4 slices
Onion: 1 cup, diced
Green bell pepper: 1/2 cup, diced
Tomato: 1 cup, diced
Butter: 2 tbsp
Green coriander chutney: 1/2 cup
Salt: to taste
Processed cheese: 2 cubes
Pepper powder: 1 tbsp
Dry basil: 1 tbsp
Instructions
Apply butter on both side of bread slice and roast it on low flame on a tawa (pan).
Once the bread is toasted, apply coriander chutney on one side.
Add finely chopped onions, bell pepper, tomato on top of bread and let it cook for a minute.
Sprinkle black pepper, salt to taste and some grated cheese on bread.
Optionally add some dried basil.
Cover the sandwich with a lid and cook till cheese is melted.
Serve the open cheese tawa sandwich hot with tomato ketchup or coriander chutney.