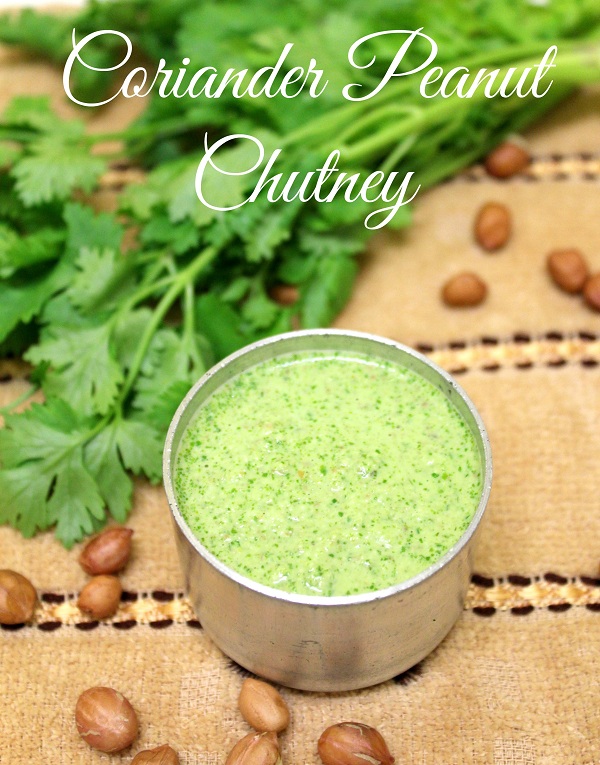 Coriander Peanut Chutney is a mildly spicy Indian condiment / sidedish that is very easy to prepare and goes well with many Indian snacks / dishes. Fresh Coriander leaves / Cilantro is the key ingredient in this chutney. Coriander Peanut Chutney goes really well with samosas, veg sandwiches, tawa sandwiches, idra dhokla, pakoras, veg rolls, veggie patties etc. This Cilantro Chutney can be stored in an air tight container and refrigerated for many days. Like other Indian households, I always have this chutney prepared and stored in my refrigerator and ready to be served with different snacks.
To give a slight twist to the traditional Coriander Chutney, I have added some peanuts and a small piece of fresh coconut in this chutney. You can always experiment with this coriander chutney by adding different ingredients as an when you like. I have added a couple of green chilies to give spicy taste to this coriander peanut chutney. If you don't eat too spicy food and want to prepare mild chutney, just remove the seeds from green chilies before grinding them in mixer. This way all the flavors to green chilies will be added to chutney without the spice.
Let us quickly check the Coriander Peanut Chutney with a twist of coconut and green chili 🙂
Coriander Peanut Chutney recipe
In a mixture / grinder mix all the ingredients like coriander, raw peanut, green chili, salt, turmeric, lemon juice and water. Optionally you can add 5-10 grams of fresh coconut in this chutney.  Grind it and make fine paste.
The coriander peanut chutney is ready and can be served with any Indian appetizers like samosas, tawa sandwiches etc.
Coriander Peanut Chutney Recipe
Coriander Peanut Chutney - A spicy and tasty chutney (side dish) made with fresh coriander and peanut. This chutney goes really well as side dish with many Indian dishes.
Ingredients
Green Coriander (Cilantro): 1 cup, washed
Peanuts: 1/4 cup
Lemon juice: 1 tsp
Green chili: 1 tsp
Fresh coconut : 1 tbsp, optional
Turmeric powder (haldi): 1/4 tsp
Salt: to taste
Instructions
In the grinder add coriander, peanut, lemon juice , salt, green chili, turmeric powder, fresh coconut (optional) and some water. Make a fine paste.
Taste the chutney and add salt to taste.
That's it :). Coriander Peanut chutney is ready to serve.