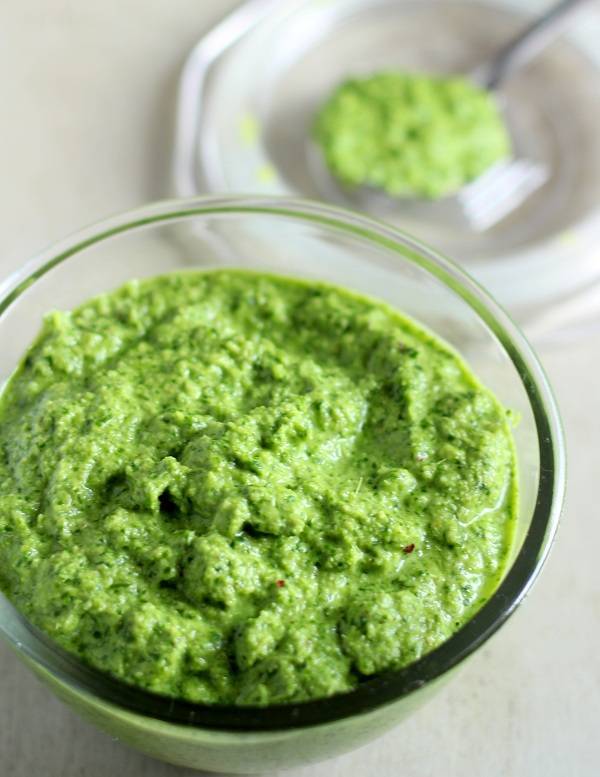 Green Chutney Recipe: There are many ways we can prepare the Green chutney. This is one of the way my mum-in-law prepare this chutney. The green coriander chutney usually consist of fresh coriander leaves, some peanuts, coconut, green chilies, ginger and some sugar and lime juice. The other version of this coriander chutney also contains mint which is served along with many Indian chaats like ragda patties, sandwiches etc. I normally prepare this green chutney in bulk and store it in refrigerator. This is a little sweet and spicy green chutney. You can use this green coriander chutney for varieties of purpose. I had made open cheese tawa sandwich using this green chutney. It taste yummy. Like many chutneys this coriander chutney can also be stored in refrigerator for 3 to 4 days.
Also check other chutney recipes on this website: garlic chutney, khajur imli chutney for chaats and coconut chutney.
Let us quickly check the simple recipe of green chutney with step by step photos.
Step by step recipe of Green chutney with images
We will need following ingredients to make the chutney. Fresh coriander leaves, some roasted and skinned peanuts, fresh coconut, garlic, ginger, green chilies, lime juice and sugar.
In a mixer grinder / food processor take all the ingredients except green coriander and blitz well till they are completely grinded. We will add coriander later as it takes less time for grinding compare to other ingredients like coconut and peanuts.
Blitz well till peanuts and coconut are nicely crushed.
Now add fresh green coriander leaves (cilantro) in mixer grinder and grind again. 
Taste the chutney and check the seasoning. If required add a little sugar or lime juice and blitz again.
The mildly spicy and tangy green coriander chutney is ready.
Green Chutney Recipe | Green Coriander Chutney
Green Chutney Recipe: A mildly spice Chutney made from green coriander leaves, peanuts and coconut drizzled with some fresh lime juice.
Ingredients
Coriander: 100 gm
Peanuts: 2 tbsp
Green chili: 2 piece
Ginger: 1 tbsp
Garlic: 1 tbsp
Coconut: 1 tbsp
Lemon: 1 piece, juice
Sugar: 1 tbsp
Salt: 1 tsp, to taste
Instructions
Take all ingredients except coriander leaves in a mixture grinder / food processor.
Blitz into smooth chutney like texture.
Add coriander leaves later and blitz again. Coriander leaves take less time for grinding hence we added them after grinding other ingredients.
Taste the green chutney and adjust seasoning by adding sugar / salt / lemon juice as per requirement.
Green chutney is ready.