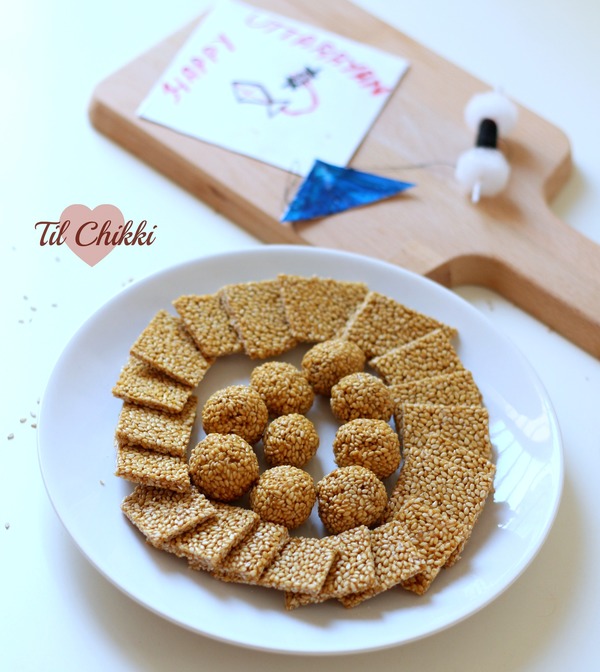 Til chikki recipe or tilgul recipe – As the festival of kite known as Uttarayan is nearing, in almost all Gujarati home they start making delicious sweet from jaggery known as Chikki. These crispy sweet treat is usually made from jaggery and sometime sugar and is mixed with sesame seed, peanuts, dry fruits etc. A lot of varieties of chikki is prepared for this kite flying festival.
In my home we prepare all kinds of chikki at home. Til chikki, daliya chikki, peanut/singdana chikki, mamra chiki etc. I have grown seeing my mom making these delicious sweets each year with great enthusiasm. It might seems tricky at first but once you learn the trick its actually easy and quite quick to make chikki.
Usually the festival of uttarayan is celebrated across the country and is known by different names in different region. In Gujarat it is uttarayan while in Maharastra it is Makar sankranti. Similarly it is known as Pongal is Tamil nadu and Maghi is Hariyana, Himachal and Punjab. Whatever is the name it is the harvest festival.
During this festival in the state of maharastra people visit their relatives and friends and exchange this crunchy sweet til chikki made from sesame seeds along with multi-coloured halwa Gulachi poli and say "तिळगुळ घ्या आणि गोड गोड बोला/til-gul ghya, aani god god bola" meaning 'Accept these tilguls and speak sweet words'. It is a tradition that is being followed since centuries and adored by the locals very much.
In this recipe of til chikki, I have made both til chikki and til ladoo or tilgul laddu. Laddu and chikki both are made from same jaggery sesame seeds spread. Just instead of rolling flat you need to make balls from it. Just be careful while making til gud laddu as the hot jaggery might burn your hand.
Before we dive into the recipe of til chikki let us check few tips and tricks that might help you in making perfect chikki.
Tips to make good Til Chikki
Add a tbsp water in the jaggery while melting it so that you get time to roll the til chikki after it is done.
When heating jaggery, bubbles will form. Once the bubble stops in the jaggery and it become smooth then it is right time to add til.
To make til chikki soft, wet them and then semi dry it and then dry roast the til  or till the til flutters by this way your til chikki will become soft and crunchy to eat.
Always grease the areas where you want to roll the til chikki or else it will stick .
You can make the even til chikki ball to make the balls you feel hot so for that just wet the hand and then roll the balls this way you will feel less hot in yous hands.
Let us check the recipe of til chikki or tilgul with step by step photos.
Til Chikki Recipe step by step process with pictures
For this Til Chikki recipe we just need two main ingredients: sesame seeds / til and jaggery/gud. No one can beat the home made til chikki, it taste to yummy and will have the satisfaction that it is made at home.
To make til chikki crisp and soft to bite
Lot of people directly dry roast the sesame seeds and make chikki from it. However I learned a small trick from my mom. She always used damn the til in water before dry roasting. This way the sesame seeds puff and chikki will come out crispy yet soft.
Take the sesame seeds / til in a strainer and wash them in running water as shown in the below picture.
Once the til has been washed put them on dry cloth/kitchen towel to dry extra water.
Spread sesame seeds nicely in the cloth and let them dry out til they have little moisture left.
Once the til is semi dry just dry roast them in a flat non-stick pan until they starts fluttering. By this way you can make your til chikki soft and crunchy.
Now heat a non-stick pan and take grated jaggery in it.
Add a tbsp of water. By doing this you would get time to roll chikki or else it would get hard soon.
Now slowly the jaggery will start to melt. Heat the jaggery on low flame.
Once the jaggery is melted, you will get lot of bubble coming. Stir continuously.
Stir until the bubble stops completely and the jaggery is soft.
Now it is time to add roasted sesame seeds / til.
Combine well the roasted sesame seeds with jaggery while it is still hot.
Prepare a rolling board by applying ghee/clarified butter. Also apply some ghee on rolling pin to avoid chikki sticking to it. Take the mixture on rolling board which is greased with ghee.
Apply pressure to til gud spread and form a big round ball as shown in below picture. Wet your hand with water to avoid it getting burn.
With the help of the rolling pin roll as thin as you want.
After rolling this is how til gud chikki looks.
After rolling make the cuts immediately so that you get the proper shape or else it will become hard.
Til chikki is ready. You can store this chikki in an airtight container and refrigerate it for 5 to 7 days.
Til Chikki (Til Gud Chiki) Recipe Box
Til Chikki Recipe, Step by step Til Gud Chikki
Til Chikki Recipe - A crunchy sweet rich in iron and protein made from sesame seeds (til) and jaggery (gud).
Ingredients
Sesame seeds / Til: 100 gm
Jaggery / Gud: 1/2 cup grated
Water: 1 tbsp
Ghee: 1 tsp, for greasing
Instructions
Per preparation
Wet the sesame seeds or til in the running water.
Then dry out the sesame seeds by spreading them in a kitchen towel.
In the non stick pan dry roast the sesame seeds or til until they starts fluttering. This way til chikki will become soft.
Remove the sesame seeds in a plate and let them cool off.
Also grate the jaggery or finely chop it using knife.
Grease the rolling board with 1/2 tsp of clarified butter/ghee. Also apply some ghee on rolling pin.
To make til chikki or til gud chikki
In the same pan take grated jaggery / gud and add a tbsp of water and stir it.
Stir continuously while the jaggery is melting.
Once jaggery melts it will start forming a lot of bubbles. Stir continuously without stopping.
After a while the bubbles will disappear and jaggery will form soft paste like slurry. Now is time to add roasted sesame seeds.
Turn off the gas and add roasted sesame seeds / til in hot jaggery mixture. Mix well.
Without wasting any time take the til gud mixture on rolling board and with the help of rolling pin make a flat disc around 1/4 inch thick.
Using a knife make horizontal and vertical cut approx 2 inch apart while the spread is still hot.
Once cooled separate each pieces and store them in an air tight container.
Til chikki is ready now.