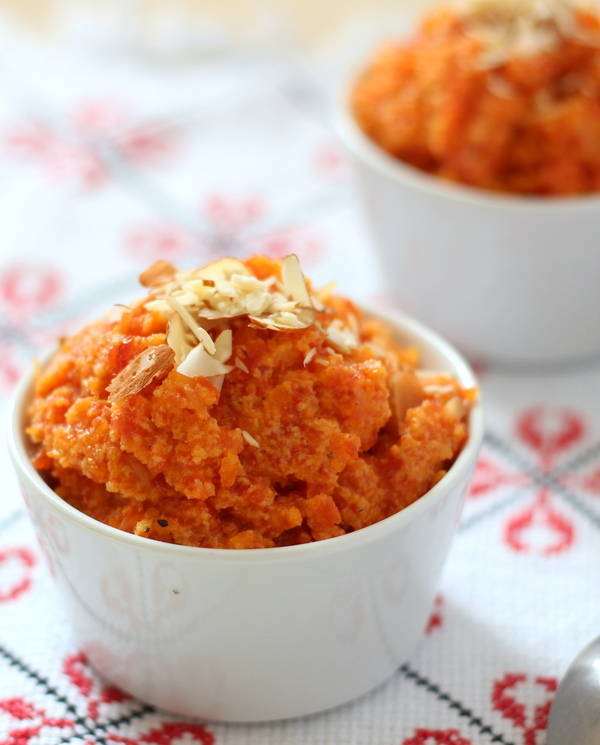 Gajar Halwa Recipe or Gajar Ka Halwa – Who's in for a treat today? No.. Seriously.. Just raise your hand 😀 cos this creamy melt in mouth delicious Indian sweet delicacy carrot halwa or gajar ka halwa is no less than a treat. One simply can't resist this dessert. I am also not immune to sweets when it comes to some of my favorite Indian sweets. Gajar halwa is one of those sweet dish that we make at home often and enjoy on any good occasion.
Some Indian sweets we always order from sweet shop as they are a bit tedious and time consuming to make at home. But often we make sweets at home that not only pure, hygienic but also a lot better in taste. Carrot halwa is one dish that we always make at home. I don't remember we ever bought it ready made except for when we get it with Indian thali.
This gajar halwa recipe or gajar ka halwa recipe is a bit lengthy as we are adding milk and evaporating it in the process. There are different variations of gajar halwa recipe. You can use condensed milk (click here to see how to make condensed milk at home) to prepare gajar halwa. That way it takes less time as condensed milk is already thickened up. Also a lot of people make gajar halwa in microwave. But I think using milk is the best way of making gajar halwa. You can also use almond milk to prepare gajar halwa.
We make sweets on all good occasions and festivals such as Diwali and Holi. Kheer or chocolate kheer, rava sheera or sooji halwa, churma ladoo and gajar halwa are few of my favorite recipes that are on this blog. Do checkout them.
Getting back to recipe let us check the best recipe to make gajar halwa at home with steps and their pictures.
Gajar Halwa Recipe with step by step picture
To make this classical Indian sweet recipe of Gajar ka Halwa we will need few basic ingredients. We will need grated carrot or gajar, sugar, milk and dry fruits (almond and cashew nuts). Peel off the carrot and grate it using a hand grater or even food processor. I have used food processor as it makes life easy 🙂
Let us now cook the gajar halwa. For this heat around a tbsp of ghee or clarified butter in a non stick pan. Let the ghee melts on low to medium flame.
Once ghee melts add grated carrot or gajar and mix it well. Let the carrot gets cooked for 3 minutes on low to medium flame.
Carrot needs to be cooked only for 2 to 3 minutes until they turn soft as seen in below picture.
Now pour milk in the pan. I have used 1 liter of normal milk (Amul tazaa) which is readily available in market. Try to use full fat milk instead of skimmed milk.
Mix well and let the milk comes to boil. Stir in between so that milk does not get stick to bottom.
We need to cook milk for 20 to 25 minutes on low flame and let it gets evaporated leaving behind Khoya in the process. Once more than 1/2 of milk evaporates add sugar and cardamom powder. Mix it well with milk.
Again let the gajar halwa gets cooked on low flame for another 5 to 10 minutes until all off the milk evaporates leaving behind creamy khoya. By now the gajar halwa is cooked. You can taste and check the sweetness at this point.
Creamy sweet gajar halwa is ready now. Garnish the halwa with some slivered dry fruits like almond and serve them hot/warm in a dessert serving bowl. You can also serve gajar halwa cold as some people like it that way. However I like my halwa to be warm and creamy 🙂
Gajar halwa is cooked nicely and looks so creamy and delicious. You can store gajar halwa in an air tight container for 2 to 3 days in refrigerator. You can also heat gajar halwa in microwave if you prefer it warm while serving.
Gajar Halwa Recipe Box (Gajar Ka Halwa)
Gajar Halwa Recipe (Sweet Carrot Halwa)
Gajar Halwa Recipe - Delicious Indian sweet recipe made from Carrot and milk. Best served during festivals and good occasions.
Ingredients
Carrot: 3 cups grated
Milk: 1 liter
Ghee/Clarified butter: 1 tbsp
Sugar: 1/2 cup
Cardamom powder: 2 tsp
Dry fruits: 2 tbsp slivered
Instructions
Wash the carrot / gajar and peel off its outer layer with a peeler.
Grate the carrot with the help of the grater or in food processor.
In a non stick pan heat the clarified butter/ghee.
Once ghee starts melting add grated carrot and saute it for 3 minutes.
Pour milk into the pan and mix it with carrot. Stir occasionally.
Let the milk gets cooked on low flame while stir it occasionally in between.
Reduce the milk to around 50% while cooking it on low flame. Once done add sugar and cardamom powder.
Cook until all of the milk is completely cooked and evaporated leaving behind nice creamy textured carrot halwa.
Carrot halwa or gajar halwa is ready now.
Garnish the halwa with some slivered dry fruits of your choice and serve hot or cold.
Notes
You can store Gajar halwa for around 2 to 3 days in refrigerator.