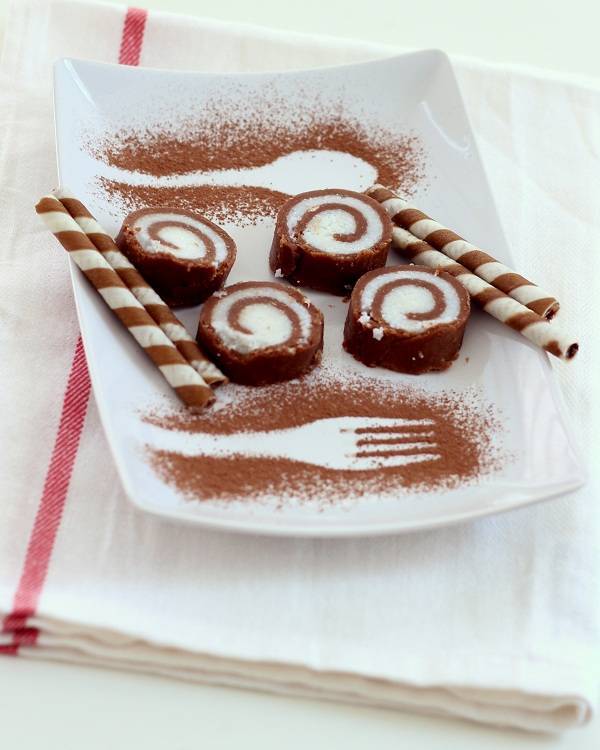 Chocolate Coconut Rolls – A quick and easy dessert made from Marie biscuit, chocolate and coconut. Marie biscuit is the favourite tea time snack that we all love, but we can also make some delicious desserts by combining Marie biscuit with other ingredients. Today let us make a delicious chocolate dessert by combining it with Marie biscuit and with a touch of coconut.
Before we jump into our dessert let me share with you something that recently grab my attention. So the story goes like this: my hubby is fond of reading a magazine called Safari. It is published in Gujarati language. A very well-known science and general knowledge filled monthly mag that he never misses. Anyways so once while reading an article he suddenly asks me:
Do you know why Marie biscuit is called Marie biscuit? That too irrespective of the manufacturer of that biscuit?
Well I was surprised. Actually I never thought about that. He told me that when Duke of Ediburgh marry the Grand Duchess Maria Alexandrovna of Russia a very famous baker from London named Peek Freans made biscuits to commemorate the marriage using whole wheat instead of all purpose flour. Thus the name Marie.
Sometimes we just take things for granted. I never thought there can be history behind simple day to day ingredients or things. It was good to know about little history that goes along with daily things.
Anyways.. coming back to the recipe of chocolate coconut roll. I have used marie biscuit, dry coconut powder, fresh cream, cocoa powder and drinking chocolate. All the ingredients are the basic which you can find in your local grocery store. Also this dessert recipe does not require baking or cooking. So you can make even if you don't have oven.
As the Christmas and new year is nearing I thought to share this recipe with my friends so they can make it in no time. This dessert is also vegetarian friendly as it doesn't require eggs.
I have also made another dessert without baking or cooking just by assembling – Chocolate dessert.
Recipe of Chocolate Coconut Rolls with step by step photo
To make these delicious chocolate coconut roll we will need Marie biscuit. Take around 8 to 10 biscuits and make medium pieces which can easily fit in your dry grinder / food processor.
Take the pieces into grinder and grind into fine biscuit powder.
Other then the marie biscuit powder we will need dry coconut powder, fresh cream, powdered sugar, coco powder and drinking chocolate.
To make coconut cream dough
There are two layers in chocolate coconut roll. Let us first make the coconut layer. For this take dry coconut powder and mix powdered sugar into it.
Add some fresh cream in this coconut mixture and combine all the ingredients. I have used home made cream for this. You can very well use the cream available in market.
Combine all the ingredients and make a nice coconut flavored mixture. So white mixture of coconut is ready. Let us now proceed and make chocolate layer for choco coco roll.
To make chocolate dough
Now to make chocolate layer or dough take marie biscuit powder in a mixing bowl.
Add coco powder, drinking chocolate and powdered sugar. Also add fresh cream in this mixture and combine well everything to make nice choco mixture.
Mix well all the ingredients and make chocolate mixture. The consistency of this mixture should be medium. In case if you think the chocolate dough is too thick to roll, add a spoon of milk and knead again.
How to roll the dough for chocolate coconut roll
Let us roll the coconut and chocolate dough that we prepared earlier. For this we will need two rectangular plastic bags. You can even use ziploc bags. Take a portion of coconut dough and place inside ziploc bag. Close the plastic bag and using a rolling pin roll the dough such that it occupies all empty corners. Do the same with chocolate dough. Once this is done, we will have two ziploc bags each containing coconut mixture and chocolate mixture.
Now cut the plastic bags and carefully remove the rolled chocolate & coconut. Place the rolled sheet of coconut on top of chocolate as shown here.
Now start rolling the sheets of chocolate and coconut such that no gaps are left inside. Roll as tight as possible.
Take the rolled chocolate coconut into a plate and keep it in refrigerator for atleast 3 hours to set.
Alternate way for rolling the dough for chocolate coconut roll
We can also make the chocolate coconut rolls by using this alternate way of rolling. Take a portion of coconut mixture between two sheets of plastic.
Using a rolling pin roll into thin sheet of coconut as shown here.
Do the same with chocolate dough. Roll it into thin chocolate sheet.
Place the rolled coconut sheet on top of chocolate sheet as shown here.
Fold the chocolate coconut sheet into a roll as shown here.
Keep the rolled chocolate coconut in deep freeze for at least 3 hours to set.
The chocolate coconut roll is ready. Slice the roll into 1/2 or 1 inch thick pieces as shown here.
Chocolate Coconut Rolls Recipe
Chocolate Coconut Rolls - Dessert Recipe
Chocolate Coconut Rolls (Dessert Recipe) - A delicious chocolate coconut flavored dessert rolled in style of swiss rolls.
Ingredients
To make coconut dough
Dry coconut powder: 1 cup
Fresh cream: 1 1/2 tbsp
Powder sugar:1 1/2 tbsp
To make chocolate dough
Marie biscute: 1 cup
Fresh cream: 1 1/2 tbsp
Powdered sugar:1 tbsp
Cocoa powder: 1 tbsp
Drinking chocolate powder: 1/2 tbsp
Instructions
Pre preparation
Take the marie biscuits and cut into small pieces.
In the mixture grinder make a fine powder.
To make coconut dough
Take a bowl and add the dry coconut powder and powdered sugar. Mix well both the ingredients.
By adding the fresh cream knead the dough (I have used home made cream).
The coconut dough is ready.
To make chocolate dough
Take another bowl add the Marie biscuit powder.
Now add the cocoa powder, drinking chocolate, powdered sugar and mix well all the ingredients.
By adding the fresh cream knead the dough.
How to roll the chocolate coconut rolls
Take a rectangle plastic bag or ziploc bag and place the coconut dough inside it.
Then fold the open end downwards or lock it and roll the dough from all sides while filling the gap.
Same way roll the chocolate dough.
Now with the help of scissors cut the plastic cover from the middle this way the cover will open completely. Do this fro both the dough.
Now slowly place the coconut rolled dough on top of the chocolate rolled dough.
Remove the plastic and roll it slowly making cylindrical structure.
Once rolled place the roll in the deep refrigerator for about 3 hrs.
Chocolate coconut rolls are ready. Cut the frozen roll into 1 inch thick pieces and serve cold.