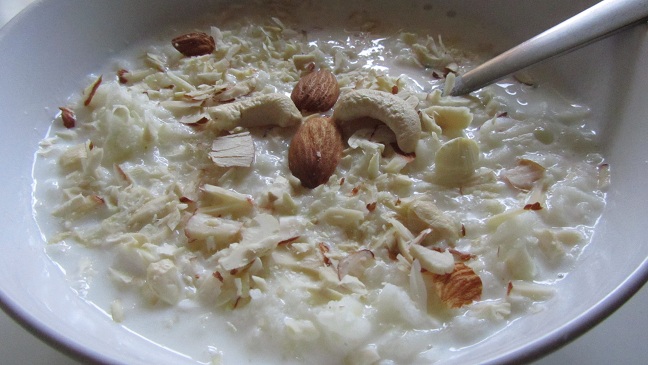 In India we have a tradition of having a sweet dessert before starting any important work. Today I am starting this food blog with a good old Indian traditional dessert called Kheer. I am quite sure this journey of food blogging will be very exciting. Not only I love cooking food and experimenting with different dishes in my kitchen, but also I love sharing these ideas with others. My hubby inspired me to start this food blog so that I can have a platform of my own where I can put all my thoughts.
Today is very special day for me. Today is the Indian festival of colors Holi and its the first day of my food blog. I am quite excited and nervous at the same time. Anyways, lets jump into the recipe of indian version of rice pudding: Chawal ki kheer.
Kheer is prepared in all special occasion in India. Kheer is an Indian dessert similar to Western rice pudding. South Indians call the dish pal payasam. Pal payasam is an essential food at weddings and is particularly popular in the southern Indian state of Kerala. Pal payasam is also served after rasam rice.
Decoration of kheer is traditionally simple but very beautiful. Toppings may consist of slivered almonds or cashew nuts. You can also add edible rose or flower petals on top of Kheer to make it prettier.
The dish is a delicious and delicately flavored dessert, perfect for the end of a spicy meal.
Update: Check my new Chocolate Kheer recipe.
Steps to make Kheer /Rice Pudding /Chawal ki kheer
1. Boil the milk in a pan or sauce pan and when it is boiled add some sugar to your taste.
2. Boil the rice separately in the cooker or vessel (by cooking the rice separately it would reduce the overall time of cooking Kheer)
3. Now add the boiled rice to the simmering milk and add sliced almond, cashew nut and some saffron.
4. Pour the kheer or rice pudding in the serving bowl and serve it hot, chilled or warm.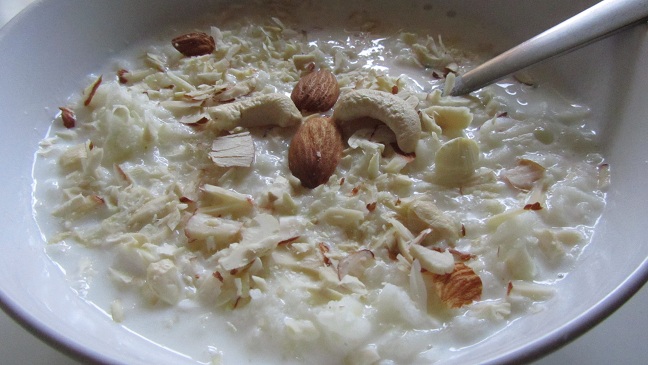 Kheer Recipe:
Kheer recipe: How to make kheer / rice pudding | chawal ki kheer
Rice kheer – a favorite indian dessert made with basmati rice, milk, nuts and saffron.
Ingredients
Milk: 4 cup
Basmati Rice: 1/4 cup
Sugar: to taste
Saffron: a pinch
Cardamom powder (elaichi powder): 1 teaspoon
Almonds: 5 pieces, sliced
Cashew nuts: 5 pieces, sliced
Raisins: 4 pieces (optional)
Instructions
Raise and soak basmati rice for 15-20 min and boil the rice.
In a pan heat fresh milk and let it come to boil. Reduce flame and add the boiled basmati rice.
Add sugar to the milk and continue to stir often so that lumps are not formed.
Take the cardamoms remove the seeds and powder them. Add it to the milk.
When the milk starts to thicken, add the sliced almonds and cashew nuts.
Add saffron (Tip: dilute saffron in 1-2 tbs warm milk & pour it in kheer)
Remember to keep on scraping the sides and adding the dried milk from the sides in the simmering kheer.
Cook for atleast 15-20 min. The kheer should starts to thicken.
Turn off the flame and pour the kheer in a serving bowl.
You can serve kheer hot or cold. For cold kheer, pour it in a serving bowl and refrigerate for 10 min.
Garnish with almonds and cashew nuts.