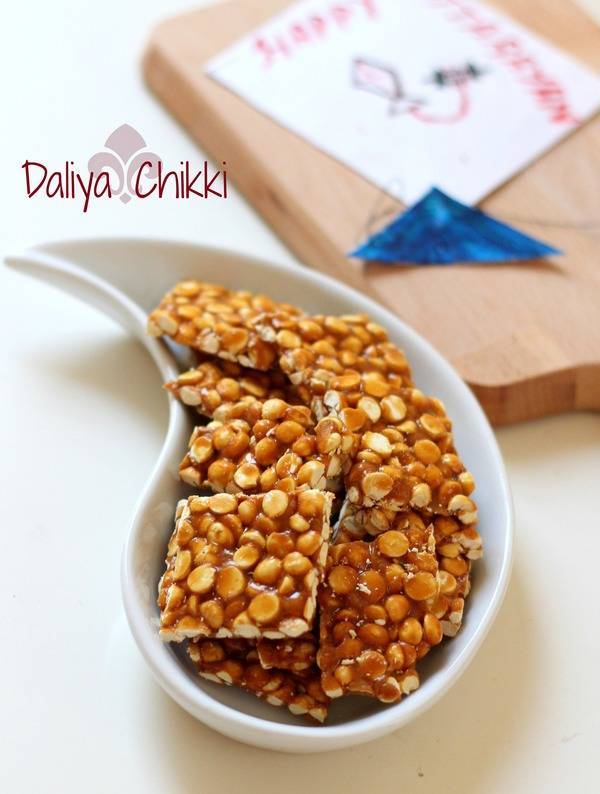 Daliya Chikki Recipe – Yesterday I published the recipe of delicious Til chikki. A crunchy sweet treat made from sesame seed and jaggery. Today I am back with another delicious chikki recipe made from roasted gram or daliya – daliya chikki.
As I wrote in the last post this these chikkis are made together during the festival of Uttarayan or Makar sankranti.  The festival of harvesting comes exactly on 14th Jan as it follows the solar calendar. I guess this is the only Indian festival while falls on exact date of year as it does not follow lunar calendar. All other Indian festivals like Holi and Diwali follow lunar calendar and hence fall on different day on Gregorian calender.
The festival of uttarayan is celebrated with much more enthusiasm in the state of Gujarat. This kite flying festival is celebrated in state of Rajasthan too. During this time all of family and friends get on roof tops / terrace and fly colorful kites. The sound of "kaypo che" and "e lapet" yelled in Gujarati echoes the sky as the day grows and more and more kites climbs the air.
Coming back to the recipe of daliya chikki. This daliya chikki is very easy to make once you know a few tricks. Initially you might find it difficult. But the timing is the key. You need to know exactly when to add daliya in melted jaggery. Along with all different kinds of chikkis on the day of uttrayan Undhiyu sabji is also prepared.
Lets now check the recipe of daliya chikki.
Daliya Chikki Recipe Step by step process with pictures
Daliya chikki is actually quite simple to make as it needs only two ingredients jaggery/gud and roasted gram/daliya.
Let us first melt the jaggery and prepare the slurry. Heat a non stick pan and take jaggery in it. Add about a tbsp of water in jaggery while its melting. By adding water you will get time to roll the daliya chikki.
Let the jaggery melt slowly on a low flame.
Jaggery or gud should start getting melted now.
You will notice that bubble will start forming as jaggery melts.
During this whole time continously stir the jaggery. After sometime you will see all the bubbles disappear and jaggery will form a smooth slurry.
This is the time to add roasted gram or dalia. Add the daliya to the jaggery and mix it well.
Combine the daliya with jaggery as soon as you add it.
Now place the mixture on the greased rolling disc. Always grease the rolling disc with ghee or clarified butter or else the chikki will stick to it.
Now with the help of hands just make a round ball as shown in the picture.
Then tap it from the top and make a flat disc.
With the help of the rolling pin roll it round as thin as you want.
As shown below I have rolled it of about 1/4 inch thickness.
Now with the help of knife cut the daliya chikki without wasting anytime. Otherwise the chikki will become hard and it would be difficult to cut in proper shape.
Delicious crunchy daliya chikki is ready. Let the chikki cools down completely. Separate the pieces and store the daliya chikki in an air tight container.
Daliya Chikki Recipe Box
Daliya Chikki Recipe
Daliya Chikki Recipe - A crispy tasty sweet made from jaggery and roasted gram or daliya.
Ingredients
Daliya: 1/2 cup
Jaggery: 1/2 cup
Water:1 tbsp
Ghee:1 tsp, for greasing
Instructions
Per Preparation
Grate the jaggery or finely chop it using knife.
Grease the rolling board with 1/2 tsp of clarified butter/ghee. Also apply some ghee on rolling pin.
To Make Daliya Chikki Or Dalia Gud Chikki
Heat a non stick pan take grated jaggery / gud and add a tbsp of water and stir it.
Stir continuously while the jaggery is melting.
Once jaggery melts it will start forming a lot of bubbles. Stir continuously without stopping.
After a while the bubbles will disappear and jaggery will form soft paste like slurry. Now is time to add daliya or roasted gram.
Turn off the gas and add daliya in hot jaggery mixture. Mix well.
Without wasting any time take the daliya and gud mixture on rolling board and with the help of rolling pin make a flat disc around 1/4 inch thick.
Using a knife make horizontal and vertical cut approx 2 inch apart while the spread is still hot.
Once cooled separate each pieces and store them in an air tight container.
Daliya chikki is ready now.
There are few things that you must know which might help you in getting good results while making daliya chikki (or any kind of chikki). Checkout few tips.
Tips To Make Good Daliya Chikki or Roasted Gram Chikki
Add a tbsp water in the jaggery while melting it so that you get time to roll the Daliya chikki after it is done.
When heating jaggery, bubbles will form. Once the bubble stops in the jaggery and it become smooth then it is right time to add daliya.
Always grease the areas where you want to roll the daliya chikki or else it will stick .
You can make the even Daliya chikki ball to make the balls you feel hot so for that just wet the hand and then roll the balls this way you will feel less hot in yous hands.