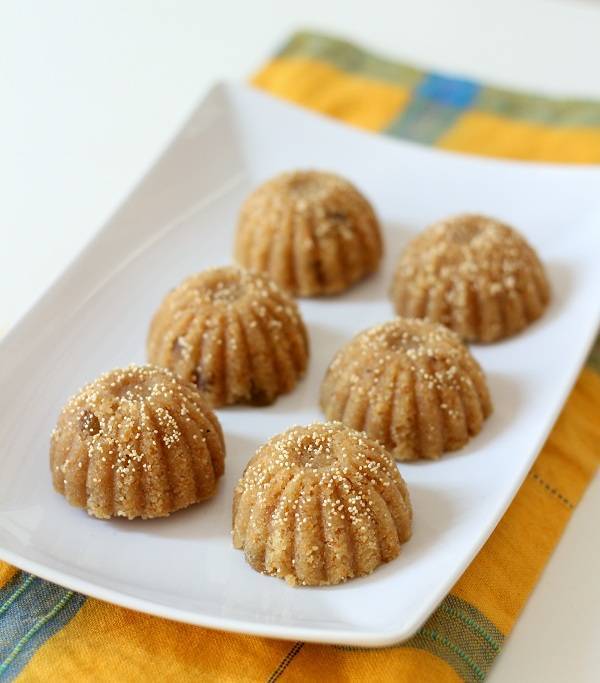 Churma Ladoo Recipe (wheat laddu with jaggery) – Here comes an Indian sweet or dessert recipe which is famous in both Rajasthan and Gujarat. Churma laddu is a delicious sweet specially served in the form of prasad on various auspicious occasions. Ganesh Chaturthi is incomplete without Lord Ganesh's favourite Churma Laddus.
The word "Laddu" might have its origin in Sanskrit word "lattika" or "ladduka" which means small ball. Churma laddus are made by rolling "churma" a sweet whole wheat flour mixture into laddus. In the state of Rajasthan people make Churma by grinding wheat flour fried balls and mix it with desi ghee, jaggery or sugar. This churma mixture is then rolled into laddus. There are different variations of this dish. Lot of people make Churma laddu in pure Ghee. They even fry the churma dumplings in ghee. And then there are people like me who cut the corners here and there and fry the churma muthia in oil and later add ghee and jaggery, whatever recipe you select but the end result is always good.
When I was kid my mom used to make these laddus on every Ganesh Chaturthi. During lunch time we used to pick one by one laddus and used to eagerly break them in hope of finding a 25 paisa coin 🙂 I am not sure about the origin of this tradition but I have seen the same tradition among other Gujarati families too. Kids are so excited to break the laddus in hope of finding a 25 paisa coin. The one who gets the coin is considered lucky and wins the so called competition. The competition is generally between siblings 🙂 I have seen my mom cheating and serving laddu with coin to my little bro. Just to see the expression on his face when he realize there's a 25 paisa coin in his laddu.
I guess adding coin to the laddu also serves the purpose of making kids eat them. The excitement of a coin inside laddu makes them eat complete laddu. However nowadays you can make kids eat laddus by other means too. Just tell them these laddus are Bheems favorite. Most kids today are die-hard fan of Chota bheem cartoon. Make them believe that Chota bheem eat these laddus and that's it 😀
In my home, churma ladoos are must on special occasions. Also during marriages, festival we have churma ladoo. Although these ladoos are originally from Gujarat or Rajasthan nowadays they are made almost everywhere. In Gujarat they are called "Churma na ladva". In hindi they are called "Churma ke laddu".
This recipe is considered a bit time consuming / lengthy. There are so many different elements of cooking involved. If you have guests visiting for lunch make these laddus beforehand mostly on previous day. And before serving just microwave the laddus for few second. This way the laddus will look fresh and you don't have to go through hassle of making them on the D-day 🙂
I feel that these laddus goes well with any Indian main course meal. However there are certain curries that I like most served with churma laddo. My favorite is green moong sabji and rasawala aloo sabzi.
Getting back to the recipe of churma laddo. Let us check step by step recipe of Churma Ladoo.
Recipe of Churma Ladoo with step by step photo
For this churma laddo recipe we will need following ingredients. Wheat flour, melted clarified butter (ghee), oil, powdered sugar, jaggery, besan (chickpea flour), rava / sooji, nutmeg (jaifal) and poppy seeds (khas khas).
In a large bowl take whole wheat flour, rava / sooji and some besan (chickpea flour). I have used three different flours. However both besan and sooji are in lesser quantity just to lift up the taste of wheat flour. You can also use only wheat flour if you wish. If available do use coarsely grounded wheat flour (the one we use for Bhakri).
Now add oil in the flour mixture. Lot of people make this laddu just with ghee. I tend to avoid that much quantity of ghee in one recipe.
Mix some warm water with the flour.
Combine all the ingredients and make a dough like mixture as shown here. We don't have to knead this mixture. Just take a handful of mixture in hand and press to make oblong wheat balls called muthia. Press harder so that the muthia remains intact while frying. Repeat this step and make muthia out of remaining wheat flour mixer.
We will now deep fry the muthiya. For this traditionally ghee is used. However I have used oil to deep fry to cut the calorie a little bit 🙂 Heat oil in a deep bottom pan / kadhai to medium flame. Do not make oil smoky hot. We will deep fry the churma muthia in hot oil for a good 4 to 5 minutes till turns golden brown. This way frying them in low flame ensure that they are cooked properly till inside. Repeat the process for remaining batches of churma muthia. Let the muthia cool a bit.
Let us now grind the fried wheat flour muthia into "Churma". Cut the fried muthias into medium pieces that can fit in mixture grinder container. Grind the pieces further in food processor to get a fine powder / Churma. Now pass the grinded churma from a sieve and make fine powder. You can re-grind the remaining chunks that are left during sieving.
We will add Nutmeg (jaifal) to this Churma laddu. For that take nutmeg in a mortar and with help of pestle make smooth powder.
Add nutmeg (jaifal) powder and some kismis into churma mixture. Kismis is optional. I like them so I added them 🙂
Let us add the life to churma ladoo 🙂 No churma laddu is complete without ghee (clarified butter). Heat some ghee in a pan.
Once ghee starts melting add Jaggery. I am making this churma ladoo using jaggery and a small quantity of sugar. You can make churma laddu just with jaggery or with sugar.
Melt the jaggery in ghee and once the jaggery starts floating on ghee turn off the gas. We will now pour this jeggary into Churma.
Pour the melted jaggery along with ghee into churma mixture.
Also add some sugar to this mixture. Again this is optional. You can make churma laddo using just jaggery or sugar.
Now combine all the ingredients and make nice aromatic churma mixture.
Churma mixture is ready. Let us make laddu from this churma mixture. I have used here a ready made laddu mold to make laddus. This make life easy. Its a bit cheating but the end result is great. Take a portion of churma mixture in ladoo mold. Press using fingers and make laddo.
Flip the mold and place churma laddo on a serving place.
Churma laddo is almost ready. As soon as we remove the ladoo from its mold stick some poppy seeds (khas khas). Poppy seeds will not get stuck if ladoo becomes cooler / harder.
Using finger apply a pinch of khas khas to churma ladoos. Churma ladoo / churma ke laddo is ready to serve. You can store these laddus in an air tight container.
Churma Ladoo Recipe Box
Churma Ladoo Recipe, Gujarati Churma Laddu
Churma Ladoo Recipe: A traditional Indian dessert dish made from Whole wheat flour, Ghee and Jaggery; garnished with poppy seeds (khas khas).
Ingredients
Wheat flour: 1 1/2 cup coarsely grounded
Besan: 1/4 cup
Rava / Sooji: 1/4 cup
Oil: 1 1/2 tbsp
Water: 1/2 cup
Ghee: 1/4 cup
Oil: 2 cup for frying
Jaggery: 1/3 cup
Powdered sugar: 1 1/2 tbsp
Nutmeg: 1/8 tsp
Poppy seeds: 1 tsp for garnish
Kismis: 1 tbsp
Instructions
To make Churma Mixture
In a large mixing bowl take whole wheat flour (coarsely grounded), besan (chickpea flour) and sooji / rava.
Add 1 and 1/2 tbsp Oil and 1/2 cup warm water.
Combine all ingredients and knead into dough.
Now take a portion of wheat flour dough in hand and press it by making fist. Press hard and make Muthia shapes from dough.
Repeat the process for remaining wheat flour dough and make muthia. Keep aside.
Now to fry the muthia heat Oil in a deep bottom frying pan. Heat on medium flame and don't let Oil turn too hot.
Deep fry the wheat flour muthia in oil for 4 to 5 minutes. Till it is completely cooked from inside and turn golden brown.
Take out the fried muthias and drain the excess oil on kitchen towel / paper napkin. Let the muthias cool down.
Cut the muthias into pieces and further grind them in a food processor into fine powder. Sieve through a fine siever to remove big chunks.Re-grind the remaining chunks if required.
To make Churma Ladoo
Take a nutmeg and pound in a mortar and pestle. Add the nutmeg powder in Churma mixture.
Optionally you can also add dry fruits like kismis. This is however optional.
Now melt ghee in a pan and add Jaggery. As soon as Jaggery starts floating on ghee, turn off the gas.
Pour the melted jaggery and ghee into Churma mixture. Add powdered sugar. Again sugar is optional.
Combine all the ingredients and make nice aromatic churma mixture.
Now make Churma laddus from churma by pressing it in a laddu mold. You can also make ladoo by taking a portion of churma and rolling in hands and making nice spherical balls.
Repeat the process and make ladoos from remaining mixture.
Apply some poppy seeds (khas khas) and garnish the churma ladoo.
Churma ladoo is ready to serve.
If you are looking for more traditional Indian dessert recipes then do check fada lapsi, rava sheera and  chawal kheer.