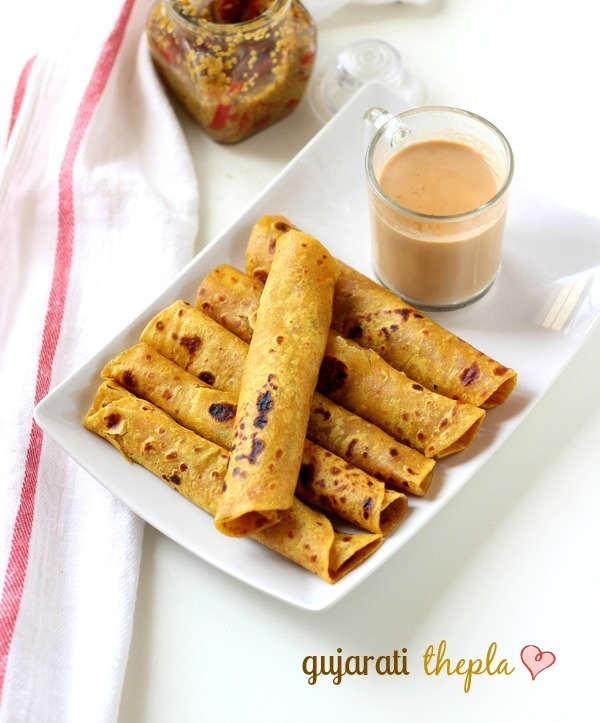 Authentic Gujarati thepla recipe with step by step pictures – What's for breakfast? theplaas 🙂 In an average Gujarati home this dish is made on every alternate morning. Thepla is made by mixing indian dry spices like turmeric, red chili powder etc in wheat flour and fried on tawa. This is known as sada thepla or plain thepla. The more popular version of thepla is one where finely chopped feenugreek leaves (methi) or coriander (dhaniya) is mixed in flour. Sometime bottle gourd (lauki/dudhi) is also grated and mixed with wheat flour.
Related recipe: methi thepla | gujarati bhakri
Thepla goes really well with sweet mango pickle called chunda. There are two Gujarati sweet pickle made from mango: chunda & katki. In chunda the mango is grated while in katki it is cut into small pieces. I like Thepla with chunda while my husband enjoys them with katki. Our food habits are quite different 😀 But we also have a cup of tea with thepla.
The secret of making best gujarati thepla not only lies in the thepla dough but also in the way it is roasted on tawa. While the dough should be absolutely soft and not too stiff, the roasting also needs to be done on medium to high flame. If thepla is roasted on low / slow flame, then it will become hard/crispy. Hard theplas are not good. Trust me if you are taking theplas for long journey or picnic you don't want it to be hard and chewy. I will share few tips that will help you make perfect gujarati thepla everytime.

A lot of time we the question arise "what is the difference between thepla & paratha?" isn't both same. Well actually no. Thepla & paratha are two different Indian flat-breads that are served both as breakfast and for dinner. The main difference is not just the looks; while theplas have authentic yellow color. The parathas have distinct brown color. The dough for thepla is sometime kneaded by adding yogurt in flour whereas for parathas the dough is kneaded with water. Also parathas are stuffed with different kind of filling while in theplas, vegetables/greens are finely chopped and mixed in flour.
Tips to make perfect Gujarati thepla
Always rest the thepla dough for about 10 min after kneading.
Cook thepla on medium high flame and not on low flame so that thepla will be soft. If cooked on low flame, thepla can become hard & chewy.
You can also add yogurt while kneading the dough by this thepla will become soft but the shelf life will reduce.
If you are making the thepla for travel then add littel more oil while frying to increase the shelf life.
If not able to roll the thepla easily then take little dry flour to roll thepla.
I have tried theplas with ready made flour and also with homemade / grinded flour. Theplas made from home grinded flour are much better then the ready made counterpart.
Let us get back to the step by step recipe of traditional gujarati thepla.
Recipe of Gujarati Thepla with step wise pictures
Let us first knead the dough for gujarati thepla recipe. For this take the chappati atta (wheat flour) in a mixing bowl.
Add a teaspoon of red chili powder (lal mirch) in chappati atta.
Also add coriander powder (dhaniya) in the flour.
Now add 1/2 teaspoon of turmeric powder (haldi) in wheat flour. Haldi gives the traditional yellow color to gujarati thepla.
I prefer adding a little hing (asafoetida) in the thepla dough. However you can avoid if you want.
Now season the flour by adding salt as per your taste. Mix well all the spices with wheat flour.
Make a well in the center and pour 1 teaspoon oil. Oil is known as "moun" in Gujarati language. It helps making the dough soft.
Combine well the oil and other ingredients. Now start adding little water at time and knead dough.
Knead a smooth dough which is similar to chappati dough.
Pound the dough and make it soft a bit. Once the dough for thepla is ready let it rest for 10 minutes.
Divide the thepla dough in small round lemon size balls (lohi).
Now to roll the theplas we will take one dough ball and place it on rolling board. If you prefer then you may dust the rolling board with dry wheat flour.
Start rolling the thepla using a rolling pin.
Roll into 5 to 6 inch diameter disc. Repeat these two steps and roll all the remaining thepla dough balls.
Now let us roast the gujarati theplas on tawa. For this first heat a tawa / skillet on medium flame. Once the tawa is hot, place a rolled thepla. Cook until bubbles starts appearing on top. Then flip the thepla and apply oil on top side. This way apply oil on both sides of thepla & cook until it becomes golden brown in color. Repeat these steps & roast all remaining theplas. Place the theplas on paper napkin / kitchen towel.
Delicious gujarati thepla are ready to serve. Serve the traditional gujarati thepla with a cup of tea or red chili pickle or masala dahi.
Gujarati Thepla Recipe Box
Gujarati Thepla Recipe, Sada Thepla | How to make Thepla
Gujarati thepla recipe - A traditional Gujarati thepla flat-bread recipe
Ingredients
Wheat flour (gehu ka atta) : 1 1/2 cup
Red chili powder (lal mirch) : 1/2 tsp
Coriander powder (dhaniya) : 2 tsp
Turmeric powder (haldi) : 1/2 tsp
Asafoetida (hing) : 1/4 tsp
Salt : 1 tsp or to taste
Oil : 2 tbsp for dough
Oil: 1/3 cup for frying
Water : 2/3 cup or as required
Instructions
To make Thepla Dough
Take whole wheat flour (chappati atta) in a mixing bowl.
Add red chili powder, coriander powder, turmeric powder, hing and salt in the wheat flour.
Using fingers make a well in flour and pour oil in it.
Mix the flour with all dry spices.
Add water as required and start kneading dough for gujarati thepla.
Knead into dough similar to chapati dough. Keep the dough aside for 10 minutes to rest.
Once rested, divide the dough in small round balls roughly size of lemons.
To roll Gujarati thepla
Take a lemon size thepla dough on a rolling board and press using palm & make it flat.
Using rolling pin start rolling the dough into round 5-6 inch diameter circular disc.
Repeat these steps for remaining thepla dough balls.
To roast Gujarati thepla
Heat a pan / tawa on medium flame & once hot place the rolled thepla on it.
Once bubbles starts appearing on top, flip the thepla.
Apply oil on both the sides and roast till golden brown spots starts appearing on thepla.
Repeat these steps and roast remaining thepla.
Gujarati thepla is ready to serve.
Other Gujarati snacks recipes similar to Thepla