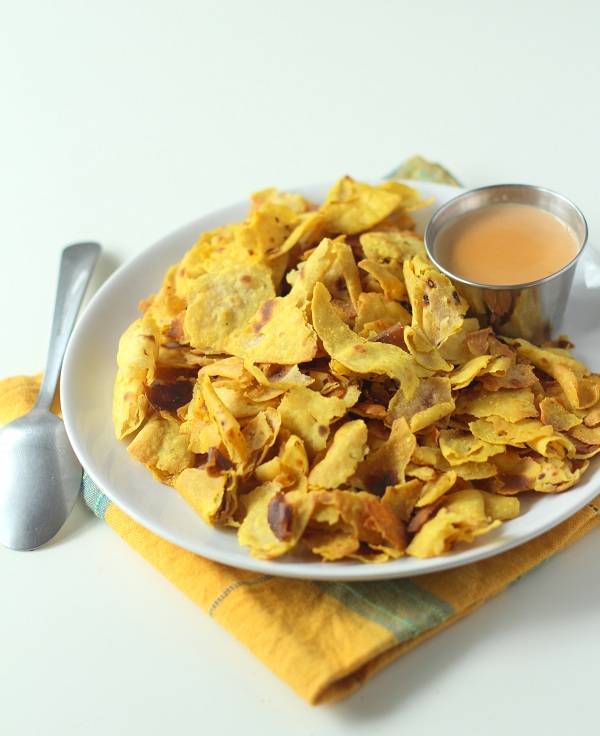 Vaghareli Rotli (Roti Chivda): Here is a quick evening snack recipe that I make when I feel lazy 😀 This is a Gujarati snack dish which literary means stir-fried roti. For this snack dish all we need is some left over chappatis / rotis and some usual Indian spices. This is a tea time snack commonly enjoyed in evening hours with a cup of tea.
This quick and easy version of roti chivda (vaghareli rotli) requires bare minimum ingredients. There are several ways of making this tasty snack. In the state of Maharashtra this recipe is made by tempering roti in curry leaves with some peanuts and onions. I have added the alternative maharastrian recipe of roti chivda at the end of this post. The Gujarati version is simple and straight forward.

Usually Gujarati and Maharastrian rotis are quite thin thus making the roti chivda crisper. So if possible use small and thin rotis to make this delicious vaghareli rotli.
Before we check the recipe there are some small but useful tips that are good to know to make nice vaghareli rotli. First add turmeric powder in oil instead of adding on roti. This way it gets cooked and raw flavor is gone. Also do not cook vaghareli rotli on high flame. Roti will get burned. Cook on medium flame to make it crispy.
If you are looking for more tea time snack do check these recipes: muthia dhokla,  khatta dhokla and tawa sandwich.
Let us start with the step by step recipe of easy vaghareli gujarati rotli with pictures.
Step by step recipe of Gujarati vaghareli rotli (roti chivda)
You can use left over roti to make this vaghareli rotli (roti chivda). We will use around 4 rotis for this recipe.
Cut the roti into roughly equal size pieces. Do not worry about the shape.
 Now to stir-fry the rotli heat oil in a pan and add cumin and mustard seeds.
 Once the seeds starts crackling add turmeric powder.
 Now add the roti pieces into turmeric oil and give a quick stir.
Mix well the roti pieces so that it is coated with turmeric and get nice yellow color. Add salt to taste to this vaghareli rotli.
Stir occasionally till the roti pieces becomes crispy.
Vaghareli rotli (Stir fried roti) is ready. Serve it as a quick evening snack with a cup of masala tea.
Gujarati Vaghareli Rotli Recipe (Roti Chivda)
Vaghareli Rotli (Roti Chivda): Quick & easy snack recipe of stir-fried left over roti in Indian spices.
Ingredients
Roti: 2 cup, pieces (4-5 rotis)
Oil: 1/2 tbsp
Asafoetida (hing): 1/4 tsp
Mustard seeds: 1/2 tsp
Cumin seeds: 1/2 tsp
Turmeric powder: 1/3 tsp
Salt:1 tsp, to taste
Instructions
Heat oil in a pan and add mustard seeds and cumin seeds.
Once the seeds starts crackling add hing (asafoetida) and turmeric powder.
Add the pieces of roti / chappati and stir till coated nicely in spices.
Now add salt to taste and mix it well.
Stir occasionally till the roti becomes crispy.
Serve hot along with a cup of masala tea.
Alternate Recipe of Maharastrian Style Roti Chivda (Phodni chi Poli)
The Maharastrian version of this roti chivda (vaghareli rotli) is known as Phodni chi poli. In this recipe the left over roti is quickly stir fried along with onion, peanuts and some Indian spices. Below is the quick recipe of Maharastrian style Phodni chi poli.
Ingredients
5 left over chapati (roti)
1 Onion, finely chopped
2 tsp peanuts
4 Green chilies, finely chopped
1 strand of Curry leaves
1/4 Turmeric powder (haldi)
1/2 Mustard seeds (rai)
1/2 tsp Cumin seeds (jeera)
Pinch of asafoetida (hing)
1/2 tsp Sugar
2 tsp Lemon juice
2 tbsp Oil
1 tsp Ghee (optional)
Salt to taste
Finely chopped coriander leaves for garnishing
Directions
Tear the leftover chapatis into medium size pieces.
Drizzle a few drops of water, sugar, salt and 1 tsp lemon juice over chapati pieces.
Mix all of this using your hand or spoon and keep aside.
Heat oil in pan and add muster seeds, cumin seeds, hing, curry leaves and haldi. Let them crackle.
Add peanuts and saute till they turn light brown in color.
Now add chopped onion and saute till onion turn golden brown.
Add chapati mixture and mix well. If required drizzle some water.
Add ghee and mix well. Cook covered for 1-2 mins.
Turn of the gas. Serve hot with chopped coriander leaves and sprinkle rest of the lemon juice.