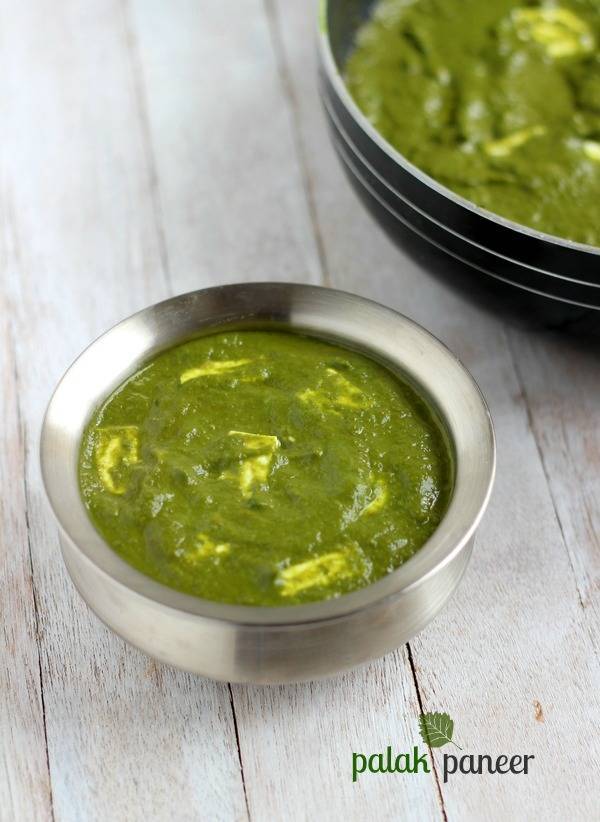 Palak Paneer Recipe (Restaurant style green palak paneer recipe) with step by step pictures – An all time favorite recipe of spinach (palak) puree and paneer cooked with few indian spices.
An aromatic, colorful and super tasty dish of palak paneer is one of the most popular recipe in all parts of India especially in North India. This recipe not only taste great but its actually healthy too, thanks to spinach & cottage cheese.

Palak paneer is the definetely one of the most ordererd restaurant dish in India. It is also part of menu in all Indian restaurants local as well as abroad. Some of its vegetarian counterparts which we all love are paneer butter masala, paneer tikka, panner lababdar, tawa paneer etc. If you are foodie and love Indian food then you have already tried all these recipes.
Palak or spinach is such a versatile green leaf. Not only it is healthy but it also adds great taste to any recipe. We use palak in many different recipes such as palak daal, palak paratha, palak puri, corn palak soup, dry palak sabji etc. However no recipe beats the mighty "palak paneer" when it comes to taste and popularity.
Palak paneer recipe that I am sharing is a simple one. The first task is to prepare palak gravy (spinach gravy). Once this gravy is spiced with some Indian spices then you can add cottage cheese (paneer). You can also replace paneer with some boiled potatoes or steamed vegetables. It really taste great when you combine this green palak gravy with any vegetable or paneer of you choice.
Related:  aloo palak sabji | sweet corn palak sabji
Without futher ado, let us learn how to make easy green palak paneer recipe with pictures.
Palak Paneer Recipe with step by step photos
To prepare this delicious restaurant style palak paneer at home we need few ingredients. Ingredient list is simple: paneer (cottage cheese), palak (spinich), onion, tomatoes, garlic, ginger, green chilies, kasuri methi and some indian spices. The complete list of ingredients with there exacth quantities are mentioned in the recipe box at end of the post.
Let us first dry roast the spices. For that in a pan, heat cumin seeds, cloves, green cardamom, cinamon and black pepper.
Once the spices are dry roasted, take them in a grinder and grind into smooth spice powder.
Also let us blanch the spinach leaves. First cut the leaves and boil them in water just for a minute or so and quickly take them out. We do not want to over cook spinach otherwise it will turn darker and lush green color will be gone. Once blanched, take the leaves in a mixture grinder, add green chilies and grind into smooth spinach paste.
Now the preparations are done. So heat oil in a pan and add finely chopped garlic.
Also add finely chopped ginger in oil. Saute the ginger and garlic for a minute.
Now add finely chopped onions.
Saute the onions in oil for a couple of minutes. Let them turn transclusent.
Now add finely chopped tomatoes.
Cook the tomatoes along with onions until they softens.
Now add the palak puree into onion tomato gravy.
Give a good stir and then season the gravy by adding salt as per you taste.
Also add ready made garam masala powder and the spice powder we made earlier.
We will also add kasuri methi. I love the fragrance this little spice add in punjabi sabzis. If you do not have kasuri methi then you can very well avoid it.

Crush the dry kasuri methi (fennugreek leaves) and add in the gravy along with other spices. Once all the spices are added, give a good stir and mix everything well. Let the gravy simmer for 1-2 minutes on low/medium flame. If required add a little water. To make the gravy even richer you can add fresh cream.
Now add paneer cubes. I am adding paneer cubes directly without shallow frying them. If you want, you can shallow fry the paneer.
Mix well and let the sabzi cook on low flame. Our delicious homely palak paneer sabji is ready. Serve this sabji hot along with some paratha, naan, roti, dal tadka and jeera rice.
Palak Paneer Recipe Box
Palak Paneer Recipe (Restaurant Style)
Palak Paneer Recipe - Rich spinach based curry cooked with cottage cheese and indian spices.
Ingredients
Onion: 1 cup,chopped
Tomato: 1 cup, chopped
Palak: 1 bunch
Green Chili : 2 piece
Garlic: 1 tsp
Ginger: 1 tsp
Oil: 1 1/2 tbsp
Kasoori methi: 1/2 tsp
Salt: 1 1/2 tsp
Garam masala: 1/2 tsp
Fresh cream : 1 tbsp optional
Dry roasted masala
Cinnamon:1/2 inch
Elaichi: 2 small
Cloves: 2-3 piece
Pepper: 1/2 tsp
Cumin seeds: 1/2 tsp
Instructions
To make palak puree
Wash the palak leaves in running water and blanch them in hot water for about 3 minutes.
Once blanched, drain the hot water and keep aside to cool down.
Once cooled, make the pure of palak by adding the green chili to it.
To make Masala for palak paneer.
In a kadai dry roast the ingredients like Cinnamon, Elaichi, Clove, Pepper, Cumin seeds for about a min or so.
Then in the mixture grinder make the fine powder of all the spices.
To make palak paneer sabji
Heat oil in a pan and once the oil is hot add ginger and garlic.Cook for about 1/2 a min.
Then add onions and cook till the onions softens.
Once the onions are soft add the tomatoes. Cook till the tomatoes are soft.
Now pour the palak puree to the tomato and onion mixture. Mix well everything.
Then time to add the Indian spices like salt, garam masala and the masala which we made earlier. Mix well and cook for about 2 min.
Then add the kasoori methi to the palak gravy. Mix well.
Optionally you can add fresh cream in the gravy to make it richer.
Add the paneer cubes and cook for about 5 min. (Note: I have used the store bought paneer so I have directly cut them into cubes and added to the palak gravy)
So the yummy palak paneer is ready to serve hot with paratha, naan, roti or chapatti.
Other Restaurant Style Recipe