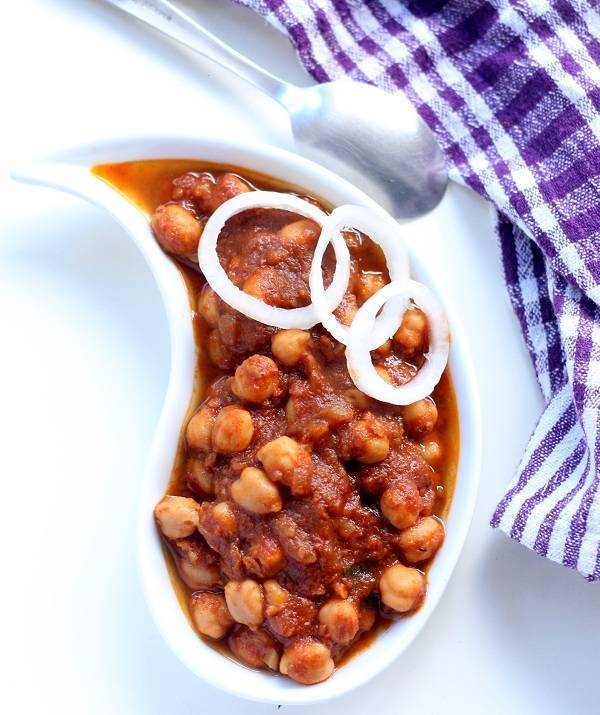 Amritsari chole masala recipe with step by step pictures – Here is a curry recipe that I love to make when my family is fed up of routine food. Although this curry is time consuming but its worth every minute spent on cooking. This Punjabi style Amritsari chhole recipe taste just amazingly authentic. I have seen many different ways of making Amritsari chole but this recipe is one of the authentic way Punjabi's make this curry especially in Amritsar.
This home made chole masala recipe is lengthy yet easy to make. The ingredients are also basic and available in all Indian households. This curry has a bit tangy taste due to amchoor powder and tamarind that we add in it. Both of these ingredients are mandatory to make authentic Amritsari chhole.
The main ingredient of this curry is chickpea (chole or white chana) which is used to make so many different dishes in India. Using chole you can make chole bhature, chole paneer, pani puri masala, chole ragda samosa, chole tikki or chana sundal etc.
This Punjabi curry is famous because of its distinct black colour gravy. The dark color is attributed to tea that is used in this recipe. There are many ways of incorporating tea in chole masala. Lot of people while boiling chana / chole in pressure cooker add one or two tea bags or even tie some tea powder in a muslin cloth. This way when the the chole is boiled it soaks the tea color and get its distinct dark color. Alternately you can also use plain tea water in gravy directly as I did here.

Coming back to the recipe, let us start with the step by step recipe of Amritsari style Chole masala.
Step by step Recipe of Punjabi Amritsari Chole with photos
To make Amritsari style authentic chole masala, soak the chole (chickpea) in water overnight. The size of chole would get doubled.
For this Amritsari Chole recipe we will need following ingredients. Soaked and boiled chickpea, tomato puree, finely chopped onions, amchoor powder (dried mango powder), tamarind (imli), cloves, cinnamon, bay leaf, cardamom, ginger slices (julien) and some tea water. Also we will need some ready made chole masala that is available in any Indian grocery store. Here I have used Everest chhole masala.
Let us start with the recipe of Amritsari chole masala curry. For that heat oil in a thick bottom non-stick pan. Once the oil is hot add cloves, cinnamon, bay leaf and cardamom.
Add finely chopped onions and cook the onions until they turns golden brown in color.
Add tomato puree (paste) in onion and let the tomato gravy gets cooked. Throw in the red chili powder. Mix well and let the gravy gets cooked for 2 to 3 minutes.
Ones the gravy is cooked it will start oozing oil. At this point add boiled chickpea (chole).
Add the boiled chickpea in tomato onion gravy.
Add Everest chole masala, amchur powder (dried mango powder) and salt to taste to the gravy.
Mix the spices well and add tea water. This will darken the color of Amritsari chole and make it look authentic dhaba style.
Add water and let the Amritsari chole gets cooked for 5 to 10 minutes. In the end add sliced ginger (juliens).
Also add tamarind water (imli) and mix well.
Let the sabji gets cooked for another 5 to 6 minutes.
The tasty Punjabi Amritsari style Chole is ready to serve. Serve this curry hot with paratha, garlic naan, lachcha paratha or tandoori roti.
Amritsari Chole Recipe Box
Amritsari Chole Masala, Black Amritsari Chole Masala Recipe
Amritsari Chole Masala: Punjabi Amritsari style black chole masala sabji prepared in onion tomato gravy spiced up with Indian spices.
Ingredients
Chickpea (Chole): 250 gm, soaked & boiled
Chole masala: 1 1/2 tbsp
Tomato: 2 cups, puree
Onion: 1 cup, finely chopped
Ginger: 1 tbsp, lengthwise sliced
Oil: 2 tbsp
Cardamom: 3 pieces
Cloves: 3 cloves
Cinnamon: 1 inch piece
Bay leaf: 2 pieces
Tea: 4 tbsp, tea water
Amchur: 1 tbsp (dried mango powder)
Tamarind (imli): 2 tbsp, pulp
Red chili powder: 2 tsp
Salt: 2 tsp, to taste
Water: 1 1/2 cups, for gravy
Instructions
Soak the chana over night or for about 6 to 7 hrs and boil in the pressure cooker for about 3-4 whistle and keep aside.
In a small cup add the tamarind and soak in water for about 5 min and keep aside.
In a pan heat water and once the water is boiling add the tea powder and boil for about 4 min and then strain the water and keep aside.
In pan heat oil and add cardamom, cloves, cinnamon and bay leaf and saute for a minute.
Then add onions and cook till the rawness of onion goes away.
Once the onions are cooked add the tomato puree and cook for about 2 min and add the red chili powder and cook till all the ingredients are mixed well.
Now its time to throw in the boiled chana (chickpea) in the tomato gravy and stir it . Cook for about 4 min and add the Indian spices like chola masala, amchur powder and salt to taste.
Once all the ingredients blends well then add the tea water to the chola sabji and cook for 5 min as you cook the sabji the color of the sabji will start getting darker.
Add the ginger slices (julien) and stir it.
At the end add tamarind water and cook for about 5 min now the chola masala sabzi is ready to serve.
Serve Amritsari Chole Masala with hot paratha, tandoori roti or butter / garlic naan.
Notes
In this recipe I have used amchur powder and tamarind both. If you want to avoid the tamarind then add little extra of amchur powder or vice versa.
If you liked this recipe of Amritsari Chole masala then do check these other Punjabi recipes:
corn palak sabji
,
aloo parval sabji
,
baingan bharta
and
mix dal fry
.