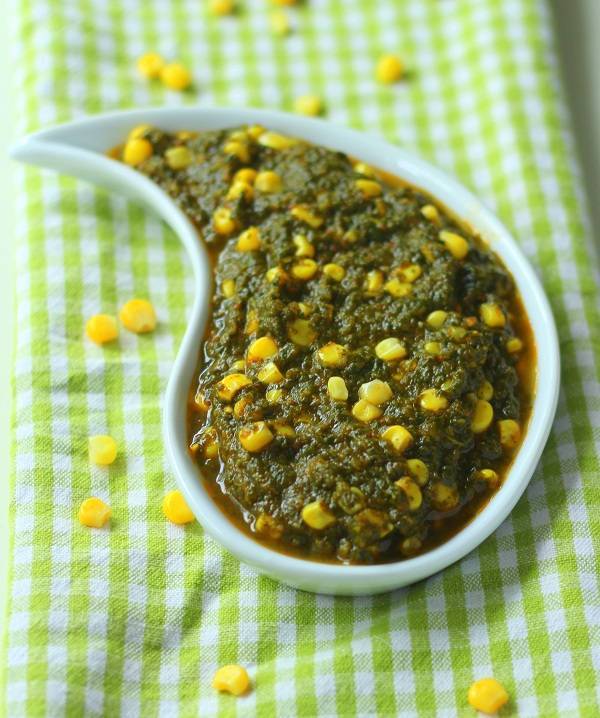 Corn Palak Sabi Recipe with Step by step photos – Here is an easy recipe of Punjabi curry of corn palak also known as makai palak in many Indian house holds. The recipe is slightly lengthy then usual day to day curry recipes. But trust me the extra effort is worth it. This sabji has all the flavors of corn and palak along with their health benefits.
Palak or spinach is one green leafy vegetable which is highly rich in Iron content. It is must for those who have hemoglobin deficiency. Thus it is highly recommended to include spinach in your daily diet in one or other form. We can make so many different Indian recipes using palak like palak paneer, aloo palak, corn palak tikki or even palak soup.
If you are bored of having palak in sabji then do try other dishes that can be made using palak. You can make Palak Roti or even Palak Puri. Childrens don't like to eat palak so to make them eat we can make the puree of palak and add it in the wheat flour and make green rotis. Or even palak thepla!
Palak sabzis like corn palak have lot of gravy and hence we can also serve it using plain rice. Serve this palak corn sabji mixed in boiled rice and make corn palak rice!

I have made this corn palak curry in a way that I usually cook Punjabi curries. You can also add other ingredients and make this curry richer and more restaurant like. For example add some fresh cream in the gravy and make it richer. Also instead of red chili powder you can add green chili paste. If you have fresh coriander leaves then while making palak puree do add some fresh coriander leaves. The sky is limit! 🙂
Let us start with the step by step recipe of Punjabi Corn Palak (Makai Palak Sabji).
Recipe of Corn Palak Sabji – Step by step
Thoroughly wash the spinach leaves (palak) in water and dry them out. Cut the stem part and discard it. Now let us blanch the palak in boiling water. In a vessel heat water and once it starts getting boiled add spinach leaves (palak).
Let the palak gets blanched in water for 2 to 3 minutes. Once cooked take the palak in a strainer and pass it through cold running water. This way the palak will stop getting cooked and retain its green color.
Let us make the puree of palak now. Take the boiled palak in a mixer grinder and add garlic cloves. Blitz it till it forms smooth puree. Keep the palak puree aside.
Following ingredients are required to make corn palak sabji. The palak puree that we made in above steps, tomato puree, onion paste and boiled corn kernels (sweet corn).
Heat oil in a non-stick pan and once the oil is hot add cumin seeds.
Once cumin seeds starts getting brown add onion paste and saute it for a minute.
Pour in the tomato puree and mix it well with onion paste.
Let the tomato puree gets boiled. Once the gravy starts getting boiled add dried spices: red chili powder, garam masala powder and turmeric powder.
Mix the spices in gravy and let them cook for another minute. Now add palak gravy in onion tomato gravy and mix it well.
Add salt to taste in palak gravy and cook it for 2 to 3 minutes. If require add a little water in gravy and adjust its consistency.
Our spinach gravy is ready now. Let us now throw in boiled corn kernels in palak gravy and mix it well. Cook the palak corn sabji for 3 to 4 minutes till all the flavors gels together.
Corn palak sabzi is ready to serve. Once the sabji is cooked do not cover the pan with lid. Keeping the lid on for any palak based curry once it is cooked will change its color from green to dark.
Serve the Punjabi corn palak sabji with hot chapati, roti, plain paratha or even lachcha paratha or garlic naan.
Corn Palak Sabji Recipe Box
Corn Palak Sabji Recipe (Corn Palak Curry)
Corn Palak Sabi Recipe - A delicious Punjabi curry with boiled sweet corns cooked in spinach gravy.
Ingredients
Palak (Spinach): 1 1/2 cup, paste
Corn kernels: 1 cup, boiled
Tomato: 3/4 cup, paste
Onion: 3/4 cup, paste
Garlic: 3 cloves
Oil: 2 tbsp
Cumin seeds:1 tsp
Turmeric powder: 1/2 tsp
Garam Masala: 1/2 tsp
Red chili powder: 1 tsp
Salt: 2 tsp or to taste
Instructions
Wash the palak leaves in water. Cut and discard the stem part.
Take a vessel and heat water in it. When the water starts boiling add the palak leaves and let them boil for 2-3 min (this method is known as blanching). As soon as the palak is blanched you can put it in cold water to retain its green color.
Boil the sweet corn kernels in the cooker for about 3-4 whistle and keep aside.
Now make the paste of blanched palak, onion, tomato.
In a pan heat oil and add the cumin seeds. Once the cumin seed change its color add onion paste and cook for about 4 min till onion is semi cooked.
Then add the tomato paste and cook for about 3 min till tomato starts boiling.
Now its time to add all the Indian spices like red chili powder, turmeric powder, garam masala and salt to taste.
Mix all spices and let them blend in tomato onion gravy.
Once all the masala is blended well with tomato paste, add the palak paste and cook for about 3-4 mins.
Add in the boiled corn kernels and cook for again 4 min till palak paste and corn kernels are blended well with each other.
The tasty corn palak curry/sabzi s ready to serve. Serve hot this sabji with roti. naan, paratha or kulcha.
If you liked this corn palak sabji recipe then do try these curry recipes too: 
aloo parval sabji
,
baingan bharta
,
dry kala chana
,
kala chana masala
and
rajma masala
.