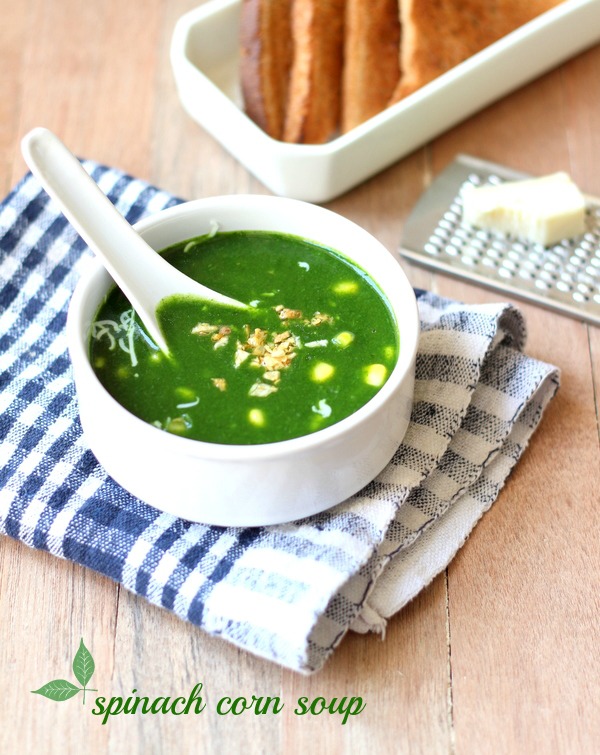 Palak corn soup or shorba with steps – A healthy & tasty soup of spinach and sweet corn kernels tempered in clarified butter & garlic.
What!! tempering and that too in soup? well, yes you are reading that right. We are going to temper a soup. Normally in Indian cooking tempering or tadka (chowk lagana) is a common technique of heating spices in hot oil or ghee and then pouring on any dish to enhance its flavor. The same technique is applied to our very common soup dish. I have given a tadka of garlic to palak & corn soup. Just a little bit of garlic can level up this soup quite a bit.
Related recipes: sweet corn soup  | carrot coriander soup
A very common question that I hear & read many times is "What is the difference between Soup and Shorba?" well there is no fix answer. The word "Shorba" is derived from the Arabic word "shurbah" meaning soup :-). The shorba became famous in India during Mughal rule. Traditionally shorbas were prepared by simmering meat and vegetable in water along with aromatic herbs. Hence I have tried to make this soup taste different by adding tempered garlic flavor in it.

As for all other greens, palak or spinach too have great healthy properties. We all know how good is to include palak in once diet. However kids do not like this particular green. I guess that's the reason why the character of Popeye the salor was thought out 🙂 To make kids eat spinach. I think the best way is to make soup of palak once a while and add their favorite ingredient like corn and cheese. That will definitely entice kids to eat palak. Other than this corn palak soup we can also make corn palak sabji with the same main ingredients.
This palak corn soup or shorba is easy to make. If you want to make this soup as appetizer for a dinner party then just prepare the corn palak soup before hand and when guests arrive just reheat the soup, temper the soup with garlic and serve hot.
Tips to make perfect healthy palak corn soup
To make lush green palak soup always blanche the palak in boiling water with open lid. Do not cover the vessel in which spinach is being blanched.
Also to retain the green color of palak, once blanched immediately cool it down by running under cold water. This will stop palak from over cooking.
Corn starch act as a thickening agent and make the shorba thick. However you can avoid the corn starch if you want.
If using corn starch in the soup then always mix it in some water and then add that water in soup.
I have added finely chopped garlic in palak corn soup. Make sure to chop the garlic finely as it taste better with each spoon of soup.
For tadka or tempering add less ghee or butter if you wish.
If you want to make Jain or no garlic no onion version of this soup just skip the tempering all together.
Recipe of Palak Corn Soup with step by step explanation and pictures
To make palak corn soup/spinach corn shorba we need blanched palak gravy, boiled corn kernels, garlic chopped, corn starch, clarified butter (ghee), salt to taste, cheese to garnish and thats it. Tasty and healthy corn palak soup will be ready in no time.
For the brief recap of the recipe check the recipe box at the end of the post.
In sauce pan take palak puree. I have prepared palak puree by blanching the palak for few minutes and then cooling it under cold running water. Then I just puree the palak. That way the palak cooked nicely and maintain its lush green color.
Then add around 2 1/2 cups of water in palak puree.
Boil the palak gravy for about 1 min until it starts spluttering as seen in below pic.
Then add corn starch to the gravy. This helps gravy to get thick. I have dissolved the corn flour or corn starch in a some water and then added that water in palak.
Add salt to palak soup. Cook for about 2 min.
Then add boiled corn kernels to the palak soup and cook for about 3 min or till the soup thickens.
In the below picture I have shown the consistency of the corn palak soup.
Now let us add the garlic tadka to our palak corn shorba. In a tadka pan heat 1/2 tsp of clarified butter (ghee).
Once ghee is hot add finely chopped garlic and cook for 1/2 min.
Pour the tadka in the soup and give a stir. Your tasty corn palak soup is ready. Garnish the soup with grated cheese and serve hot.
Recipe of Palak Corn Soup or Corn palak shorba
Palak Corn Shorba, Creamy Spinach Corn Soup
Palak Corn Soup - A healthy delicious spinach and corn kernel soup tempered with clarified butter & garlic.
Ingredients
Corn kernels : 2 tbsp boiled
Spinach : 1/3 cup blanched & puree
Corn starch : 1 tbsp
Salt : 1 tsp or to taste
Water : 2 1/2 cups
Cheese : 1/4 cube grated
Pepper powder : 1 tsp optional
Garlic : 1 tsp
Oil : 1/2 tsp
Instructions
Pre preperation
Pluck the palak leaves, wash nicely under running water so that no mud remains.
In pan take water and once the water starts boiling add palak leaves. Cook or blanche the palak leaves for 2 min.
Remove the blanched palak from hot water and immediately run cold water through it so that it maintains green color.
Once palak leaves cools down grind it in mixture grinder and make a smooth paste or puree.
Remove the corn kernels from the corn and boil it.
Chop the garlic very finely.
To make palak corn soup
Heat a sauce pan and take palak puree and add water in it. Cook for about 2 min.
Once palak water starts boiling add corn starch and salt. Let it cook for about 2 min so that soup thicken.
Now throw in the boiled corn kernels and cook for about 3-4 min.
Check the soup consistency. Cook until the desired consistency is reached.
To make tadka for corn palak soup
In a tadka pan heat 1/2 tsp of ghee.
Once ghee is hot add finely chopped garlic and cook for 1/2 min .
Pour the tadka in corn palak soup and mix it well.
Corn palak soup is ready to serve. Garnish the soup with grated cheese and serve it hot along with garlic bread.
Notes
You can even add cream to your soup to give creamy texture.
Other soup recipes similar to palak corn soup