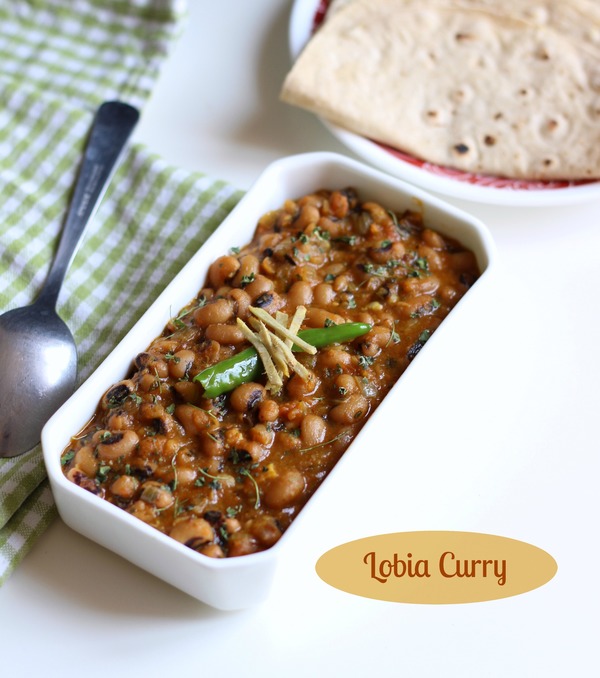 Lobia masala curry – step by step: Today I am sharing a lunch recipe that is often prepared in my home. But let me be frank. It is not I have been making this sabzi since quite long. In fact recently started making lobia this way and my husband just loved it. So it got added in weekly/bi-weekly lunch menu. This black-eyed peas known as lobia in hindi language are small white seeds with a dark spot resembling to eye. Hence the name black-eyed. Also in Gujarati it is known as chawli or chovli.
The lobia masala recipe that I am sharing today has been prepared in traditional punjabi way. Most ingredients are easily available in an indian kitchen. A small twist in recipe is kasuri methi or dried fenugreek leaves. I am adding kasuri methi in the end. It just enhance the flavor by two-fold if not more.
Related: rajma masala | amritsari chole
To make lobia masala we need to soak the black-eyed peas for atleast 4-5 hours. However sometimes instead of soaking these beans they might still not get tender enough. In such case just add a pinch of baking soda while boiling lobia beans in a pressure cooker. This way they will cook nicely. Alternatively you can also add soaked lobia beans in tempered spices with tomato onion and then pressure cook it. However I feel it taste much better if we boil the lobia first and then simmer it in onion tomato gravy.
Normally we chop the tomatoes and add in the curry but here in this sabji I have made the tomato puree. That way we get nice gravy. Also the chopped onions are not over cooked. We just need to sweat the onions in oil. That way we preserve its sweetness.

Before we dig into making lobia masala sabji at home let us check few tips and tricks to make great lobia curry.
Tips to make best Lobia sabji
Always soak the lobia for about 5-6 hrs so that lobia becomes soft. Soaking lobia make it tender and tastier.
Once soaked, the lobia will double in size so soak lobia accordingly. Half cup lobia beans are good for 2.
To make gravy in the sabji always make the puree of tomato.
Also keep some boiled lobia aside and then smash it and add to the sabji this way the gray will thicken up. Alternately crush some beans in gravy itself.
Don't forget to add kasuri methi in the end. It lifts the taste to a new level.
Lobia masala sabzi goes really well with hot chappati, phulka or paratha. Even they taste great with steamed rice or jeera rice.
Let us check how to make recipe of lobia masala curry with step by step photos.
Step by step recipe of Lobia masala curry with pictures
To make this delicious lobia masala sabji or lobiya curry we will first need to soak lobia beans for atleast 3-4 hours in water. Soaking lobia enhances its taste so do soak it for sufficient time. Once soaked lobia will grow almost double in size. Also we need to boil the lobia or black eye peas once in pressure cooker for atleast 5-7 minutes. Let the pressure cooker cools down before opening the lid.
To make delicious lobia curry we will need following list of ingredients: lobiya/black-eyed peas, onion, tomato puree, ginger, garlic, green chili, oil, cumin seeds, bay leaf, cinnamon, red chili powder, turmeric powder, cumin powder, garam masala powder, salt and kasuri methi.
Also you can check the quantities of each ingredient in recipe box at the end of this article.
Let's begin the recipe of lobia masala curry. First heat oil in a thick-bottomed non-stick pan. Once the oil is hot temper jeera/cumin seeds, tejpatta/bay leaf and dalchini/cinnamon.
Once the jeera starts sizzling add ginger and garlic paste. Saute the paste for few seconds.
Saute the ginger garlic paste for few seconds in hot oil.
Now add finely chopped onions.
Let the onion cook for 1 minute until it becomes translucent.
Now add tomato puree and cook for 2-3 minutes or until it oozes out oil.
Add dry spices now. Add red chili powder, cumin powder and turmeric powder.
Saute the spices in onion/tomato gravy for atleast 2-3 minutes until the gravy start oozing out oil. Now add slit green chilies. You can also chop green chilies finely and then add. Adjust the level of spice in lobia curry by increasing or reducing green chili.
Once onion/tomato gravy is simmered for atleast 2 minutes add boiled lobia or black-eyed peas in gravy.
Mash around 1 tbsp of lobia and add mashed lobia in curry to make gravy thicken a bit. You can also mash lobia inside gravy using a spatula to achieve this. Also check the consistency of gravy and if required add more water at this stage.
Add garam masala powder in lobia masala curry.
Season the curry with salt as per your taste.
Last but not least. Add a tbsp of kasuri methi in lobia curry. Rub the dry kasuri methi leaves between your palms and add in powdered form.
Kasuri methi or dry fenugreek leaves give really great flavor to this curry so do not miss this ingredient. Give a gentle stir and lobia masala curry is ready to serve.
Serve lobia curry hot along with chappati, phulka, roti, paratha, steamed rice or jeera rice.
Let us quickly check the recap recipe of punjabi lobia masala sabzi.
Lobiya Masala Curry Recipe Box
Lobia Masala Curry Recipe (Black Eye Bean Curry)
Lobia curry recipe - A traditional recipe of black-eyed peas cooked in onion tomato gravy with indian spices.
Ingredients
Lobia/black eye peas : 1/2 cup, unboiled
Onion : 1/2 cup, diced
Tomato : 1/2 cup, puree
Oil : 1 1/2 tbsp
Cumin seeds / Jeera: 1 tsp
Bay leaf / tejpatta : 1 leaf
Cinnamon: 1 small piece
Green chilies : 1 piece, slit
Ginger : 1 tsp, paste
Garlic : 1 tsp, paste
Red chili powder : 1/2 tsp
Turmeric powder : 1/4 tsp
Cumin powder : 1 tsp
Garam masala powder :1 tsp
Salt : 1 1/2 tsp or to taste
Kasuri methi / dry fenugreek: 1 tbsp crushed
Instructions
Pre Preparation
Soak the lobia over night or about 4-5 hrs.
Once the lobia is soaked boil it in presser cooker for about 3 whistle.
Diced the onion and puree the tomato and keep aside.
Make the paste of ginger and garlic.
To make lobia masala curry
In a pan heat oil and add bay leaves, cumin seeds, cinnamon and cook for about half min.
Then add ginger and garlic paste and saute for a min.
Once ginger and garlic is sauteed add onion and cook for about 2 min or till onion sweats.
Then add tomato puree and cook till it oozes out oil.
Now add dry Indian spices like turmeric powder, red chili powder, cumin powder and cook for a min and then add slit green chili also.
Once all the masala blend well with each other then add boiled lobia. Stir well.
Mash a tbsp of lobia beans and add in the gravy.
When lobia blend well with masala then at the end add garam masala and salt to this sabji. Mix well.
At the end add kasuri methi and mix well and serve hot.
Serve this delicious lobia masala curry with hot chappati, roti or paratha.
Some delicious curry recipes similar to lobia masala