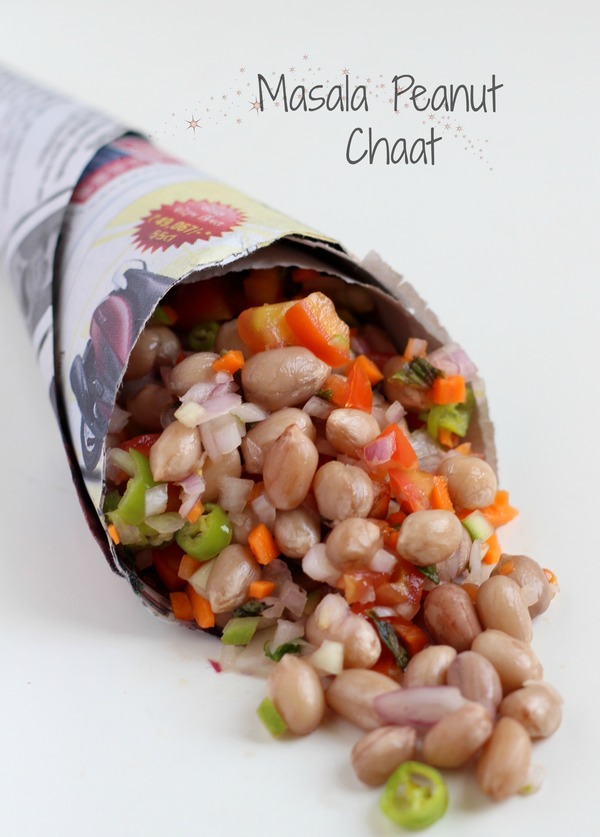 Masala peanut chaat recipe – A lip-smacking kids friendly street food recipe of boiled peanuts and chopped fresh vegetables.
Indian street food is full of flavors and varieties. There is no end on dishes one can try on streets. Each one different from other. From North to South there are thousands of variations of a dish. My favorite street food is non other than Pani puri or golgappa or puchka. Whatever you call them. Almost every week I have one dish of pani puri (around 6 pieces per dish at time of writing this). I also make pani puri at home. Homemade version is of course healthier.
Another street food that I can relate with is masala peanut chaat. During my schooling days in Chennai, India we used to enjoy this delicious chaat. On the corner of road you will find a "moodi wala" or chaat wala who would sell moodi and masala mungfali or peanuts called "verkadalai" in Tamil. The vendor would have hot boiled peanuts in a pot steaming on make shift steamer. He would quickly combine all the chopped vegetables with boiled peanut and season it with red chili powder and salt. The taste is heaven. Especially when the peanuts are hot.

This recipe of masala peanut chaat is quite simple and all the ingredients are already a hand away in your kitchen. This chaat recipe is totally kids friendly. Kids always want new dishes everyday and its difficult to think of new new recipes. Here is one option that you can make in no time and serve it to children of any age. Even elder loves this chaat.
A lot of time you will see fried peanuts being used in masala peanut chaat. However I like the boiled once due to their soft tender taste and also as they are way healthier compared to fried once. You can make this peanut chaat in whatever way you desire. Fried peanuts goes well with few Indian spices in masala peanut recipe. I already publish this recipe of masala peanut which is made during fasting in our home. Checkout other peanut recipes that I have shared on this blod: tomato peanut curry, bhindi peanut fry, vrat ki kadhi and coriander peanut chutney.

Coming back to the recipe, let's check how to assemble the tasty masala peanut chaat.
Recipe of Masala Peanut Chaat with step by step pictures
To make delicious masala peanut chaat we will have to finely chop the vegetables: chop the tomatoes, onion, green chilies, carrot, mint and raw mango. Also we need to boil the peanuts. I have boiled the peanuts in pressure cooker for 5-6 minutes (2 whistles).
Let's assemble the masala peanut chaat. In a bowl take finely chopped tomatoes.
Add chopped onion in it.
Also add finely chopped carrot.
Cut some mint leaves and add in bowl.
Also add finely chopped raw mango or kachi keri pieces.
Mix everything well.
Now add salt according to the salad.
Again mix well.
Now add boiled peanuts.
And add finely chopped green chilies. If you are making this masala peanuts for kids then you can skip green chilies.
Squeeze half a lemon juice.
Combine well all vegetables with peanuts and that's it. Delicious masala peanut chaat is ready.
Other Indian street food recipes that you might wanna check
Masala Peanut Chaat Recipe Box
Masala Peanut Chaat, How to make Peanut Chat
Masala Peanut Chaat - A delicious lip-smacking chaat recipe using boiled peanuts and other veggies.
Ingredients
Peanut : 1/2 cup
Carrot : 1 1/2 tbsp
Onion: 2 tbsp
Tomato: 2 tbsp
Mint: 1 tbsp
Green chilies: 1 piece
Raw mango : 1 tbsp
Salt : 1/3 tsp
Instructions
Soak the peanuts in water for 30-40 minutes and boil them in pressure cooker for 5-6 minutes until they become tender.
Finely chop the vegetables: tomato, onion, raw mango, green chilies and carrot.
In a mixing bowl take chopped tomatoes and add onions in it.
Also add finely chopped carrot.
Cut few mint leaves and add in the bowl.
Now add in finely chopped green mango or raw mango.
Give a nice mix and combine everything well.
Season the salad with salt as per taste. Mix well.
Now add the boiled peanuts or mungfali.
Also add finely chopped green chilies and squeeze in half a lemon juice.
Mix well and delicious masala peanut chaat is ready.