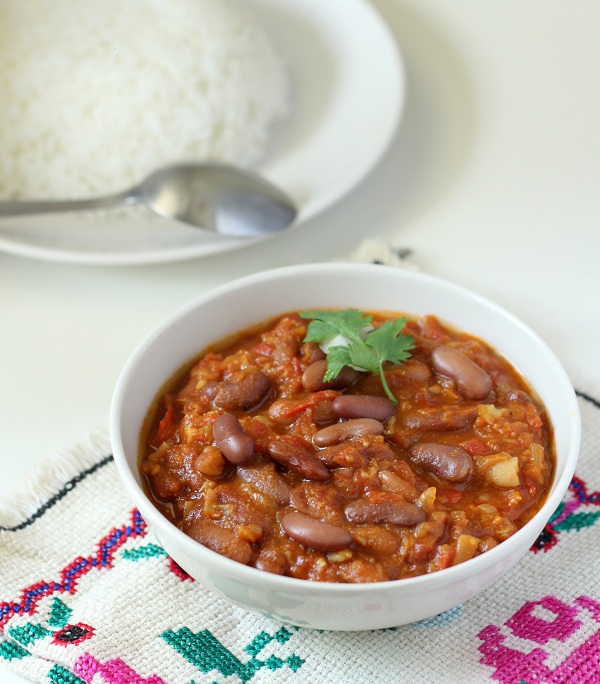 Rajma Masala Sabzi (Red kidney bean curry) – Rajma masala or red kidney bean curry is the famous Punjabi main course dish that is loved across length and breadth of India. You get this sabzi in all the Punjabi dhabas or restaurants. Here is a simpler version of rajma masala that I often cook at home. The gravy for this Rajma masala is normally blended in a mixture grinder/food processor. However I have bypass that step and just made a nice tomato onion gravy by finely chopping them.
The red kidney beans or rajmas are great source of protein. Being vegetarian there are few ingredients which are rich in proteins. So I tend to include lentils, legumes in my diet.  Kidney beans are a very good source of cholesterol-lowering fiber. In addition to lowering cholesterol, kidney beans' high fiber content prevents blood sugar levels from rising too rapidly after a meal, making these beans an especially good choice for individuals with diabetes, insulin resistance or hypoglycemia.
The rajma masala curry goes really well with plain rice and jeera rice. Hence most of the times they are ordered together as Rajma rice in restaurant.
Before we start the step by step recipe of rajma masala sabzi. Let us quickly check some tips that will make your rajma masala taste delicious.

Some tips to make good rajma masala
Rajma if not soaked for long time takes quite a while to cook. Add a pinch of baking soda (soda bicarbonate) while boiling rajma to reduce the cooking time.
Rajma masala is well known for its dark red colored gravy. While making rajma masala try to use kashmiri red chili powder instead of green chilies to give red color. This should make rajma masala less spicy. Also avoid using food color.
The hotness of spices is balanced by sweet taste of tomatoes. Try adding more of tomatoes than onion to counter balance the heat and also retain the color of rajma masala. So for 1 part onion use 2 parts tomato / tomato purée.
Reuse the water in which rajmas were soaked for the curry instead of adding normal water in curry. This will make gravy thicker and also retain all nutrients.
You can also use tinned rajma (kidney beans) for this curry to save on cooking time.
If using dry kidney beans try to cook in pressure cooker as it will cut the cooking time to 2-3 folds.
To make thicker gravy, mash some of the rajma beans with back of the spatula / spoon and add it in gravy.
Let us now check the rajma masala sabzi recipe.
Step by step Recipe of Rajma Masala Curry with photos
Wash 1 cup of rajma beans (red kidney beans) thoroughly and soak them in water for 8 to 10 hours or over night. The rajma beans tends to grow in size as it absorbs water. Once the rajma beans are soaked properly boil them in pressure cooker for 8 to 10 minutes. If you have pressure cooker with whistle then let the rajma gets boiled till 4 to 5 whistles.
Do not throw away the water in which rajma beans were soaked or boiled. We will use the same water in gravy.
Wash tomatoes and chop them into small dices. Also finely chop onions as much as you can. We are not going to use grinder / mixture to prepare gravy so we will cut onions and tomatoes as small as possible.
Also mince the garlic and grate the ginger.
Now to prepare rajma masala gravy heat a 1 1/2 tbsp of oil in a thick bottom non-stick pan. Once the pan is hot add cloves (laung), cinnamon stick (dal chini) and bay leaf (tej patta).
Throw in the onions and let them get tossed for a minute till they turns golden in color.
Once onion turns golden brown in color add minced garlic and grated ginger. Stir well and cook for few seconds so the raw flavor of ginger goes away.
Now let us add all powder spices. Add red chili powder, turmeric powder, coriander powder (dhaniya), cumin seeds powder and garam masala powder. Mix well and let the onions get cooked for a minute so that all the flavor of spices blends into our gravy.
Add chopped tomatoes. For 1 cup of onion we will add 1 and 1/2 cup of tomatoes. It helps to make the gravy of rajma masala. Mix well the tomatoes and add salt to taste so that they softens quickly.
Cook for a minute on medium flame till tomatoes softens in gravy.
Pour in a cup of water (use the water in which rajmas were soaked) into rajma masala gravy and let it simmer for some time.
Now add boiled rajma into tomato onion gravy and mix well.
Cook for another 3 to 4 minutes.
The tasty punjabi style rajma masala sabzi is ready. Serve hot with plain rice, jeera rice or naan, garlic naan or roti.
Rajma Masala Recipe, Punjabi Rajma Masala Curry Recipe
Rajma Masala Curry - Tasty punjabi style home made rajma masala sabzi without using grinder.
Ingredients
Red kidney beans (rajma): 1 cup, boiled
Onion: 1 cup, finely chopped
Tomato: 2 cup, finely chopped
Ginger:1 tbsp, grated
Garlic: 1 tbsp, grated
Turmeric: 1/4 tsp
Red chili powder: 1 tsp
Coriander powder: 1 tbsp
Cumin powder: 1/2 tbsp
Garam masala: 1 tsp
Oil: 2 tbsp
Cinnamon stick: 1/2 inch piece
Cloves: 1 piece
Bay leaf: 1/2 leaf
Water: 2 cups
Salt: to taste
Instructions
To boil Rajma
Wash the red kidney beans (rajma) and soak in water for 8 to 9 hrs or over night.
Now finely chop the onion and tomatoes . Also grate the ginger and garlic or can also use the paste.
Once the rajma is soaked for about 8 hrs, boil them in presser cooker after adding salt. Cook for 8 mins on medium flame.
To make Rajma masala gravy
In a non stick pan add oil, cinnamon stick, bay leaf and cloves and saute till cloves changes its color.
Add the onion and cook till they the onion becomes light brown in color .
Once the onion are cooked add chopped ginger and garlic and cook for about 1 min.
Now its time to add the spices like coriander powder, red chili powder, garam masala, cumin powder, turmeric powder and salt to taste.
Once the masala are blended well with onion throw in the tomatoes and cook for about 5 min till the tomatoes are well cooked
Add a little water to gravy and let it simmer for a minute..
Now add the boiled rajma to the gravy and cook for about 4 min till all the ingredients blends well with each other. Note: To make a thick gravy smash some rajmas with spoon.
Rajma masala sabzi is ready. Serve with plain rice, jeera rice, roti, chapatti or naan.
Notes
If you have forgot the soak the rajma at night or you don't have enough time to soak then just soak your rajma in the warm water and it would get soft in 2 hrs.

Then while boiling the rajma just add salt and a pinch of baking soda.