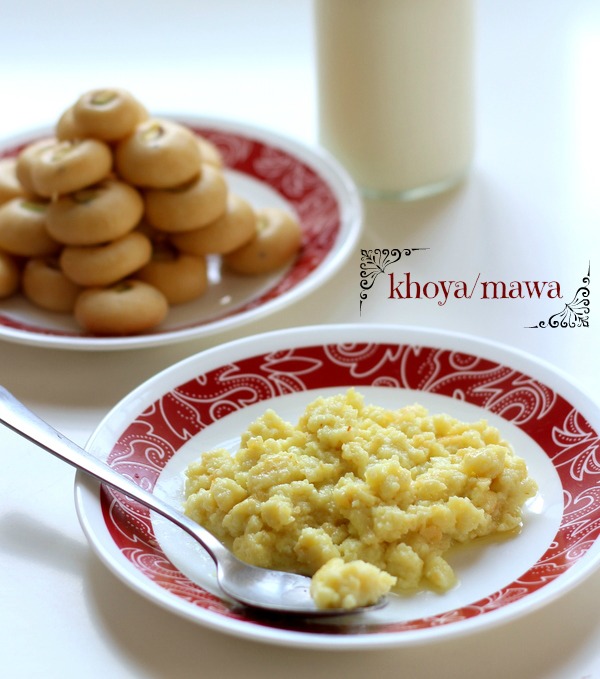 Khoya recipe or mawa recipe at home – step by step recipe: Khoya or khoa is one ingredient that is must in many Indian sweets and curries. Its basically made by simmering full-fat milk in a kadhai or pan for hours leaving behind coagulated solids in milk. These solids are khoa. Khoya is basically white or pale-yellow in color and stays fresh for several days.
The khoya recipe that I am sharing today is the traditional longer recipe that is used everyday by halwais /mithaiwalas or sweet makers. Khoya prepared with this recipe gives great result when used in sweets. Khoya or mawa is used to make different Indian sweet dishes such as halwa, gujiya, barfi, gulab jamun, pedha etc.
Related recipes: condensed milk | homemade yogurt
Khoa is prepared by reducing cow or buffalo (or mix) milk to one-fifth of its original volume. Leaving behind coagulated solids. However khoya can be prepared in different ways and according to wikipedia there are 3 different types of khoa available: batti or pindi, chickna or dhap and daanedaar. Each with different characteristics/texture and used in different varieties of sweets. The ideal temperature to prepare khoya is about 80 °C (180 °F).

Khoya is easily available in market these days. However we do hear news of adulteration of milk and milk products in India. Who knows how they made it or is it fresh or not? Thus I prefer to make khoa at home instead of buying ready made one. It takes some effort but once a while you can shed some calories to get pure homemade product. So this Diwali festival if you are planning to make sweets at home do not buy khoa.. make at home. After all "live healthy think healthy" must be motto of our lives.
Before we dig into the detailed recipe of making khoya at home let us go through few tips that will help in getting good result while preparing khoya.
Tips to make Good Traditional Khoya
Lightly grease the kadhai/vessel you want to make khoya in.
Continuously stir the milk or else Mali will be formed on top and the khoya and it will not be smooth.
Cook till all the moisture from the khoya evaporates. Till it reduces to one-fifth in volume.
Use a broad vessel so that it reduces the cooking time.
Always use heavy bottom pan.
While string scrape the sides of the pan or else milk with stick there and will burn. Khoya will have the burnt smell in it.
Let us check the traditional and lengthy 🙂 recipe to prepare khoa or mawa at home.
Recipe of Mawa/Khoya/Khoa with step by step pictures
Prepare a non-stick thick bottom pan by greasing it with ghee/clarified butter. By doing so the milk will not stick to bottom while preparing khoya.
Pour 1 liter of full-fat milk in pan and start heating it. For 1 liter milk we will get around 200 grams of khoa. So adjust the quantity of milk according to your desired yield.
Once milk will start boiling stir occasionally.
Let the milk boils out. Slowly it should start thickens.
Check the consistency of milk at this point. Keep stirring while boiling it. It should take around 40-45 minutes of hard work to completely boil out the milk.
Once done the khoya or mawa is all left behind. This is fresh homemade khoya. Turn off the flame and let the khoa gets to room temperature. You can store it in refrigerator for several days.
Let us check the small recap recipe of milk khoa.
Khoya or Mawa Recipe Box
Khoya Recipe, How to make Khoya Recipe with Milk
khoya recipe - Learn how to make mawa or khoa at home traditionally with step by step pictures.
Ingredients
Milk: 1 liter, full fat milk
Instructions
Grease the pan lightly with ghee/clarified butter so that the milk will not stick while boiling.
Pour 1 liter full fat whole milk in pan and start heating.
Let the milk comes to boil once on medium heat.
Reduce the flame and cook milk on low-medium flame.
Stir occasionally with spatula and remove the solids from sides.
Cook the milk for at least 50-60 minutes while it starts thickening.
Stir while the milk evaporates as the bottom part might get burn.
Once most of the moisture is gone, the khoya is ready.
Turn off the flame and let khoya cool downs to room temperature.
Khoya or mawa is ready. Remove the khoya in a container and store it in refrigerator.
You can use homemade khoya in different Indian sweet recipes and also in few curry recipes.
Check few
Indian sweets recipes
that are often prepared during festivals and good occasions.