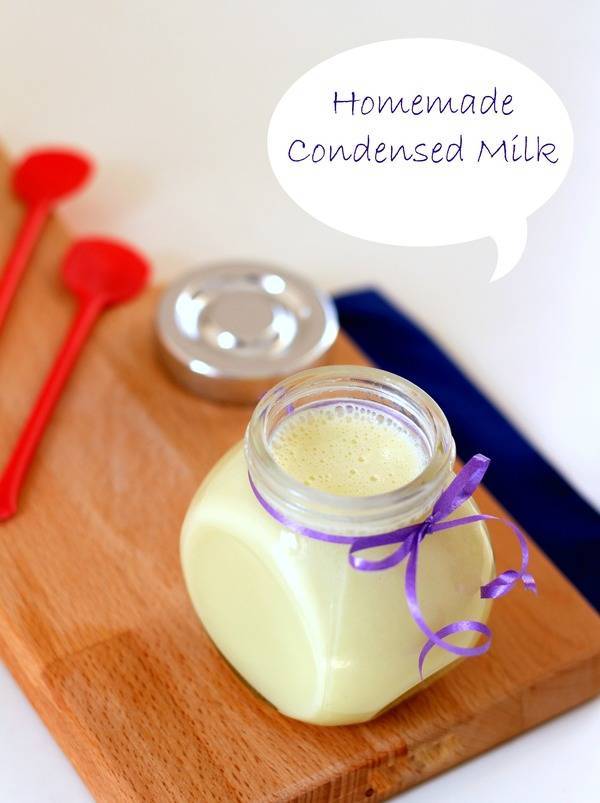 Condensed Milk Recipe – There are few super ingredients in cooking that can be used in making so many varieties of dishes. One such simple ingredient is yogurt. You can make almost endless things with this one ingredient. Another such great super ingredient is condense milk or sweetened condensed milk sold under different commercial names such as Milkmaid in India. This one ingredient can be used in making so many different types of dessert dishes. Cakes, puddings, Indian sweets/mithai etc etc. One ingredient and endless stream of recipes 🙂
Although condensed milk is easily available in market these days it is always advisable to make your own version at home and store it for later purpose. The ready made condensed milk comes with preservatives which is not always good for health. And then its so easy to make this ingredient at home that I simply can't resist. Condensed milk made at home costs almost third if not more compared to ready made version. Hence it is quite cheaper to make your own condensed milk at home.
Where condense milk is used? Well as I mentioned earlier, mostly we use condense milk in baking egg-less cake as well as in making sweets too. You can make sweets like carrot halwa, pumpkin halwa, kheer using this home made sweetened condense milk.
For this recipe of condensed milk I have used full fat milk from Amul brand (Amul Gold) which is readily available in India. You can use any equivalent brand full fat milk  Also I have added a pinch of baking soda. Baking soda will thickens the condense milk and also keep it stay fresh for longer.
Do try this once and let me know your comments how it turned out.
Lets start the step by step recipe of condensed milk.
Condensed Milk Recipe – step by steps with pictures
To make condensed milk at home we need just three ingredients: full fat milk, sugar and some baking soda or soda-bicarbonate.
Let us start making the condensed milk. For that take the milk in a deep bottom pan and start heating it.
Let the milk comes to boil.
Once the milk comes to boil add sugar while stirring it continuously.
As you stir the moisture of the milk goes away and milk starts to thicken.
Once the milk is semi thick add baking soda to it.
Cook until the milk reaches the desired consistency of milkmaid. As you can see in below photo the milk has become nice and thick. At this point turn off the gas and let the milk gets cool down completely. Do not over cook the milk or else it will turn solid once it cools down.
Your homemade condensed milk or milkmaid is ready now. You can use homemade condensed milk in many Indian recipes like gajar ka halwa, kheer, lauki halwa and many other different types of sweets. Also you can store the condensed milk in an air tight container and keep it in refrigerator for 25 to 30 days.
Condensed Milk Recipe Box or Homemade Milkmaid recipe
How to make Condensed Milk Recipe at Home| Milkmaid Recipe
Condensed milk recipe - Simple recipe to make condensed milk at home or milkmaid at home.
Ingredients
Milk: 1 liter
Sugar: 1 cup
Baking soda: 1/2 tsp
Instructions
Take half liter of full fat milk in a deep bottom pan and let it boil.
Once the milk come to the boil add sugar to it. Stir continuously while mixing the sugar.
Slowly the milk will start to thicken.
Once the milk is semi thick add baking soda to it. Do not over cook or else the milk will be get hard.
Cook until the milk reaches desired consistency and then turn off the flame and let it cool down.
Your homemade condense milk is ready and can be used in making sweets or desserts.
Notes
You can store the condense milk for around 25-30 days in refrigerator.