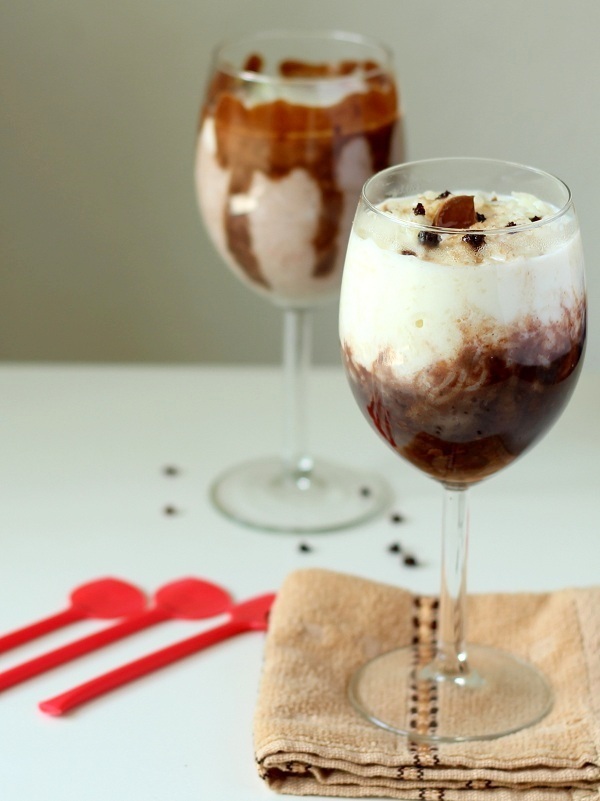 Chocolate Kheer Recipe – Kheer is the classic Indian dessert that is often cooked during festivals or special occasions. It is in true sense the dessert cooked in almost all the parts of Indian subcontinent. There are many different varieties of kheer. The classic kheer recipe consists of milk, sugar and boiled rice. However there are many different varieties cooked with broken wheat or vermicelli or sago. This rich rice pudding is flavored with cardamom, raisins, saffron, cashew nuts, pistachios or almonds.
Today I am making a different type of kheer, chocolate kheer. Who doesn't love chocolate. And when it is combined with one of the favorite dessert it makes a great marriage. This chocolate rice pudding is a great dessert or dinner parties and takes very little time to prepare. The ingredients are readily available in all grocery stores.
I have added cocoa powder and drinking chocolate powder to add chocolaty flavor to kheer. But there is one ingredient that goes really well with kheer as well: Nutella! You have to try the nutella flavored kheer. It just taste yummy. The recipe to make nutella kheer is exactly similar to this chocolate kheer recipe. Instead of cocoa powder, drinking chocolate just add Nutella. The hazelnut chocolate flavor tastes superb in this dessert.
Let us check the step by step recipe for Chocolate Kheer.
Step by step Chocolate Kheer Recipe
1. We need very few ingredients for this chocolate kheer recipe. Basmati rice, milk, cocoa powder and drinking chocolate powder. Alternatively instead of chocolate you can also add Nutella. I love the hazelnut chocolate flavor of Nutella in kheer. Rinse the rice thoroughly till the water runs without starch. Boil the water in a pressure cooker for 15 minutes.
2. In a deep pan pour the milk and add sugar to it. Let the milk gets boil once and simmer it for another 5 minutes. In between stir the milk while its boiling to avoid spilling.
3. Once the milk is boiling for 5 minutes or so, add cocoa powder and drinking chocolate powder and stir well.
4. Add the boiled basmati rice in the boiling milk and let it simmer for 15 minutes.
The tasty chocolate kheer is ready to serve. Pour the chocolate kheer in serving bowls/glasses and garnish it with some chocolate chips and serve it hot, warm or chilled.
Chocolate Kheer Recipe
Chocolate Kheer Recipe - A mouth-watering Indian dessert made with basmati rice, milk and chocolate.
Recipe type:
Dessert, Sweets
Ingredients
Basmati Rice: 1/2 cup
Milk: 2 cups
Sugar: 2 tablespoon
Cocoa powder: 1/2 tablespoon
Drinking chocolate: 2 tablespoon
Nutella: 1 tablespoon (optional)
Instructions
Rinse the rice till water runs clear of the starch.
Boil the rice in presser cooker for about 15 min and keep aside.
In a pan add milk and sugar, let the milk get boils for 5 minutes and add cocoa powder and drinking chocolate. Stir it well.
Add the boiled rice in milk and simmer it for about 10 more minutes.
The yummy Chocolate Kheer is ready to serve.
You can serve the chocolate kheer hot or cold. I like my chocolate kheer cold.
Notes
You can also add nutella to the kheer which gives a nice hazelnut chocolate flavor to the kheer.