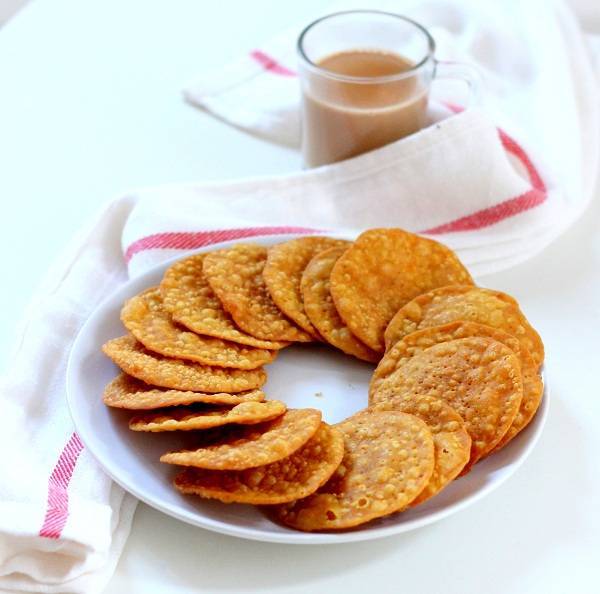 Gujarati Masala Puri Recipe – During festive season like Diwali or Holi we always try to make sweets and snacks at home. Homemade snacks has its own flavour and is different from readymade ones available in market. The fun of making dishes like fried pooris, namkeen, maida poori, salted boondi, home made sev etc is not comparable with that of buying readymade dishes. Still many families in India tend to fry their own snacks during festival.
In my home we also have generation old tradition of making snacks during Diwali and during the month of shraavan (around August). During this time on the 7th and 8th day (satam / aatham) we don't cook anything as you are not supposed to turn on the gas (called Sitala satam). Hence the fried snacks come to rescue 🙂 Kids love to eat these snacks during this time.
The recipe that I have shown here Masala Puri is one of the simplest snack dishes. The ingredients are already there in your kitchen. You can make these pooris in no time and then store it for 15 to 20 days. These crunchy and crispy poori goes really well with a cup of tea. I also like to eat these puris as Papad with spiced yogurt / masala dahi.
Related: maida namkeen (nimki) | moong dal puri
This is quick and easy masala puri recipe and super easy to make. My mom used to make this poori and store it in an air tight container. Along with these puris she also used to make all purpose flour puri / maida puri and spicy crunchy snacks called Chorafali. I will publish the recipe of both as soon as I get a chance.
Since the masala puri stays fresh for 15 to 20 days, we can carry them for long distance journey like train journey. Also this way we will avoid eating outside food which might not suit everyone.
Since we have made this masala puri from whole wheat flour it is a healthier option compared to maida puri. Thus we can also use these puris in dishes like papdi chaat, dahi papdi etc and replace maida puri.
Getting back to the recipe, let us start with step by step recipe of quick fried snacks Masala Poori.
Step by step recipe to make Gujarati Masala Puri for Snacks
For this masala puri snacks recipe we need very few ingredients All we need is wheat flour,  chick pea flour (besan), red chilli powder, coriander powder, turmeric, a pinch of asafoetida (hing), oil and salt to taste. Take a mixing bowl and add wheat flour and chickpea flour.
Now add remaining ingredients red chili powder, coriander powder, turmeric powder, asafoetida (hing), oil and salt.
Mix well all the ingredients together and by adding little water at time knead stiff dough. Use only as much water as required. Once the dough is kneaded keep aside for 10 – 15 minutes to rest.
Divide the dough and make small equal size dough balls roughly size of a lime.
Now gently press each dough ball and shape into flat disc as shown here.
Let's roll small pooris from masala puri dough. Take one puri dough and place it on rolling board. Now using a rolling pin roll the puri into small flat disc 2.5 to 3 inch in diameter. Once the puri is rolled prick each pooris with the help of fork. Repeat the same steps for each of the puri dough balls. By pricking the pooris will not get puffed when fried.
We will now fry the pooris in oil. For this prepare a frying pan. Heat oil in pan and wait till it is sufficiently hot for frying. Check if oil is hot enough by putting a small dough piece. Add few pooris at time and start frying.
Keep an eye while frying as masala puri might get burnt / turn red.
Fry the masala pooris evenly on either side and drain the excess oil using a frying spoon.  Repeat the process for remaining batch of pooris and keep the fried poori on paper napkin.
Crunchy delicious Gujarati Masala Puri is ready. You can store these pooris in an air tight container for 15 to 20 days. You can take these masala pooris in train journey or long distance travel. Also you can serve these pooris to guest during Diwali or New year.
Gujarati Masala Poori (Ghav Ni Poori) Recipe Box
Gujarati Masala Puri Recipe For Snacks
Gujarati Masala Puri Recipe - A crispy fried snacks dish made from whole wheat flour and chickpea flour.
Ingredients
Wheat flour: 1 cup
Besan: 1 tbsp
Red chili powder: 1 tsp
Coriander powder: 1 tsp
Turmeric powder: 1/2 tsp
Asafoetida (hing): 1/4 tsp
Salt: 1 tsp or to taste
Oil: 1 1/2 tsp
Oil: 2 cups for frying
Instructions
Take the wheat flour in a mixing bowl and add besan / chickpea flour.
Now add red chili powder, coriander powder, turmeric powder, asafoetida and 1 1/2 tbsp of oil in wheat flour bowl. Also add salt to taste.
Combine all the ingredients together and knead into a stiff dough using enough water. Keep aside for 10 to 15 minutes.
Divide the dough into roughly equal lime size balls.
Place a dough ball on rolling board and roll into 2.5 to 3 inch diameter disc.
Prick each poori with the help of fork and place them in a plate for deep frying.
Pre-heat oil in a deep bottom frying pan / kadhai. Check if oil is hot enough by putting a small dough piece in hot oil.
Once the oil is hot drop one by one rolled pooris. Depending on the size of vessel for frying add number of pooris that can fit in the vessel.
Let the poori gets fried on each side uniformly. Flip masala puri as soon as one side is cooked.
Once the masala puri is fried take out them from frying pan and place them on kitchen napkin / paper towel to soak extra oil.
Gujarati Masala Puri for snacks is ready to serve.
If you are looking for more Snacks then do check out
vaghareli rotli
,
methi thepla
,
white dhokla
and
khatta dhokla
.