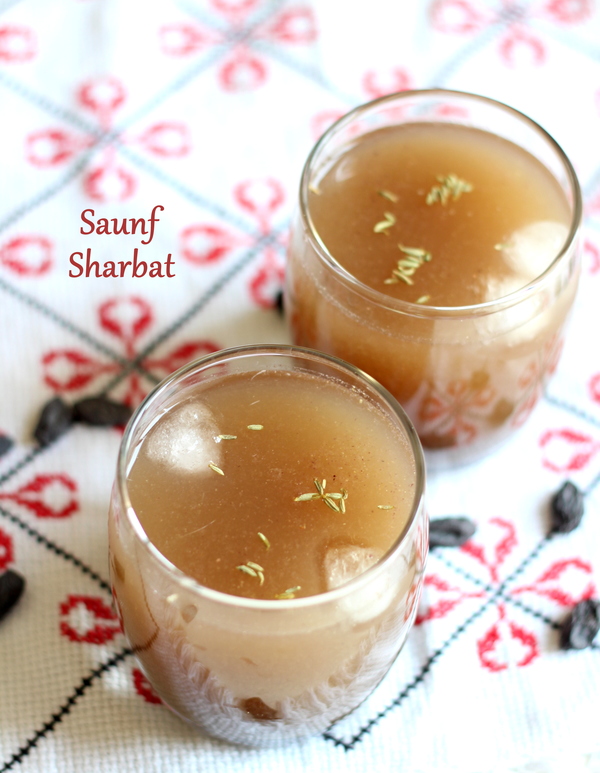 Variyali sharbat recipe or saunf sharbat – Summer is on its way and the mercury has already started its northward journey in many parts of India. The afternoons are specially hot and one needs to be extra cautious while going out in sun during afternoon. It's a common scene where girls tie duppatta all over their head and people walk with an umbrella in scorching heat. So here is a recipe of variyali sharbat or saunf sharbat that will help you ease some of the heat. It's really easy recipe and needs just 3-4 ingredients.

The fennel or variyali is quite a versatile spice. It is used in so many different types of preparations. Usually in an Indian home you will definitely find fennel as mouth freshener (mukhwas in gujarati). A lot of curries also has fennel or variyali. It is also used in making pickle recipes such as instant red chill pickle. Being a cool ingredient it balance the hotness of chilies in pickles.
Related: kachi keri sherbet | pomegranate lemonade | guava cooler
Variyali sharbat due to presence of both fennel seeds and black grapes has great cooling effect on body. It also helps body stay hydrated during summers. So it is advisable to have this drink atleast once during a very hot day. Dry black grapes are optional in this drink. However I add them as they have much more cooling effect on body.
This drink is best during afternoon when temperature is already soaring high. The summer hot wind called loo is notoriously famous in Indian sub-continent. It causes heatstrokes which is commonly referred to as Loo lagna (लू लगना) being stricken by the Loo. To avoid heatstroke it is best advised to stay indoor and cool once body with refreshing coolers such as watermelon juice or this variyali sharbat etc.
Let us check the easy recipe of fennel seeds water or saunf sharbat / variyali sharbat with step by step pictures.
Recipe of Variyali sharbat (saunf sarbat) with step by step photos
To make this refreshing summer drink variyali sharbat / saunf sharbat we will need very few ingredients. First we will need fennel seeds or variyali, dry black grapes or raisins, white rock sugar or khadi sakhar and some lemon juice. The quantity of each of this ingredient is described in recipe box at the end of this post.
First take the fennel seeds/variyali in a grinding jar and grind into smooth powder.
Grind the fennel seeds into fine powder.
Now soak the variyali powder or saunf powder in water for 2-3 hours. Also soak the dry black grapes / raisin in water for about same time.
Once the grapes are soaked grind into smooth paste.
The black grape water is ready. We can add this directly into fennel drink / variyali sharbat.
Strain the soaked variyali powder and remove the water into a bowl.
Also strain the grinded black grapes into same bowl.
Using a pestle/mortar grind the white rock sugar / khadi sakhar into fine powder.
Add a tsp of sugar in variyali sharbat and mix well.
In the end squeeze half a lemon juice in variyali or saunf sharbat.
Give a good stir and variyali sharbat is ready to serve. Pour into glasses and add 1 or 2 ice cubes and serve this variyali sharbat chilled on a hot summer day.
Variyali sharbat (saunf sharbat) recipe box
Variyali Sharbat Recipe (Saunf Sharbat)
Variyali Sharbat Recipe (Saunf Sharbat) - A refreshing summer drink made from fennel seeds, dry black grape & sugar.
Ingredients
Variyali / saunf / fennel seeds : 1/4 cup powdered
Dry black raisins (kismis) : 1 tbsp
White rock sugar / khadi sakhar: 2 tbsp
Lemon juice: 1 tsp (optional)
Water : 2 cups
Instructions
Pre preparation
Take variyali/saunf/fennel seeds in a mixture grinder / food processor jar and grind into fine powder.
Soak the variyali powder in water for about 2-3 hours.
Also separately soak the dry black grapes in water for 2-3 hours.
Grind the white rock sugar / khadi sakhar using a pestle & mortar.
To make Variyali sarbat
Once the variyali powder is soaked for about 2-3 hrs, strain the water with help of strainer in a bowl.
Now in the mixture grinder grind the soaked black grapes and strain into the same bowl.
Mix well both variyali water and black grapes mixture.
Add white rock sugar in the mixture and mix well.
At the end add the drops of lemon juice.
Variyali sharbat or saunf sharbat is ready. Add 1 or 2 ice cubes (optional) and serve chilled during summer afternoon.
Check some
summer recipes
similar to variyali sharbat or saunf sharbat.