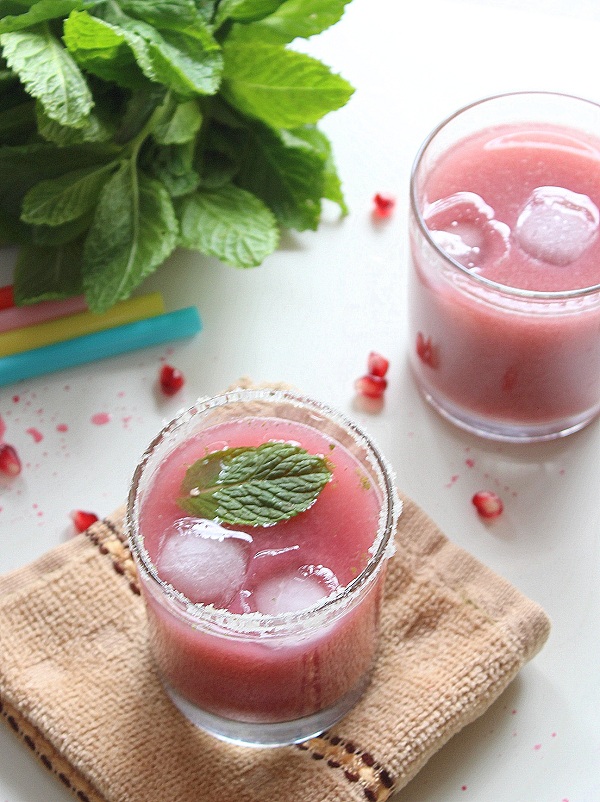 Pomegranate Mint Juice – Summer has began and let us refresh with chill Pomegranate Mint cooler. Pomegranate fruit is rich in antioxidant and vitamins. How can we miss such a  nutritious fruit from our diet. In fact having pomegranate once a week will  keep your skin wrinkle free as everyone wants to look younger, because it is rich in antioxidant.
We normally use mint in chutney but here I have added some fresh mint leaves in pomegranate juice which gives a very refreshing flavor. Mint has the anti bacterial properties which work wonders on acne prone skin and is often used in a number of cleansers, toners and in some lip balms as well. Mint is also rich in antioxidant.
Combination of pomegranate and mint is mouth watering and adding some lemon gives the fine taste to your taste buds. Coming from the hot sun this summer and having this Pomegranate Mint Juice will cool you down and make you feel fresh and energetic. It hardly take 5 min  to make this cooler . So do try this refreshing pomegranate mint juice cooler.
Just add pomegranate and mint leaves in blender. Add some lemon juice, sugar and salt to taste. The sweetness of sugar gives this juice the tangy taste, however those who have sugar problem or on diet can avoid it.
Blend the juice well in the blender and filter it through a fine sieve. Serve the juice chilled with some ice cubes.
Pomegranate Mint Juice
Pomegranate Mint Juice
Pomegranate Mint Juice - A fresh and refreshing cooler perfect for summers.
Ingredients
Pomegranate seeds: 1 cup
Mint leaves: 10 leaves
Lemon juice: 1 tbsp
Water: 2 cups
Sugar: 1 tsp or to taste
Salt: 1 tsp to taste
Instructions
Blend Pomegranate,Mint leaves ,lemon juice, salt and sugar in a blender and add water.
Filter the juice through a sieve and check the seasoning and add if required. serve chilled with ice cubes.