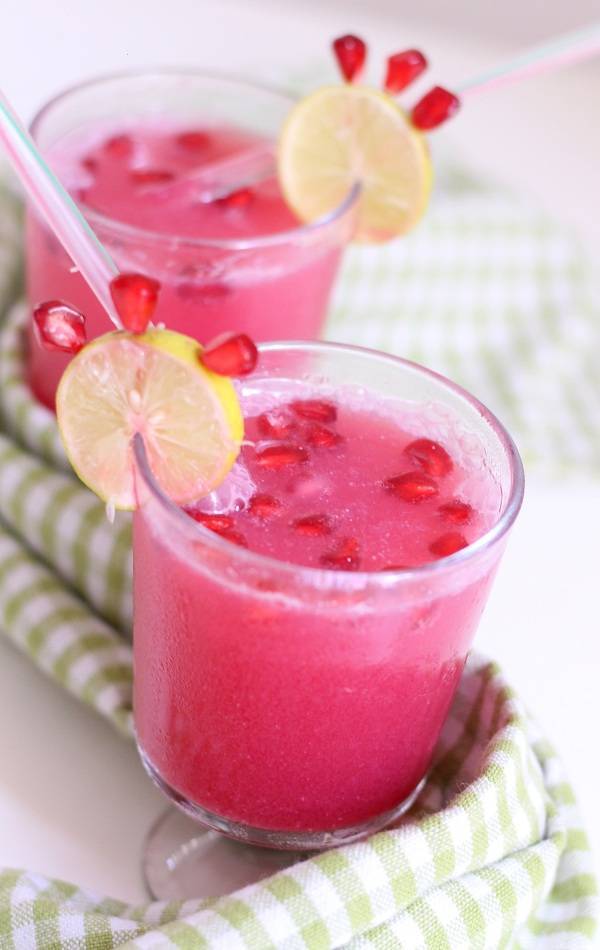 I made this mouth watering lemonade drink using Pomegranate a few days back. While roaming in the fruit section of my local supermarket I saw these fresh pomegranates selling like a hot cake. They were so fresh that a lot of people where buying them. I also bought a handful stock of fresh pomegranate without any idea of what will I make with them 🙂
While coming back home with too many pomegranate then I usually buy I thought lets make some drinks out of these. A welcome drink with tangy sweet taste. And hence this recipe. Its a simple drink of Pomegranate lemon with club soda. Recently I also made a welcome drink using Guava which got highlighted in many facebook food communities. Check out the Guava welcome drink here.
You can make this drink in no time and serve chilled on a hot summer day to kids or even guests. As I mentioned earlier this drink can be served as welcome drink too.
How to remove the seeds easily from pomegranate
Before you start making this drink the most tedious task is to remove the seeds from pomegranate. I'll give you a quick tip to make life easy while de-seeding the pomegranate.  Just cut the pomegranate into halves and then take a bowl full of water. Submerge the pomegranate in water and de-seed in it. By doing so all the white piece of the pomegranate will float on top and the seeds will stay down. This way you can easily separate pomegranate seeds from the annoying white part.
What to do with left over juice
Lets say you made a lot of pomegranate lemonade drink than you can put in your stomach 🙂 What to do with the left over lemonade? Well the best thing you can do is to make pomegranate lemonade gola / popsicles.
Just add the left over juice in the glass and then  place one stick in the glass and put in the fridger and the next day it will get. You can also pour pomegranate lemonade in ice cube tray and freeze to make cubes.
Here are few health benefits of pomegranate.
Few Health Benefits of Pomegranate
It prevents from heart disease.
Improves your immunity
Keeps you looking younger
Aids digestion
Prevents cancer
Helps reduce stress
Pomegranate Lemonade Spritzer
Pomegranate Lemonade Spritzer - A tangy mouth watering drink of pomegranate with club soda.
Recipe type:
Welcome drink
Ingredients
Pomegranate: 1 1/4 cup
Lemon: 1 1/2 tbsp
Club soda: 1 cup or water
Sugar: 3 tsp or as required
Instructions
Cut the pomegranate in halves and de-seed them.
In a mixture / juicer add the pomegranate seeds, sugar and lemon and blitz it.
After grinding, strain the juice of pomegranate by using the strainer (Note don't add the water while grinding)
Now we have a fine concentrated juice of pomegranate just fill the glass half with the juice and on top add the club soda.
Your pomegranate lemonade spritzer is ready to drink.
Add a cube of ice and serve pomegranate lemonade Spritzer chilled.