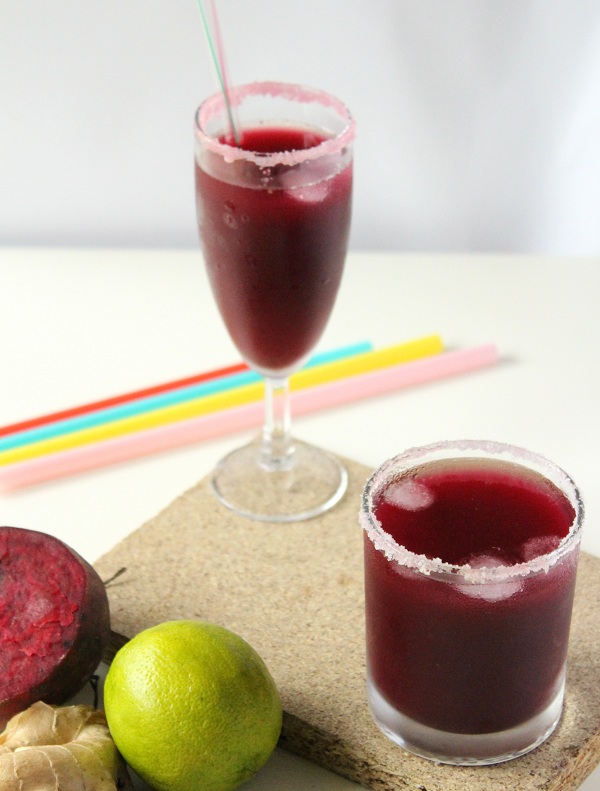 Beetroot Ginger Juice –  I was talking to my Mom yesterday and she told me how hot it has got in India these days. The temperature has gone above 40 deg Celsius in few parts of India.  I suggested her some coolers that she can prepare in no time and cope up with the soaring heat. Pomegranate mint juice and Mint cucumber and lemon cooler are best for such hot summers. They are refreshing and help in controlling body temperature.
Today I made yet another refreshing cooler that is so tangy and tasty that you should definitely try this if you haven't already. This is an easy beetroot ginger juice recipe. The twist in this cooler is of Ginger. It gives nice spicy flavor to cooler. The beatroot as such as very mild taste but strong color. Ginger on other hand gives great taste but no color. Also I have added some fresh mint leaves which is so refreshing. For sweetness I have added some honey.
Beetroot has many health benefits and you should definitely eat it every once in a while. I was reading about health benefits of beetroot and was surprise to see so many good things. For example:
Beetroot lowers the blood pressure.
It also boost once stamina and fight inflammation.
It acts as a natural detox and reduce toxins from blood
Also some children don't like beetroot so Beetroot Ginger Juice is the best way to give them the missing nutrition.
Beetroot Ginger Juice Recipe
The recipe is so simple. Just add all ingredients in juicer/blender and blend it well. Filter the juice through a sieve and extract the tangy beetroot ginger juice.
Beetroot Ginger Juice | Beetroot and Ginger Mint Cooler
Beetroot Ginger Juice - A tangy, spicy & minty cooler drink with Beetroot and Ginger juice. Perfect of hot summers.
Ingredients
Beetroot : 1/2 medium
Ginger : 1/2 inch
Mint : 8-10 green leaves
Lemon Juice : 1 tablespoon
Honey : 1 tablespoon (to taste)
Water : 2 glass
Salt to taste
Instructions
Peel off the beetroot and ginger skin and blend the beetroot, ginger, mint leaves, lemon juice and water in a mixer/blender.
Filter the mixture through a sieve and extract the juice.
Add a tablespoon of honey and salt to taste and mix the juice well.
Serve with ice-cubes.