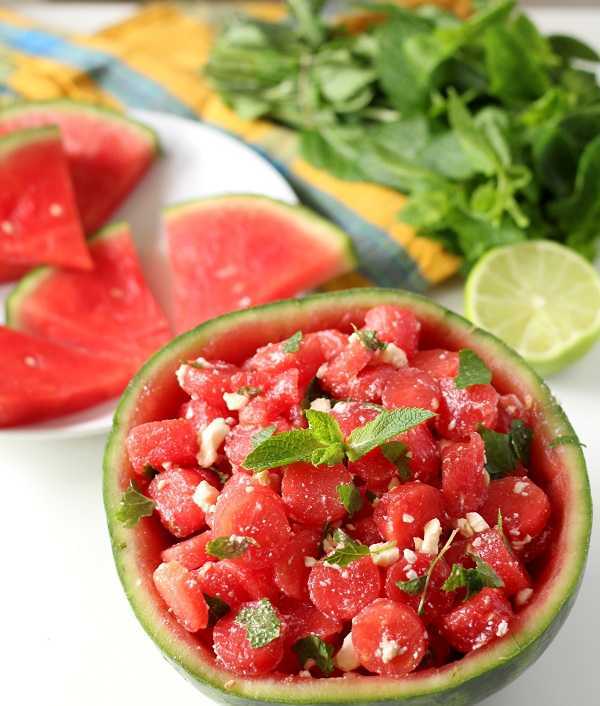 Watermelon Mint Salad with Feta cheese  – I love weekends. Who don't! After a hectic week you finally get a couple of days to rest and enjoy the leisure time. Weekends are great for the mind as well. It gives you break from the stereotype routine and do things a bit differently. Similarly our body also needs weekends. Eating same kind of food everyday can become a little heavy on your digestive system. So it is good idea to give it rest sometime.
The other day while roaming in one of the aisle of our local grocery store I saw this nice red watermelon. And thought right away I am making salad with it.
This is a simple salad recipe. All you need is some freshly cut watermelon cubes, feta cheese and mint leaves. That's it. If you don't have mint you can replace it with fresh basil leaves. Also you can use any goat cheese for this simple salad. The dressing of this salad is also simple. Add some olive oil and your salad is ready. You can also use balsamic vinegar / lemon juice to make the salad a bit sour/tangy.
Watermelon mint salad with some cheese is a great vegan option. Try to have this salad once a fortnight if not week to naturally cleanse your system.
Let us check the simple recipe of watermelon mint salad with feta cheese.
Watermelon Mint Salad with feta cheese
Watermelon Mint Salad with Feta Cheese
Watermelon Mint Salad with Feta Cheese: A simple fresh watermelon salad with mint leaves & feta cheese.
Ingredients
Watermelon: 2 cup
Mint leaves : 1/2 cup chopped
Fata cheese: 1/2 cup
Lemon juice: 2 tbsp
Olive oil: 1 tbsp
White pepper: 1 tbsp
Instructions
Cut the watermelon as the shape u like. I have given them a round shape.
Now add the chopped mint leaves to the watermelon.
Add the fata cheese. olive oil, lemon juice, and white pepper powder and mix all the ingredients well.
Notes
Instead of chopping the mint leaves just tear the mint leaves with your hand will not make the mint leaves turn black in color it would look fresh.
Nutrition Information
Serving size:
1
Calories:
215.4
Fat:
15.7 g
Saturated fat:
6.6 g
Unsaturated fat:
1.0 g
Trans fat:
6.9 g
Carbohydrates:
16.8 g
Sugar:
10.5 g
Sodium:
425.9 mg
Fiber:
2.2 g
Protein:
30.5 g
Cholesterol:
33.4 mg