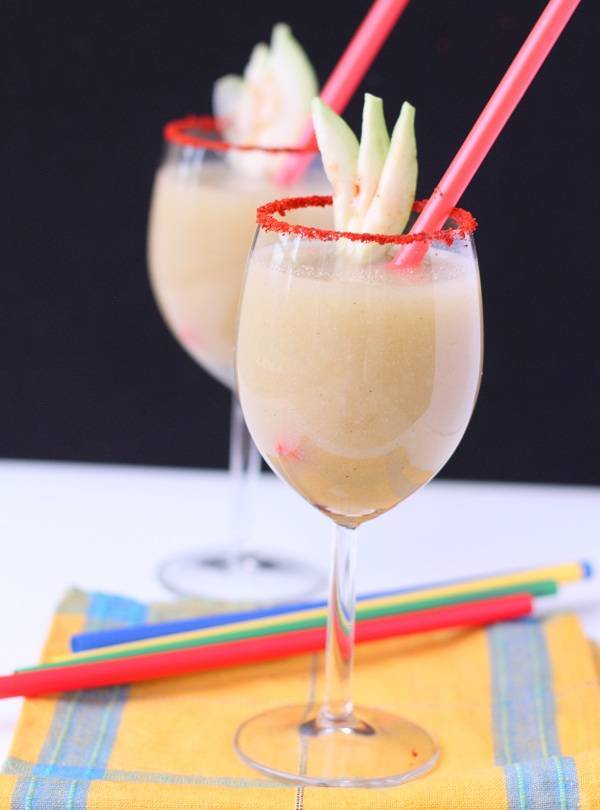 Guava cooler or guava or amrood welcome drink – This is one of the unique flavored drink I have tasted so far. Never can any one imagine that you can add spices like red chili powder, chaat masala in a cooler!! The twist in the drink is so unique that we can even serve this drink as welcome drink for a party or get together. I made this cooler for the first time and the flavors of drink where so mesmerizing that I had to share it here on blog. The ingredients used in the cooler are unusual.
In my wedding reception party we had guava flavored ice cream served to guests. The caterer were serving the ice cream after sprinkling some red chili powder and salt on top!! For me that was the first time when I had red chili powder and salt on a ice cream. The flavors were so good that I ended up having two icecreams in my wedding reception 😀  So I taught let me try this with the cooler and see how it turns out and it turned out really great.
For this guava cooler with a twist I have added red chili powder, roasted cumin powder (jeera powder), chaat masala, sugar and salt. The key ingredient that I feel is red chili powder. It gives a slight spicy tinch to the cooler. Don't be scared of trying these flavors in drink. Just try once and you'll understand how good it is 🙂
This is a non alcoholic mock-tail drink that you should definitely try and accommodate in your next potluck / dinner party / kitty party or even birthday parties. The unique taste makes it a perfect party drink.
Let us quickly check the simple recipe of guava (amrood) cooler.
Guava flavored welcome drink (Guava Cooler)
Welcome drink made from Guava| Guava cooler
Guava cooler - Welcome drink made from Guava (अमरूद / Amrud) with a twist.
Recipe type:
Welcome drink
Ingredients
Guava: 1 cup,chopped
Red chili powder: 1/4 tsp
Roasted jeera powder: 1/2 tsp
Chaat masala: 1 tsp
Water: 2 cups
Sugar:1 tsp or as required
Salt: 1/2 tsp or to taste
Instructions
Wash the guava thoroughly in water and cut into quarters or halves.
Take the guava pieces along with red chili powder, jeera powder (roasted cumin powder), chaat masala, sugar, salt and water in a mixer grinder / blender / food processor.
Blitz till it becomes smooth liquid consistency juice.
Using a strainer strain the juice and discard the remaining pulp.
Serve the juice in serving glasses. Add chunks of guava to juice for more flavor.
Serve the Guava welcome drink chilled.
If you liked this Guava flavored welcome drink then do try these other drinks: beetroot ginger, pomegranate mint and cucumber mint lemon.