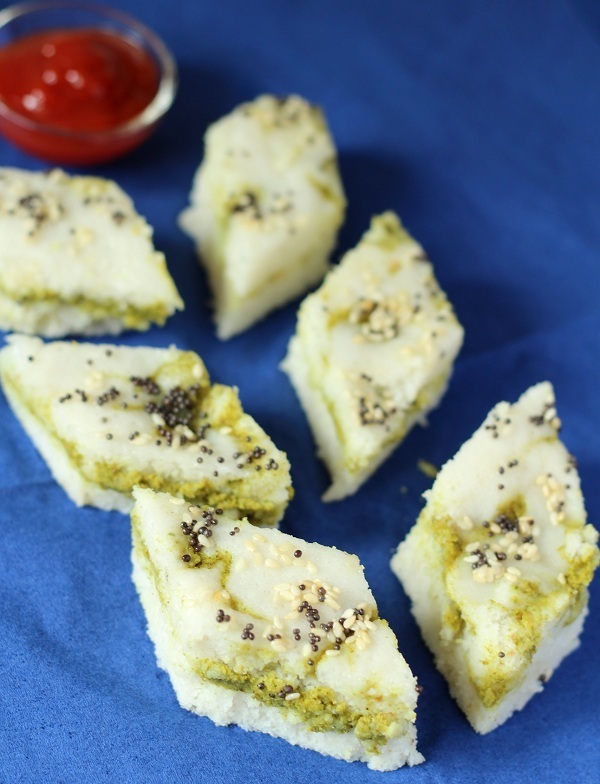 Sandwich Dhokla is a mouth watering savory from western state of Gujarat. There are many different varieties of dhokla recipes cooked across India especially in Gujarat. Gujarati people love this spicy baked cake made from rice and lentils flour.  Some of the famous variety of Gujarati Dhokla are handvo dhokla, khatta dhokla, khaman dhokla, white dhokla (idra dhokla) etc.
Sandwich dhokla is a variety of traditional Idra Dhokla. This dish is made from rice and urud dal (split black gram) flour. Usually batter is prepared by fermenting rice/lentil flour overnight in water. Then next day the dhoklas are prepared by steaming them in a special steam cooker that is traditionally used to make idra dhokla. This recipe is quite similar to South Indian Idli. The batter is same between these two dishes. So if you prepared Idli one day and have some left over idli batter then you can make this delicious sandwich dhokla with it.
With some pre-planning, this sandwich dhokla are easy to cook. The sandwich layer is prepared from two idra dhokla layer and one coriander chutney layer. Coriander chutney is also easy to make and you can store it in refrigerator.
Let's get started with the step by step recipe of Sandwich Dhokla.
1. To prepare Idra Dhokla batter
Let us start by preparing the batter  for Idra dhokla first. To make this batter we will use rice and urud dal (black gram) flour. This is the same flour that is used in Idli recipe. I have used ready made Idli flour which is rice and urud dal flour. If the ready made flour is not available then alternatively you can soak 1 cup of rice and 1/2 cup urud dal in water overnight. Next day just grind everything together.
Follow the below steps to make nice idra dhokla batter.
To prepare the dhokla batter, take around 2 cups of  rice and urud dal(black gram) flour.
Add 1 1/2 cup of water and let the batter gets fermented overnight. For that cover the vessel with lid and keep aside for 8-10 hours at a warm place. Make sure you keep the batter at warm place otherwise fermentation wouldn't be perfect.
Next day, check the consistency of batter. Add more water if required.
2. To prepare Sandwich Dhokla
Once the dhokla batter is ready we can make sandwich dhokla with it. For making dhokla you will need a special cooker to steam the dhoklas. An idli cooker can also be used for steaming dhoklas. We can put a small plate in which we will prepare dhoklas in the steamer.
This is a sandwich dhokla preparation. In between two layers of idra dhokla there will be a layer of coriander and peanut chutney. I have already posted the recipe of coriander and peanut chutney. Follow the recipe and prepare a nice flavorsome coriander and peanut chutney spread that we will apply in between our sandwich idra dhokla.
Follow the below steps to make Sandwich dhokla
Grease the plate in which we are preparing dhokla with some oil.
Spread 1/2 centimeter thick layer of dhokla batter on greased plate. Steam the dhokla layer for around 4 minutes. This will semi cook the dhokla layer making it easy to apply coriander chutney.
Once the first layer of dhokla is semi cooked, apply a layer of coriander chutney evenly on dhokla. Again pour final layer of dhokla mix on top of coriander chutney and spread it evenly.
Cook the dhokla for 5 to 7 minutes. The sandwich dhokla is ready. We just have temper some spices in oil and pour it on top of sandwich dhoklas.
3. To add tempered spices on Dhokla
The final step in the journey of making delicious sandwich dhokla is to add tempered mustard and sesame seeds. Sesame seeds add great flavor to Idra dhokla.
Follow the steps to temper spices for dhokla
In a tempering pan (if you dont have tempering pan, use a steel spoon) heat a tablespoon of oil.
Once the oil is hot, add mustard seeds and sesame seeds. Let the seeds get crackle.
Put some curry leaves in hot oil and pour it on dhokla.
Tasty and mouth watering Sandwich Dhokla is ready. Cut the dhoklas in diamond shape or any other shape of  your choice. Serve it hot with some ketchup or chutneys.
Sandwich Dhokla Recipe, Sandwich Idra Dhokla Recipe
Gujarati Sandwich Dhokla Recipe: A traditional Gujarati savory sandwich made from rice & lentil batter, sesame seeds and coriander chutney.
Ingredients
For dhokla batter
Flour of Rice & Urud dal (black gram): 2 cups
Water: 1 1/2 cup
Soda bi-carbonate (baking soda): 1/4 tsp
Salt: to taste
For tempering
Mustard seeds (rai): 1 tbsp
Sesame seeds (til): 1 tbsp
Curry leaves: 5 leaves
For coriander chutney
Green Coriander (Cilantro): 1 cup
Peanuts: 1/4 cup
Green chilies: 2 pieces, sliced
Lemon juice: 1 tsp
Turmeric (haldi): 1/4 tsp
Salt: to taste
Instructions
To make Dhokla batter
Soak rice and urud dal (split black gram) flour in water over night. Next day the dhokla batter will get fermented.
Add salt and pinch of soda bi-carbonate (baking soda) to the batter and mix it well.
To make Green Coriander chutney
In the grinder add coriander, peanut, lemon juice , salt, green chili, turmeric powder and some water. Make a fine paste.
Taste the chutney and add salt to taste.
To prepare Sandwich Idra Dhokla
Prepare a cooker where we are going to make dhokla. In a steam cooker, add some water and put a dhokla plate inside cooker.
Grease a dhokla plate with oil and pour dhokla batter and make around 1/2 centimeter thick layer. Spread the dhokla batter evenly on greased plate and steam the dhokla batter for 4 minutes.
Now once the first layer of dhokla is half cooked, spread the green coriander chutney and apply it evenly on dhokla plate. Second layer of green chutney is ready. Now pour the third and final layer with dhokla batter and spread evenly. Cook for another 7 minutes.
The dhokla is nicely cooked. Cut the Idra dhoklas in diamond shape or whatever shape you like.
Serve hot with ketchup or coriander chutney.
To make tempered spices
Heat some oil in a tempering pan and add mustard seeds and sesame seeds. Once the spices crackles add some curry leaves.
Pour the tempered spices on top of Dhokla sandwich.