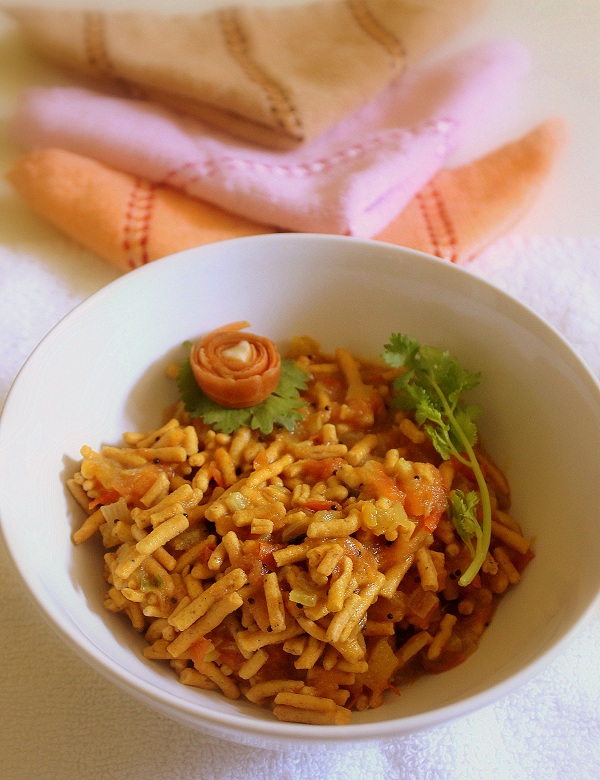 Ratlami Sev Sabji – Today I made a very spicy and delicious sabji made from an ingredient that is unique yet amazing; Ratlami Sev. Ratlami Sev is very famous savoury snack from the city of Ratlam in Madhaya Pradesh. This tasty sev is made from gram flour and pepper and is very well known for its spiciness. The Ratlami sev is now available in most of the supermarkets in India and is also exported abroad.
I happened to roam in one such super market and found this spicy sev and thought Ratlami Sev Sabji would be next in my menu. This delicious sabji is very easy to prepare and taste quite different to taste buds.
Ratlami Sev Sabji is prepared just like any other sev tamatar sabji (sev tameta nu shaak). The only difference is that this is a bit spicy curry. The sev itself has spice that add the uniqueness to this sabji.
 Let's quickly check the spicy Ratlami Sev ki Sabji recipe.
Ratlami Sev Sabji recipe
1. Chopped the onions and tomatoes. In a pan, heat some oil and add mustard seeds and temper it. Add chopped garlic, ginger and green chilies. Saute them for a while. Add pinch of asafoetida (hing) and chopped onions and stir the mixture. Let the onions get cooked for a while. Add turmeric powder, coriander powder, red chili powder, salt to taste and mix everything well.
Add chopped tomatoes in the gravy and let them cook for sometime. Let the tomatoes get soften. Add some water to the gravy and stir it.
2. Once the tomato onion gravy is cooked, add Ratlami sev just before serving and mix the curry. This way the sabji won't get soggy and taste much better.
 Do try the Ratlami Sev Sabji at home and let me know your comments.
Ratlami Sev Sabji
Ratlami Sev Sabji - A quick spicy Indian curry made from Ratlami Sev.
Ingredients
Tomato: 1 1/2 cups, chopped
Onion: 1 cup, chopped
Ratlami sev: 1 cup
Garlic: 1 tbsp, finely chopped
Ginger: 1 tsp, finely chopped
Green chili: 1 tsp, finely chopped
Oil: 2 tbsp
Mustard seeds (rai): 1 tbsp
Asafoetida (hing): 1/4 tsp
Turmeric powder (haldi): 1/2 tsp
Coriander powder: 1 tsp
Red chili powder: 1 tsp
Salt: to taste
Instructions
Heat oil in a pan and add mustard seeds, once it is tempered add ginger, garlic, green chili, asafoetida (hing).
Then add chopped onion and cook till it becomes translucent. Add turmeric powder, coriander powder, red chili powder, salt and stir it.
Add the chopped tomato and cook till the become soft. Add little water to it.
Just before serving, add ratlami sev and give a quick stir.