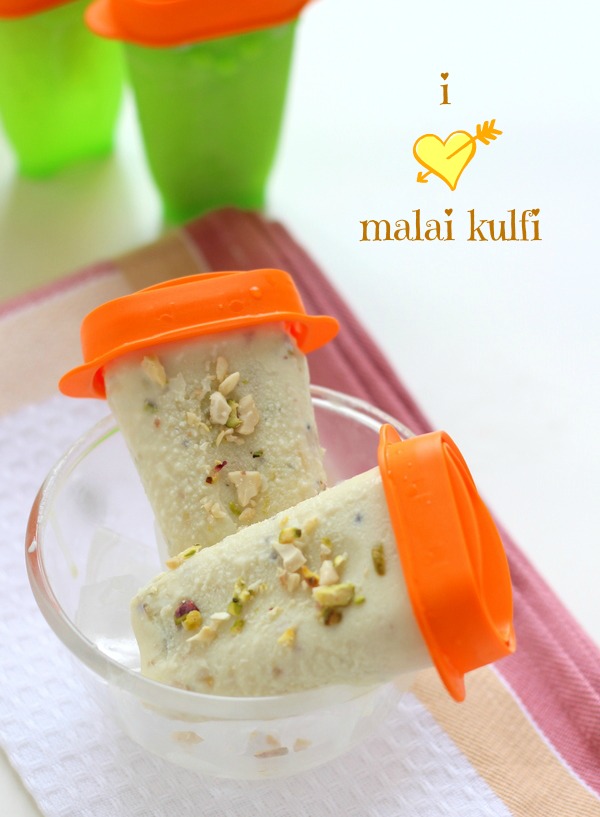 Malai kulfi recipe step by step – A sweet Indian ice-cream made from milk, sugar, cardamom and dry fruits (no condensed milk recipe). This is a best Indian dessert that kids love in hot summer days. Instead of buying ready made stuff which has artificial flavoring agent, follow this simple recipe and make kulfi at home with pure organic flavors.
Let me share a simplest recipe of making delicious & delightful malai kulfi. Kulfi is an Indian milk ice-creamy dessert made from reduced milk and flavoring agent. It is different then the usual ice-cream. While ice cream is frozen while whipping making it creamier, kulfi is simply frozen without whipping making it solid denser frozen dessert. Due to its density, kulfi takes a longer time to melt than Western ice-cream.
The history of Indian kulfi dates back to the Mughal empire (courtesy wikipedia). In those old times kulfi used to get prepared from the ice bought in from Himalayas. I wonder how that kulfi might taste?! Anyways its much easy and simpler nowadays to prepare kulfi thanks to all latest gadgets and inventions. Don't worry I wont ask you to bring ice from Himalayas in making kulfi in this recipe 😉
There are so many different varieties and flavors of kulfi or gulfi. The traditional ones are malai, kesar, pista, mango, elaichi etc. However nowadays you can find all innovative flavors in the dessert sections of restaurants. I am sticking to the basic malai kulfi or cream kulfi recipe today. To make this malai kulfi we need basic ingredients. A lot of recipes call for condensed milk. But I am making kulfi without condensed milk today. Although condensed milk will make your life easy, I will still stick to the traditional way of making kulfi by reducing the milk gradually and making creamy rabdi.

Below are few handy tips that will help you in making perfect creamy malai kulfi.
Tips to make creamy Malai Kulfi
Always make kulfi with full fat milk. It is difficult to get that authentic kulfi texture from skimmed milk. I have used Amul gold milk.
While cooking the kulfi be sure to reduce the milk to 1/4 of its original quantity.
Do not pour hot rabdi mixture in mold. Let the kulfi mixture cools down completely and then only pour it into the molds.
Chop the pistachio (pista) and cashew nuts (kaju) using knife and not grate it. This way you will get nice chunks in mouth while eating kulfi.
You can add saffron (kesar) for additional coloring and flavoring.
Keep string the milk occasionally so that the milk does not stick to the pan and give your kulfi a burnt smell and taste.
Let us check the recipe of malai kulfi with pictures.
Malai Kulfi Recipe with step by step explanation with photo
There are only five basic ingredients required to make this delicious malai kulfi. They are full fat milk, powdered sugar, green cardamom (elaichi), pistachio (pista), cashew nuts (kaju) that's it.
So now lets start our journey of making delicious malai kulfi with pictures:
In a pan heat the milk and let it simmer. Keep stirring occasionally while milk comes to boil. If you take a wide bottom pan then your milk will boil faster.
Let the milk simmer on medium heat while stirring it occasionally until it is reduced to half of its original quantity. Now we can add dry fruits and other ingredients.
First we are going to add the powdered sugar in the mik.
Then goes in pistachio (pista)  finely chopped. Always chop the pistachio using knife and not by slicer.
Next goes the cashew nut (kaju). Again chop the cashew nuts using knife and not by slicer.
Now we will giving the flavor of green cardamom (elaichi) in malai kulfi.
Mix well all the ingredients and cook until milk reduces to 1/4 of original quantity of milk.
The rabdi or mixture for kulfi is ready. Take it off the heat and let it cool down completely.
Prepare the molds for kulfi. If you dont have kulfi molds than you can use small cups or glasses too. Pour the mixture into kulfi molds.
Pop the kulfi molds in refrigerator for about 7-8 hours or overnight so that the malai kulfi will set nicely.
Delicious and yummy malai kulfi is read to eat in this hot summer. Just before serving take the kulfi out of refrigerator, de-mould it and serve chilled.
Malai Kulfi Recipe Box
Malai Kulfi Recipe
Malai Kulfi - A traditional Indian ice-cream recipe made from Milk
Ingredients
Milk : 1/2 liter, full fat
Powdered sugar : 1/4 cup
Cardamom (elaichi): 2 piece
Pistachio (pista) : 6 pieces
Cashew nuts (kaju): 6 pieces
Instructions
In a wide pan heat full fat milk.
Let the milk simmer and stir occasionally so that it does not stick to the bottom of pan.
Simmer the milk until it is reduced to half.
Now add powdered sugar, pistachio (pista), cashew nuts (kaju), cardamom powder (elaichi powder) and stir well.
Let the milk get simmer on medium flame till it is reduced to 1/4 of original quantity.
Once the milk is reduced to 1/4, the kulfi rabdi is ready. Let kulfi mixture (rabdi) cools down completely.
Pour the mixture in kulfi molds.
Place the molds in deep freeze section of refrigerator and let it get set for about 7-8 hrs or overnight.
Yummy malai kulfi is ready to serve. Just before serving, unmold the kulfi and serve chilled.
Other sweet recipes similar to Malai kulfi