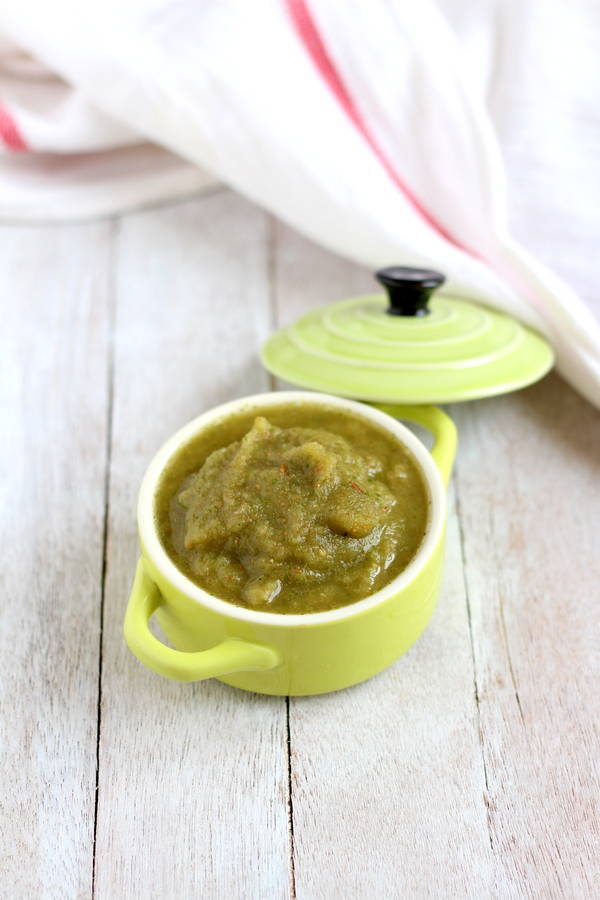 Raw mango onion chutney recipe with step by step pictures – A tangy tasty summer chutney recipe of raw mango and onion with fresh coriander.
Chutney is all time hit side-dish or condiment which is quite popular in Indian cuisine. There are countless recipes of chutney. It can be prepared with any combination of vegetable or fruit or both. Usually chutney comes in two varieties: dry chutney and fresh or wet chutney. We make wet chutney at home and eat it fresh as the shelf life is lower compared to dry chutney. Dry chutney like this dry garlic chutney can be stored in refrigerator for months.
Raw mango is consider very good in Summer. To fight the summer heat or heat stroke one must take extra caution during summer season. These days in India the sun is scorching hot. And raw mango is in season so I don't miss different raw mango recipes such as aam panna and kachi keri sherbet to fight the heat.

We can use this raw mango onion chutney in various chaat recipes. It gives the tangy flavors to any dish. Even we can serve this chutney as side dish for lunch. Raw mango is good and hence I try to include it in diet in one form or another. With Gujarati lunch, we make raw mango salad known as kachi keri kachumber. To make kachumber one must finely chop the onion and raw mango. So sometime if I am running out of time or feel a bit lazy then I quickly grind raw mango and onion with few spices and that's it.


Let us check the quick simple & easy recipe of raw mango onion chutney with step by step picture.
Raw Mango Onion Chutney Recipe with step by step photo
Ingredients needed to make this tangy chetuny are raw mango, onion, fresh coriander, sugar, roasted cumin powder and salt to taste.
Peel the raw mango and cut into medium pieces. In the mixture grinder take raw mango.
Then add chopped onion in the grinder.
Now add the fresh coriander leaves.
To balance the taste of the chutney we are adding sugar.
Now add roasted cumin powder. I have added the freshly roasted cumin powder.
Now season the chutney with some salt.
Add water in the chutney to adjust the consistency.
Grind the chutney to fine paste.
Raw mango chutney is ready to serve with bhel or any chaat items.
Raw Mango Onion Chutney Recipe Box
Raw Mango Onion Chutney Recipe
Raw mango onion chutney - A tangy side dish made fro raw mango and onion with few Indian spices.
Ingredients
Raw mango:1/2 cup
Onion: 1/2 cup
Fresh coriander: 1/3 cup
Roasted cumin powder: 1 tsp
Water: 2 tbsp
Sugar: 1 tsp
Salt: 1 tsp
Instructions
Peel the raw mangoes and cut into medium size pieces.
Slice the onions into medium pieces. Chop the coriander leaves (cilantro).
Take all the ingredients in mixture grinder.
Add salt, sugar and roasted cumin powder.
Blend into smooth paste.
Raw mango onion chutney is ready.
Other Chutney Recipes similar to Raw mango chutney