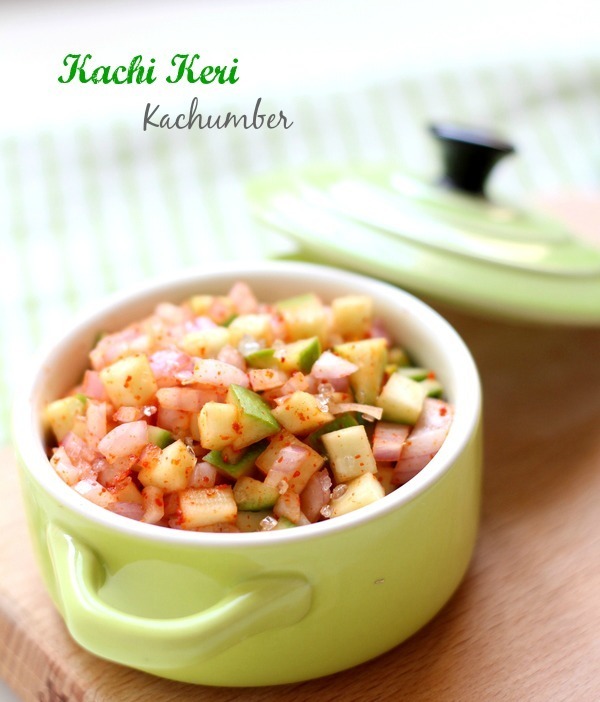 Kachi keri kachumber (raw mango salad) – A quick & easy salad of raw mango & onion served during summer season.
April is midway and May is coming. I wish I could say "winter is coming." 😉 but no winter is not coming.. Summer is here and it's going to stay at least for few more weeks. In India where temperature is soaring high in sky, to get rid of the heat I have made a very quick Kachi keri kachumber which is not only easy to make but also tasty to eat along with roti and sabji. My mom used to make this Kachi Keri Kachumber or raw mango salad every afternoon to protect me from the sunburn or heat storks in summers.
Related: kachi keri sherbet | sprout salads
A "Kachumber" is a mix of finely chopped fresh vegetables served as side dish for lunch or dinner. In Hindi, kacha means "raw or uncooked" and kachumber literally means small tiny pieces of raw vegetables. Usually a kachumbar contains finely chopped fresh cucumber, onions & tomatoes or radish (mooli).
The usual salad portion is a bowl full. We eat salad along with a piece of bread or soup. However this salad is different. Kachi keri kachumber is served as side dish like pickles & chutneys as accompany with regular meal. Kachi keri kachumber is really beneficial to those who stay longer time outside in Sun as it prevents heat store.

To make this kachi keri kachumber, I have used a type of raw mango known as totapuri. This variety is widely available in south indian and is almost the first one to be available in market after Holi festival. Totapuri is known by different names like sandersha, bangalora, kallamai etc. Totapuri is not as sour as other raw mangoes. The flavor is mild and tangy and hence goes really well in this salad.
I remember my childhood days where in front of our school a vendor used to sell these raw mango slices: 4 slices in 1 rupee 🙂 We used to buy these raw mango & eat it along with salt and red chili powder. Going out of school days was forbidden hence we used to cling on the gate & buy it from there 🙂 wow.. beautiful those days were.. childhood memories…
Coming back to the raw mango kachumber, some people grate the onion and raw mango then make this kachumber but I like to make it by chopping them into small dices. While making this kachumber make sure that you add red chili powder in onion and raw mango mix well. Do not add sugar and salt in advance as it oozes out water in the Kachumber.
The steps to make kachi keri kachumber or raw mango salad is really simple. No cooking is required to make this salad. Let us see how to assemble raw mango salad in few steps.
Recipe of kachi keri kachumber with step by step pictures
To make this simplest raw mango salad or kachi keri kachumber we will need only following 5 ingredients. Raw mango (kachi keri), onion, sugar, red chili powder and salt. That's it. I have used raw mango known as "totapuri keri".
Wash and cut the raw mango (kachi keri) into small small pieces. Remove the seed (stone) from the center.
Add finely chopped onions in the kachi keri pieces.
Sprinkle some red chili powder.
Now combine onions & raw mango with red chili using a spoon.
Season the salad with salt as per your taste.
Now to balance the sourness of mango we will add sugar. Add sugar as per your taste. Also you can add powdered sugar instead of plain one.
Mix well all the ingredients and our quick & easy raw mango salad is ready.
Raw mango salad or kachi keri kachumber can be served as side dish during summer season in Indian thali for lunch.
Kachi keri kachumber recipe box (raw mango salad)
Kachi Keri Kachumber (Raw Mango Salad)
Kachi keri kachumber (raw mango salad) - A quick raw mango & onion salad for summer season.
Ingredients
Raw mango : 1/2 cup
Onion : 1/3 cup
Red chili powder : 1 tsp or to taste
Salt : 1/2 tsp
Sugar : 1/3 tsp
Instructions
Wash and cut the raw mango into small pieces. Remove & discard the stone from mango.
Finely chop the onions.
Take raw mango pieces in a mixing bowl and add chopped onions.
Sprinkle red chili powder and combine onion and mango in it.
Now add salt as per taste & also add sugar.
Combine well all ingredients again.
Kachi keri kachumber is ready to serve. Serve this quick raw mango salad as side dish in lunch during summer season.
Other salad recipes similar to kachi keri kachumber